Nothing happens unless you make it happen.
I know you've heard that a thousand times before. But it bears repeating: NOTHING HAPPENS unless YOU MAKE IT HAPPEN!
Here is a case in point:
One day, back in the mid 90's, I went to the mailbox and there was a notice asking if I'd like to subscribe to a new magazine that was starting up. A Miller Freeman publication called 3D Design Magazine. Miller Freeman was and is a huge publisher who specialized in niche technical journals. Their big seller was "Pulp and Paper". And they were getting into 3D Animation.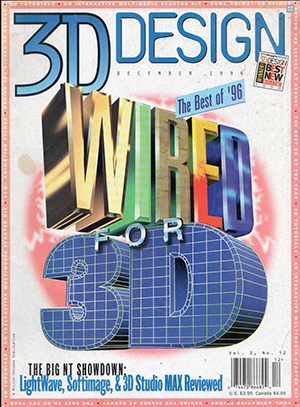 I had been working as a demo jock for a high end French 3D animation software company called TDI (I'll save my "Never Work for a French Company when your big trade show is in August" rant for another day). One day I noticed that one of the TDI sales guys had an article published in the big trade magazine in our industry, Computer Graphics World.
"Hey, how did you do that?" I asked.

"I just submitted something, " was his answer.
What? Could it really be that simple?
I called up Computer Graphics World and gave them my background. Sure, they would love for me to write something for them on spec.
So I punched out a perennial favorite in any industry: "How to get your best deal, " in this case your best deal in buying high end 3D animation software and hardware. (The secret ? Buy at the end of the quarter).
They liked it, and said it was evergreen. Meaning they would run it when they had space to fill. Nothing urgent about it. People are still writing the same article 20 years later. (In fact, our own Jason Simon wrote a similar article right here on the OI blog: See "Buying on the Quarter: How to get your Best Deal From Any Vendor.)

So now I had this subscription notice for this new and unknown competitor to Computer Graphics World in my hand. Their office was in San Francisco, so I called them up.
Last modified on
Continue reading