David Daniels: Consumer Holiday Expectations Are In. The Greatest Gift This Season Will Be an Individualized Experience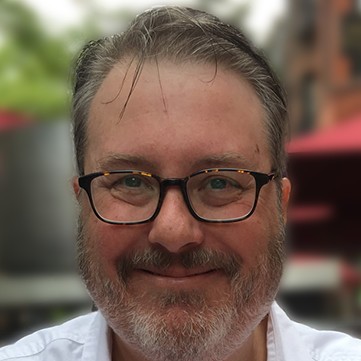 The results of The Relevancy Group's annual Consumer Holiday Behaviors and Attitudes survey results are in. You can watch the webinar sponsored by Zeta Global on demand here, and I am happy to share these findings with the Only Influencer community.
Consumer Holiday Expectations
Consumers are more sophisticated and mobile than ever, and many demand an individualized experience. Our data indicates that those who deliver such relevance will be rewarded with higher revenue. First let's dig in to what consumers engage with and what they do not want.
When confronted with high frequency senders, U.S. consumers react negatively. Most consumers ignore or opt-out out because of frequency overload. In our most recent survey conducted this month, of 1,010 U.S. consumers, 64% ignore or opt-out because of frequency overload.
Thirty-nine percent utilize the "one finger opt-out" and swipe to delete the message.
Forty-nine percent state that the lack of relevancy drives and opt-out.
Relevant offers sway holiday purchases. Forty-three percent of consumers stated they were highly likely to purchase from a brand that individualizes offers based on search and browsing history.
Leveraging real-time data is making a difference. Forty-one percent of consumers are very likely to purchase form a brand that sends them an instant/pop-offer immediately following a purchase.
The Utilization of Email is High and Increasingly Mobile
Consumer use of email is high and mobile devices are increasingly becoming the primary email device. Let this end the discussion that email may or could be replaced.
Consumers utilize email every day, 89 percent of them are checking their email daily. Email remains our digital fingerprint and shows no sign of being replaced by other communication modalities.
Mobile dominance is increasing. Forty percent of consumers state that their primary email device is their mobile phone and 26 percent state that it is their primary online shopping device. This is higher than any other device including laptops, desktops and tablets. Retailers must ensure that their messages and web-sites are optimized for mobile viewing. Overall 82 percent of consumers view and triage their email on their mobile phone.
For consumers 45 and under, over a third utilize their mobile phone as their primary shopping device (see figure below).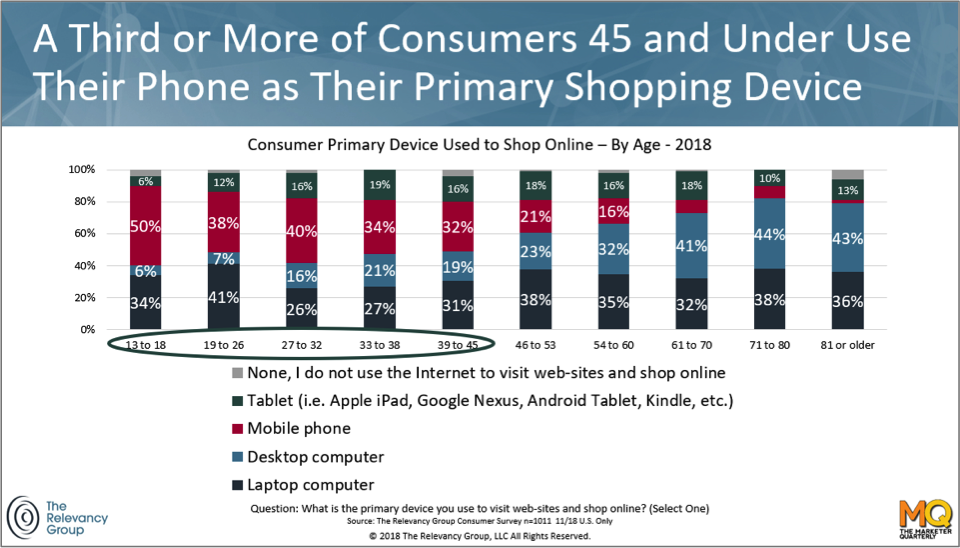 Holiday Shopping and Spending Trends
Consumer spending appears to be flat year-over-year, but there are big shifts ahead for themed shopping days including cyber Monday.
Self-gifting is up year-over-year from $264 in 2017 to $279 in 2018. Retailers should be utilizing BOGO offers and messaging that encourages self-indulgence.
More consumers intend to shop on cyber Monday. Eighteen percent report that they are going to do most of their holiday shopping on cyber Monday which is up about ten percent from last year.
Women are more engaged on themed shopping days, nearly half of women state that they will do most of their shopping on black Friday as opposed to 39 percent of men. Fourteen percent of women say they will do all their holiday shopping on black Friday.
On average consumers will comparison shop across three sites; but 20 percent of consumers state that they don't do any comparison shopping. The lack of comparison shopping is likely being driven by the dominance of Amazon Prime as the single site for buyers to go to. In 2017 Amazon captured 45 to 50 percent of all online holiday retail sales, up from 38 percent in 2016 (source GHN Insights).
Sixty-seven percent of consumers state they will spend the same as they did last year and just 13 percent state, they will spend more than last year. While the economy in 2018 is good, Chinese Import tariffs are raising prices at big-box retailers, i.e. Walmart, that rely on offshore goods. This likely won't impact overall spending, but the consumer's dollar may not go as far in 2018 as it did last year.
How Email Marketing Will Drive Holiday Spending
From brand love to individualization, email marketing plays a significant role in driving holiday spending.
Brand is slightly more than important than subject line to drive opens. When asked what moves them to open and email, 47 percent stated a brand that I like, 43 percent a brand that I am loyal to followed by a subject line that offers a discount (41%) to the overall contents of the subject line (40%). As we have discussed many times on the OI list, utilizing testing particularly leveraging past purchase an browse behavior as well as customer preferences are necessary to optimize subject lines and open rates.
No surprise, emails that provide the latest discounts and offers tops the list (49% of consumers) of how emails aide consumers purchase decision. Thirty-nine percent state that coupons and discount codes are very important to their holiday purchasing followed by thirty-one percent that the same for product reviews.
Sixty-one percent that email influences the price they pay for products and 55 percent state the same for the products that they purchase.
Twenty-seven percent that relevant products drives which brands that they will purchase from.
We also asked what frustrates consumers the most and the following topped the list; suggestions for a product that I have already purchased, offers on products not relevant to me and discounts sent after I made a purchase. Individualization and leveraging data is key to delivering shopping experiences that consumers expect.
Leverage Customer Data Platforms and Individualization Tactics to Drive Results
In our CDP Buyer's Guide, we explore the benefits of utilizing a platform to tie together customer identity to deliver individualized offers and experiences. This approach uses real-time data to ensures that offers for items that have been purchased do not get offered to consumers. As marketers, we know that the best predictor of future behavior is past behavior, but now past behavior is seconds, minutes, hours, a day behind – we must leverage all the real-time data at our disposal to optimize relevance and meter frequency.
We looked at marketers that were utilizing real-time data to deliver individualized experiences and found that they were delivering 14 percent more monthly revenue than those email marketers that were not embracing individualization.
There are many more findings, tactics and tips including how to leverage real-time data to improve the customer experience. I look forward to discussing email optimization techniques with you.
Tune in and check out this wonderful webinar.
Wishing you success this holiday season!
Title:
Consumer Holiday Expectations Are In. The Greatest Gift This Season Will Be an Individualized Experience
Audience:
Digital Marketers
Publisher:
OnlyInfluencers.com
Copyright 2018
,
Only Influencers, LLC