Licking Stamps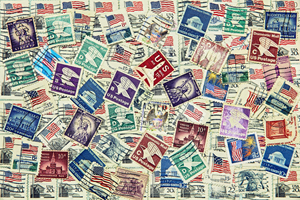 "Quiet people have the loudest minds" as Stephen Hawkings says. "It almost seems as if my brain is trying to compensate for the lack of expression." While this has a very personal context to me, it does compel thoughts of this digital channel and its evolution in the 25 years I've been a part of it and whether we "lack expression" in this asynchronous channel we work in. I tend to have a utopian view of the impact of electronic communications and where it sits in our world, yet can be somewhat burned out on the repetition and recycling of words used to motivate and inspire new marketers just entering the field. "Are we really saying anything new?" is where I end up.
For those who don't know me, I spent my early years helping companies rationalize email. My favorite statement was "You know "we" (email) have arrived when email strategy isn't the last four slides of a marketing strategy presentation. I lived in large agencies in the second wave of my career and traveled all over the country talking to large organizations and doing my best to help brands understand where this was going and the potential impact it could have on brands. The CAN-SPAM act helped bring prominence to the space and moved email up to the 50th slide versus the 70th.
But what I found repeatedly is that scale is still the underlying issue with most companies making hard changes to how they do things; we tend to continue to add to what we are doing until we make it so complex that it is hard to change.
I think we have lost sight of what innovation really is. It's not creating new cool things, it's creating new ways to do new things in simpler ways.
We live in a world of access and convenience today, yet don't really operate in a latent way. Our production runs are too long, our creative process is still mundane, our limits to the experience are still hindered by concern for fraud and restrictions handed down by large organizations that own the inbox experience, and we aren't "sexy dates" when our main hot topic is subject line testing. I often wonder if the promise of omnichannel or orchestrating "journeys" stunted our growth as an industry?
During the wild west of digital advertising, where acquisition tactics had no guard rails, a list of 100,000 or 1,000,000 paled in comparison to the value of being able to reach 25M through media. Most didn't believe the behavioral side of emails' impact on our lives and looked at it through their own personal lens and the inbox experiences by their carriers/providers. If I had a dollar for the number of high level executives that judged email by their own use, I'd own an island, small one albeit.
Simply put, email has never received its proper share of budget. Email marketing was seen as simple as licking stamps, sustainability was determined by amount of saliva and speed of sorting and less about complex marketing equations. This has changed somewhat as I can't imagine a successful business NOT doing email in some form, yet parity is hard to break out of if you do it the same way as everyone else, right?
The vision of push-pull of a web and email experience was a promise that in my opinion has lacked creativity. Yes, triggers are valuable and programmatic thinking is core, yet we still seem to apply the same approach to campaigns as we did behavioral triggers which made a "simple" channel far more complex to manage as a portfolio. More doesn't mean better, which may be blasphemy to some.
SMS was a promise and it's come a long way, with a few surprises. Practically, it has become a utilitarian channel meant to support a service at best. I don't think any of us predicted a mobile number would be such a durable key (identifier) like email.
History tends to repeat itself in different forms, good or bad. I'd like to see an energy and natural disdain for the norm and see a new crop of leaders, evangelists, creative thinkers, that are challenging technology providers, service providers, and their own internal organizations to increase their risk profile and take a few swings for the fences. I fear, we will talking about the same subjects in 2030 that we were talking about in 2010. A litmus test I do all the time is to look back on stuff I've written ten or fifteen years ago and see if it's still relevant; if it is, we've failed.
Today, across all channels, we have much more stringent regulations and consumer privacy policy and mechanisms that are much more attainable to manage timing, intent, privacy and permissions. We have far more productivity tools, we have more orchestration tools, we have exponentially more collaboration tools and outlets, and we have far more voices to filter through.
We can't get past the limitations of the "delivery." which ISPs and carriers own; we can't get past the data domination by FAANG. Yet the industry still suffers from the baggage of a channel that is dependent on the "platform" in which it is delivered.
I wonder how much this past year will set us back or are there some budding change makers and innovative minds that have been part of this "stay at home culture" who are holding back?
I'm on a year-long sabbatical, mostly unplugged from the inner workings of the space, and I keep coming back to the core of where innovation starts: by understanding consumer trends, needs, behaviors, and the technographics underlying each generation, and trying to create ways to save us time so we can disrupt things.
I'm a big fan of looking at consumers through generational views. We just can't deny we are very different and while generations are at best "cohort" views, it's important to note that we have six active living generations and the ages of 13-18 define the foundational characteristics and experiences that helped define these.
Now, think back to your life at 13-18 and what macro and societal dynamics were going on during that time in your life. I'm the MTV generation; there were no cell phones. I ran with a Walkman that made my arms tired, not to mention listening to the same six songs over and over. What makes this so intriguing is how we manage our lives and the tools we used then and now. I lived in the digital caveman years and thank GOD, video wasn't around back then, or I'm sure I would have been a TikTok star, eating Tide pods and messing with people non-stop.
Today's generation is perpetually plugged in, they buy very differently, they communicate very differently, and the options to do so are endless. The digital conveniences are both inherent values and the choices are far more fatiguing. Email is important to consumers as they manage their lives, but it has more prominence at various stages of a life. In my years with Acxiom, I loved the access to data that helped us see the life transformations that occur in very predictable life stage events: when you move, have children, land your first job, graduate from school, etc. It's endless when you think about it, yet we still seem to work in a world of calendar events, with little regard for life stages that impact how we consume, how we buy, and how we interact with the world.
With Covid disrupting our natural human "flow" and forcing the world into a digital-only clubhouse, email is still a slow play for many, there is no quick win for marketers, there is no dramatic effect for consumers, it's still a pedestrian channel that combines the four P's of consumer value exchange: Personal Exchanges, Promotional Exchanges, Transactional Exchanges and Utilitarian Exchanges. Is this too dark a summary? If you think so, you likely aren't challenging the norm.
I often ask myself "has innovation changed this value exchange in any form? Are we better at timing the type of communication where it is both a utility to our lives and a value service quality to a consumer? And if so, how on earth do we sustain this across so many sub-segments of the world that think, act, and have biases." It's hard not to think this past political cycle showed the weaknesses of other channels and how they can be abused and whether it will have a numbing effect on promotional email for the foreseeable future. I think the answer is yes and no.
I contemplate machine learning and its role in our space. It was a promise of taking the ability to port models for finite tasks that will make us faster at optimizing the experience and require less interpretation mid game. I think it's fair to say this has been hit or miss for the email space. I'm not quite sure if the issues of mass adoption are that of data quality, data fatigue, or the complexity of scaling machine learning in a systematic way. Regardless, I feel it's somewhat unfulfilled in so many ways.
We dabbled in real-time content, with the notion that live email was next. Deliver content at the exact moment it was consumed and while that has proven to be effective, it's not a mainstream operational standard and still poses a scale issue when you are talking about the impact on a click (which is 5% of an already small population). The ability to scale this, test this in programmatic ways has limited its growth. Is it a software issue? Is it an orchestration issue? Is it still the proverbial circular challenge of time, resources, and money? Or is it a conservative base of users?
I lurk on the email geeks slack channel and I see passion, I see community, I see sharing. And I like that the masses are coming to parity in many forms. In many cases the small are far outpacing the big. Remember -- "The big don't eat the small, the fast eat the slow."
My call to action for the Only Influencers group is to forge an innovative culture that is far more balanced (providers and marketing organizations) and risk-tolerant. Marketers are at the forefront of consumerism and the shifts happening in our worlds, you feel it every day. Is it possible to build virtual innovation labs that aren't run by vendors? Is it possible to shift risk profiles in a time when we don't know what the next year will look like when we come out of our COVID coma. Where will change happen in our space and does it need it?