Designing For Failure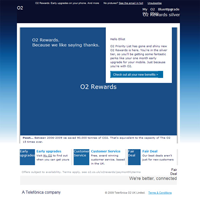 An often overlooked aspect of Email Design Practices is designing for failure: images failing to render on the client's browser. Using some basic email design techniques, you can insure that your customers experience the best possible visual email in their inbox. Below are a series of tutorals and resources to teach you these basic technigues: Some of the techniques you will learn include using Web Text, using stylized Alt Tags, coding background colors, and creating pixel art.
Elliot Ross, managing director of Action Rocket, has a number of great resources and tips when it comes to designing email campaigns where the images are turned off:
In "Optimizing HTML Email when Images are Disabled" he uses the example of O2, a British telecom company:
images courtesy of EmailDesignReview.com
Basic Email Design Techniques
Elliot provides an overview of the basic email techniques used to achieve good results when images fail including:
Build Using Web Text
Use Alt Attributes
Code Background Colors
Think about the Prewview Pan
Use the Pre-header
---
Email on Acid introduces Mozify,
Email on Acid has developed a technology that they claim will put an end to image blocking:
As it is today, 85% of the most popular email clients used today block images by default. That means that unless your readers opt to download your images, they might be missing out on your primary call-to-action!
---
Jim Morton's Goolara Blog provides some other Great Resources for Designing for Failure:
This white paper, Using Text and Images, is filled with great ideas to make your email attractive and highly deliverable under a wide variety of situations. Topics include:
The secrets behind text-to-image ratios
Why we use tables in email
How email clients display your mailings
Using Styled Alt Tags
Understanding Fonts
and
Title:
Email Design Best Practice: Designing For Failure
Audience:
Email Designers
Publisher:
OnlyInfluencers.com
Copyright 2015
,
Only Influencers, LLC
Related Posts
By accepting you will be accessing a service provided by a third-party external to https://onlyinfluencers.com/