The Science of Email Clicks: The Impact of Responsive Design & Inbox Testing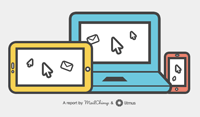 MailChimp analyzed over 395 million emails during a 6-month period to examine how a user's preferred device affects email engagement, investigate the impact of responsive design, and find out if testing your emails can increase click rates. Courtesy of Litmus.
Stay Informed
When you subscribe to the blog, we will send you an e-mail when there are new updates on the site so you wouldn't miss them.