Unboxing: Campaign-Genius
Unboxing Campaign-Genius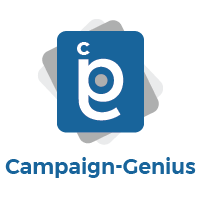 Campaign-Genius is a dynamic email tool based out of Seattle and is one of the entries of a growing category of real-time imaging tools such as Movable Ink and LiveClicker. It's parent company, Say It Visually, was founded in 2008 and was a pioneer in the field of "Explainer Videos". Campaign-Genius grew out of their expertise in visual communication in marketing.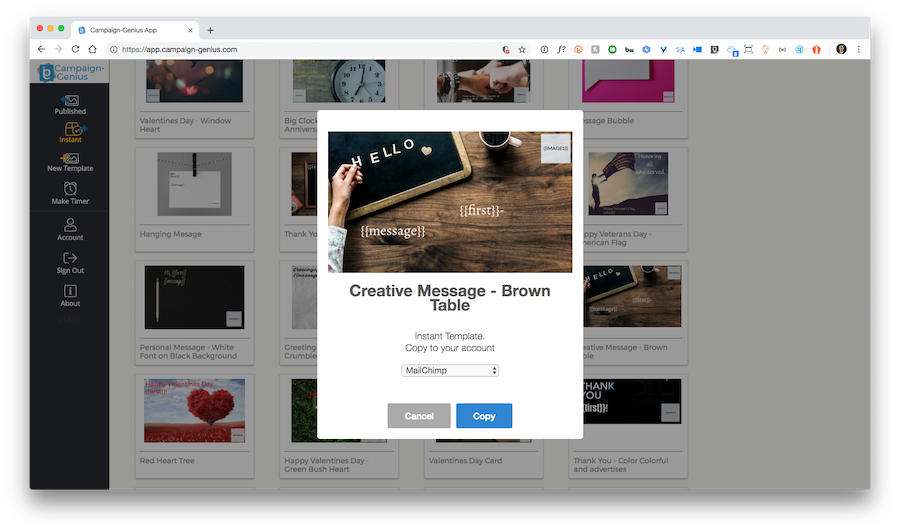 I recently sat down with Co-Founder Matthew Dunn to take a look under the hood. Campaign-Genius clearly had the designer and marketer in mind when crafting the product. Aimed at the mid-market with a focus on retail and agencies, with a growing list of partnership integrations, the tool requires no integration that would require IT resources. I see it's sweet spot being the cost conscious smaller agency or e-commerce player. Campaign-Genius is designed to let dynamic real-time email content to be created as easily as a PowerPoint slide.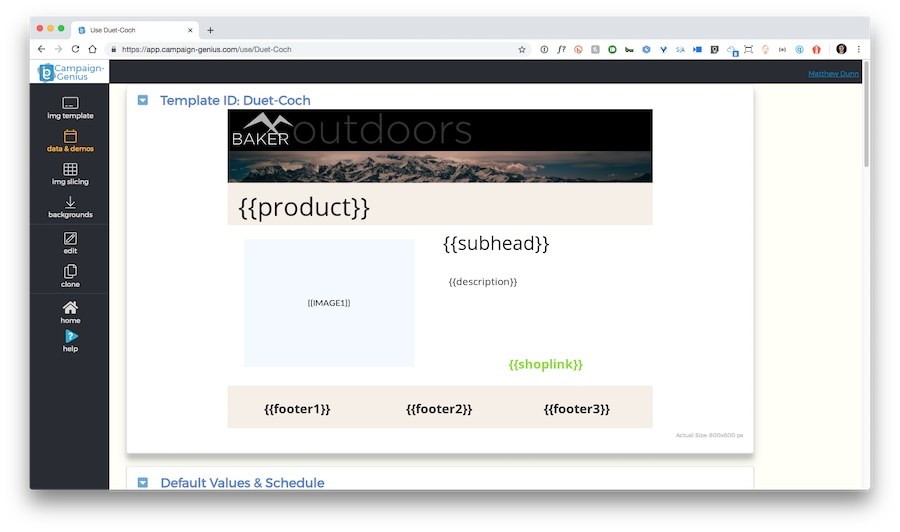 Building a Template
Campaign-Genius draws upon their Explainer Video roots by incorporating around 50 tutorials that explain every aspect of the product and walks you through where to save your library of templates, loading pre-built templates, and developing original templates and content.
The first step is to choose your favorite ESP, in my case Mailchimp, which then loads all of your unique Mailchimp tags. Campaign-Genius provides merge fields for over 50 ESPs, but it can be used with any platform that sends HTML email.
Campaign-Genius overlays dynamic elements on static images. When creating our new template, we first load in the background image. You can choose from your own original content or, included with your license, is access to over 2 million royalty free stock images. Campaign-Genius provides editing and cropping tools without ever having to leave and go to Photoshop (it even includes an image slicing tool).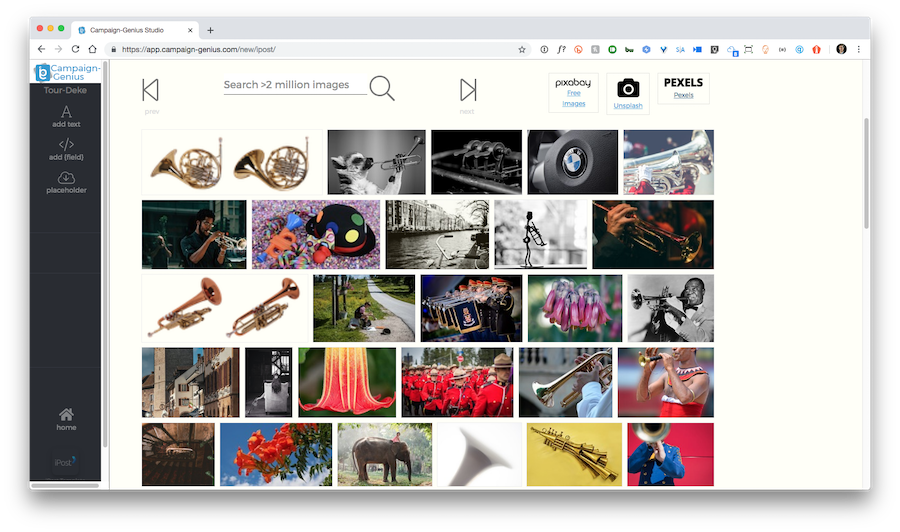 For this demo, Matthew walked me through how I could create dynamic real-time email content to promote my upcoming conference, The Email Innovations Summit. First he loaded the static background image, in this case a banner ad promoting the show and the early bird special.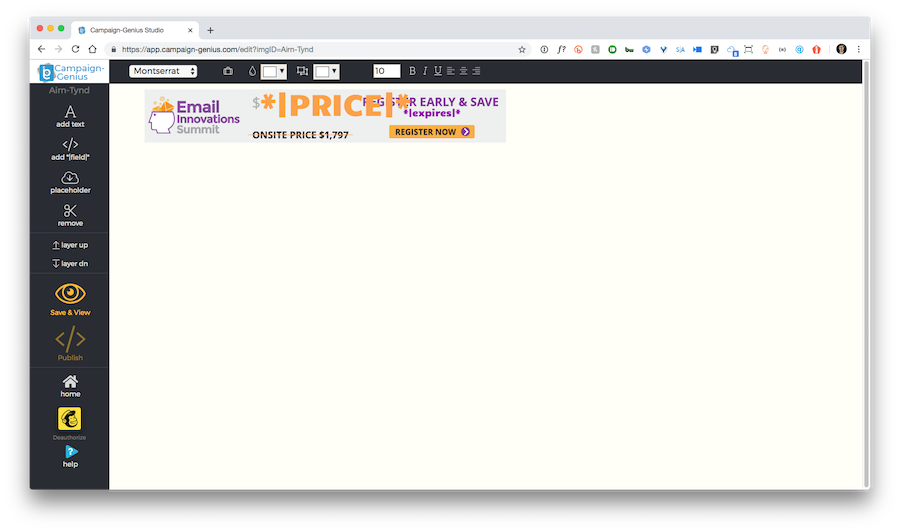 After loading our background, we create our dynamic "tags". In this case, a tag for "Price" and a tag for "Expiration". The goal is to provide the latest pricing information for the show along with the date (or countdown) when the price changes.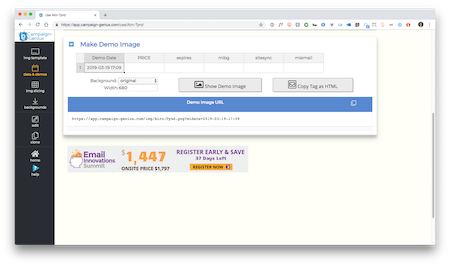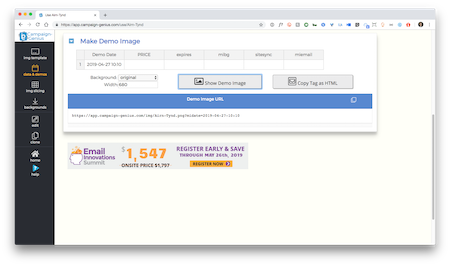 After publishing our template we can add the dynamic parameters to the templates tags. As easy as adding a line to a spreadsheet, we add the parameters for our dynamic content. The price and expiration tags will update in real-time every time the email is opened. We can add a series of dates, each reflecting a different price point, and update the expiration for the new pricing.
Campaign-Genius can also do URL replacement. So when our Las Vegas show is over, the URL link automatically is replaced with the London Show's landing page. Another interesting feature is to create a unique sequence of events on an individual level. For instance, the pricing listed in an email can go up each time the email is opened. The first time they open the email, the price is X. The second time it is X plus $50. A great way to create motivation to buy.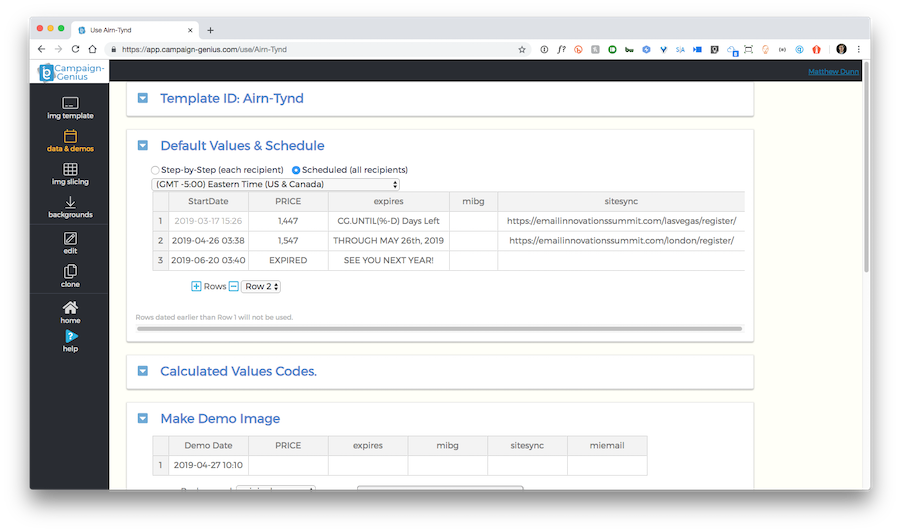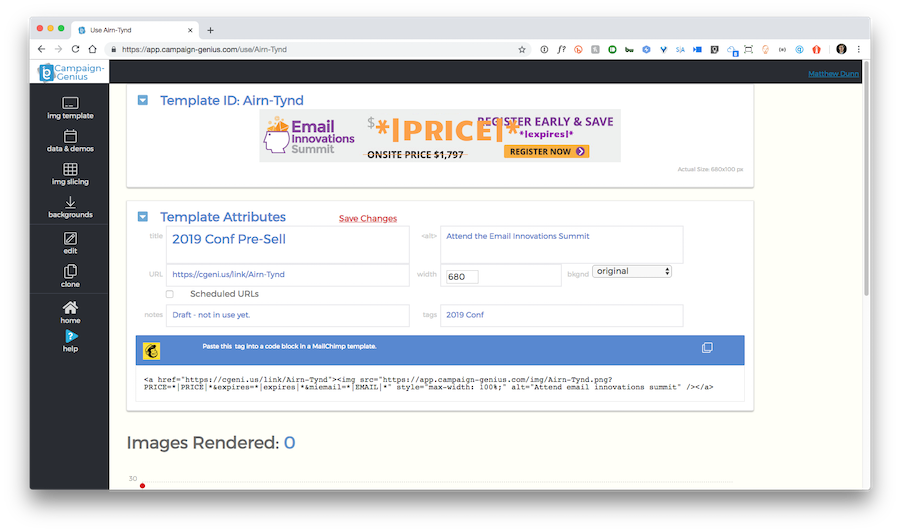 Pricing and more info
Campaign-Genius has created an aggressive pricing model. Tiered based on volume, you only pay for emails actually rendered. Only emails opened and read are charged so you only pay for what you use.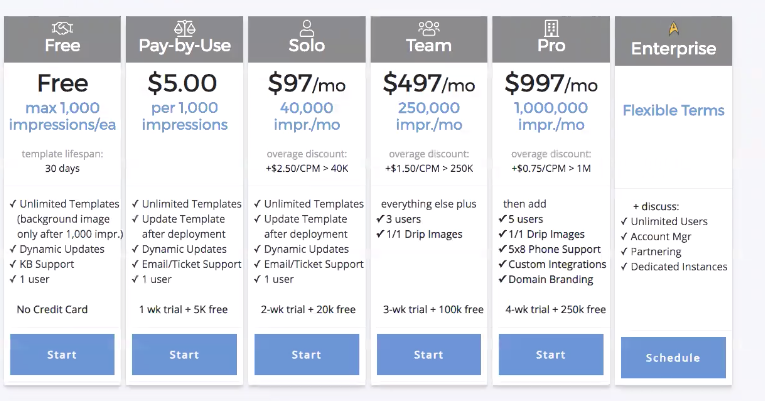 I see Campaign-Genius being popular in the smaller shops who can't afford the time and money of a large integration project but still want to be able to provide count down timers and real-time dynamic content to their lists.
For more information and to try out Campaign-Genius yourself: Go to Campaign-Genius or contact Matthew Dunn directly at matthew@campaign-genius.com