Unboxing: Kickbox

Kickbox is a email verification company based in Dallas, Tx, with offices in New York City and London. An important differentiator is that Kickbox is GDPR compliant. The technology was developed by a core team of engineers who have been building anti-spam technology for the last 12 years, and have owned and operated their own email sending platform during that time.
That 12 year old platform forms a first level of verification by identifying emails that have gone through their system: if they have seen it, they can verify it. Their previous investment in infrastructure allows them deliver their other main differentiator: highly accurate results at low cost.
Kickbox's background in anti-spam technology and their in-house compliance team, also allows them to integrate key compliance tools into their front end including the ability to detect bad and purchased lists which provides an early warning system to their ESP partner's own compliance experts.
Under the Hood
After creating a free Kickbox account, you are given 100 free verifications to test the system out. Under their "Lists" menu, you can easily drag and drop a list for verification:

The list is then analyzed and the marketer can then download the list from a series of presets: Guaranteed, which is recommended deliverable email addresses, Marketers Choice, which includes both recommended but also some "risky" and "unknown" addresses that are still deliverable, such as "role addresses", ie. sales@, or the ability to just download the entire list with each address tagged.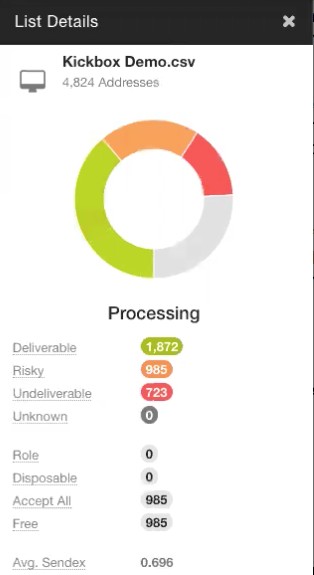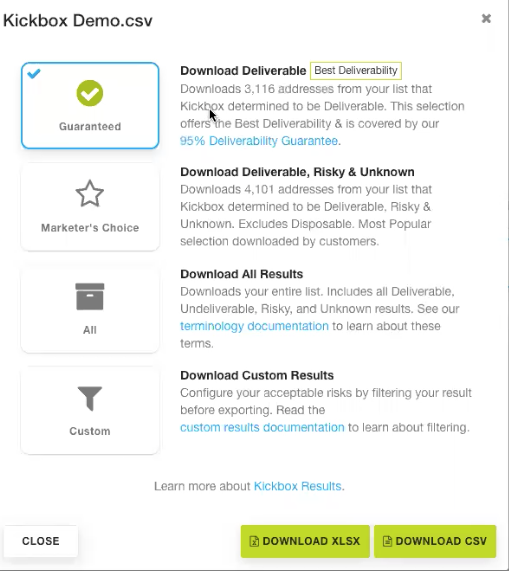 The downloaded CSV files marks each record with tags such as "role addresses" "free email accounts", "disposable addresses" (kickbox recognizes thousands of disposable email addresses) , and "accept all" (the email server takes all email addresses whether they exist or not), "did you know" which highlights possible misspelled domains that can be corrected, and a sendex score, which is Kickbox's subjective opinion about the quality of the email address.

Integrations
Kickbox integrates with thousands of service providers and adding a new integration to your account is simple. Clicking on an integration, such as mailchimp, will bring up a screen to enter your login credentials, or prompt you to create an API key. Once the integration is complete, you can pull your lists directly from your favorite ESP.
Kickbox recommends rechecking consumer addresses every six months and business addresses every 3 months. They also have an API, which can be used at the point-of-capture, to verify email addresses before they come into your database. Verification credits can be auto-renewed or purchased on the fly and current available credits can be accessed through the "balance" tab. Kickbox provides a robust set of API production tools for developers wanting to integrate Kickbox into their own applications.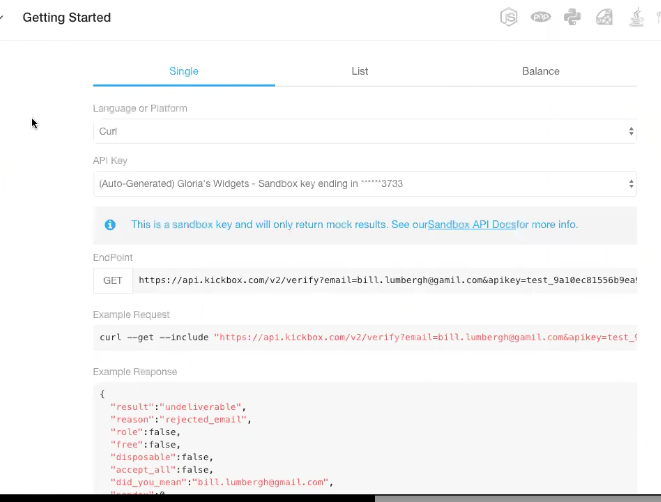 Credits are tiered starting at a penny a verification with prices decreasing based on volume: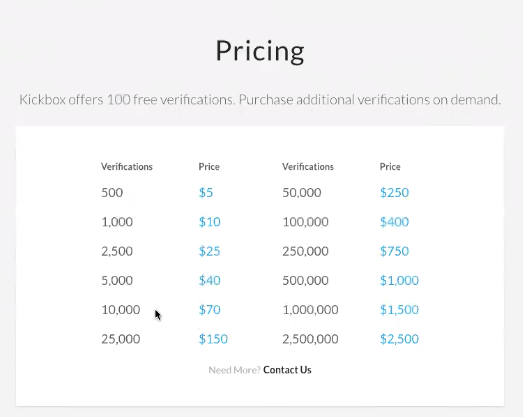 As a special gift to Only Influencers members and newsletter readers, mention Only Influencers to receive a 10% discount.
Summary: Kickbox is a email verification service whose main differentiators are their GDPR compliance, low cost, accurate results, and over a decade of anti-spam technology development which allows them to integrate compliance tools into their front end. OI readers and members receive a 10% discount.
To Learn More, contact Jack Wrigley at jack@kickbox.com