5 overlooked email automations to add to your ecommerce lifecycle email program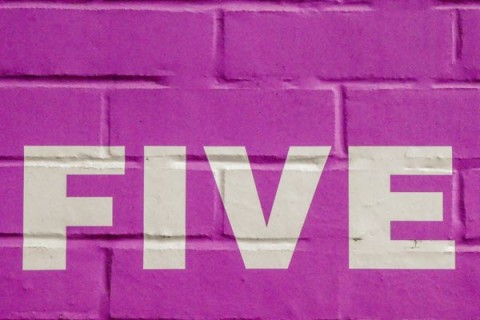 Now that it's autumn, it's time for email advisers to send out their annual lists of the automated email programs a sensible email marketer needs to employ to maximize revenue.
What's on the list? The usual: welcome emails, abandoned-cart reminders, win-back messages. All three are helpful because they address customers at key points in their relationship with your brand. But if that's all you offer, you're missing out.
Many marketers offer these emails because they can collect the data easily, feed it into their ESPs and trigger the email automatically. Most ESPs offer these basic automations, too.
But these programs have become "table stakes," as the poker players like to say. They'll get you into lifecycle marketing, but so many other points along your customers' journey with your brand can help you establish or maintain connections, bring them back to buy or win them back from inactivity or defection.
How many points are there? It all depends on your brand, but for an ecommerce company, this chart shows you what you're missing if you stick to just those table-stakes automations:
Look at the turquoise-blue squares, which represent win-back campaigns. Instead of sending a one-size-fits-all email with a subject line like "We want you back," you can divide your efforts into two campaigns – one that's like a first-alert promo you can send at the first sign that a customer is losing interest, and another for customers who match your parameters for lapsing.
As you can see, you have many more options to reach out to customers through email, whether to nudge them into buying for the first time, coming back to buy again, and letting them know something they browsed is either back in stock or on sale.
These automations have several advantages and two issues to deal with before you can start using them:
5 opportunities
1. Each automation gives you a relevant reason to reach out to a prospect (here meaning a subscriber who has never purchased or someone who gave you an email address without a conversion like a purchase, registration, or contest entry).
2. The data you need to trigger the automation should be readily available, either through preferences, email activity or web/ecommerce behavior.
3. They can help your customer solve a problem or fulfill a need and maybe even benefit from this approach.
4. Many of these automations can help you achieve your own goals, too, such as generating new, incremental, or continuing revenue or retaining more customers.
5. They're highly personalized and relevant. They tell your customer you know who they are without making them feel as if you're following their every move.
2 challenges
Work these out before you start planning any of these automations:
1. You must be able to capture the data in your CRM or ecommerce system and pass it through to your ESP to trigger these automations.
2. You also need a plan to decide which automations will help you achieve your email objectives and fit within your strategy.
If you don't collect this data now, collaborate with your IT team, your ESP, or an email consultant to decide which data to collect, whether to collect it actively from your customers or passively from behavior and other sources, and then how to set up the integrations that will pull that data in.
5 overlooked automations to consider
I chose these five for an ecommerce business that collects data and can use it with its ESP to trigger these automations. They might not be appropriate for all ecommerce email marketing programs. Your email objectives and strategy will point you toward the programs you should consider.
1. Replenishment emails
Replenishment emails are a key component of what I call "helpful marketing." That's because they are as much about service as they are about sales.
By reminding your customers to reorder before they run out, you save them time and trouble - which contributes towards offering them an enhanced customer experience. (Conversely, if they don't respond or reorder, that could set them up for a win-back email, but I'm getting ahead of myself.) If your company offers an auto-ship or subscription replenishment plan, you can promote it in this email as well.
These should be a must-do for any brand that sells consumable products, from specialty foods to cosmetics and wellness products, household and baby goods, and they can be fairly simple to set up.
You can create a rule in your marketing automation platform to trigger emails timed to a product's general use cycle, and apply it to anyone who buys that product.
This email from Harry's gets right to the point:
Subject line: You're due for more Shave Gel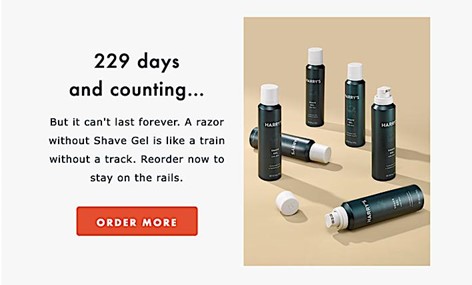 2. Cross-sell/upsell
Suggesting related products to bring customers back in a purchase email is a classic tactic. But what about creating a stand-alone email campaign personalized with products related to your customer's recent purchases?
This email can score because the products it suggests are related to recent purchases, so it's reasonable to assume they might be interested in these, too.
It also has an advantage over adding the related products to your business-as-usual promo email because you can craft both the subject line and the timing to perfection in this automated, helpful email.
You can choose products from a standard assortment or use real-time inventory integration to recommend products that are sure to be in stock. Whether you decide to sell comparable products (cross-selling) or move customers up to more expensive or full-price products (upselling) will depend on your reason for using the tactic.
This upselling email from Nectar Bath Treats went out to purchasers of products in a specific scent line to promote a complementary but more expensive product. Bit of a bold move to send the email in text instead of the brand's usual color-soaked HTML emails!
Subject line: 🌊 Love Our Ocean Breeze Treats?
3. Price drop notification
These emails take your abandonment emails – both browse and cart – to the next level. The premise is simple: when a product goes on sale or further discount, it triggers an email notice to anyone who has it in their favorites list, browsed the item or put it in a cart without buying. That can be enough to overcome price hesitancy.
I've included two emails that take slightly different approaches to price-drop notifications. Bloomingdale's email doesn't list the new price, while Blue Nile's email features it front and center.
Not listing the new product price or the discount could be a bold move that goes against conventional wisdom. But it's also ideal for an A/B split test: Would an email without the price or discount drive more purchases than one with the numbers?
Subject line: An Item You Browsed from Live Comfortably is on Sale!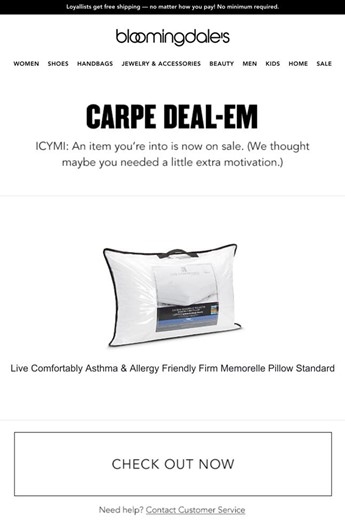 Subject line: Jewelry You Viewed Has Dropped in Price!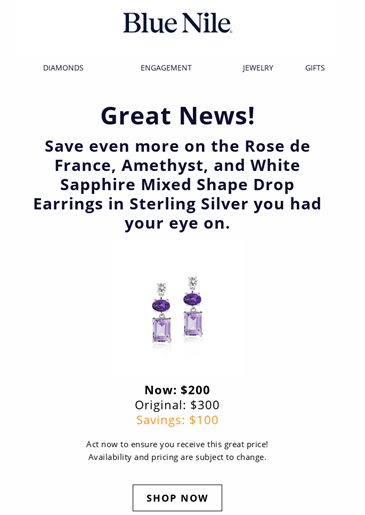 4. Subscribed but never converted
Here I'm defining "converted" as purchased, but it can apply to whatever outcome you want, such as event registrations, downloads, information requests, contest entries and the like.
This type of campaign addresses a key retention point. Subscribers who have not purchased are ripe for churn, whether through inactivity or actively moving on to a competitor. Your first step to head off this unwanted outcome begins in your welcome or onboarding emails, which I frame as a "first-purchase" program, in which you give your newcomers ample reasons to go back to your website and buy for the first time.
Subscribers who don't have purchase data recorded within a specific time frame can be automatically slotted into a second nudge to purchase. This can be similar to a reactivation program, but you should be choosy about whom you target with these emails.
Customers with recent open and click activity could make up a more productive segment than those with little or no activity on record (again, something to test).
Another factor – emails like these need to be heavy on benefits and assurance as well as promotions.. Waving a discount or freebie in front of a disappearing customer might not be as effective as reminding them, or reassuring them, about buying from you.
This Equilibria email goes all in on benefits but also gives subscribers another crack at sharing personal information the brand can use for personalizing follow-up messages. Although it refers to "next purchase," it was sent to a customer who had not purchased yet.
Subject line: 10 Reasons to Come Back to Equilibria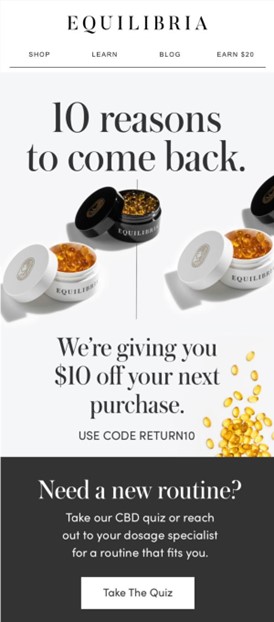 5. Back in stock notification
This email is the multitool on your email marketing workbench:
It can be a general broadcast promotion, sent to all active subscribers.

You can send it to segments based on preferences or email/web activity.

It can springboard off a customer's browsing or cart activity, like the price-drop notification above.
Some savvy brands give customers a chance to be notified when an unavailable product comes back into stock. These also can be acquisition emails if handled properly and offer truly wonderful customer service.
This email from Pottery Barn went out to customers who browsed a sheet set but didn't convert. The product went out of stock shortly afterwards. When PB restocked, it sent the email to browsers who were registered customers. (Note: That's another reason to try to persuade visitors to sign up for email or register for accounts!)
Subject line: Look what's back in stock (plus, FREE shipping)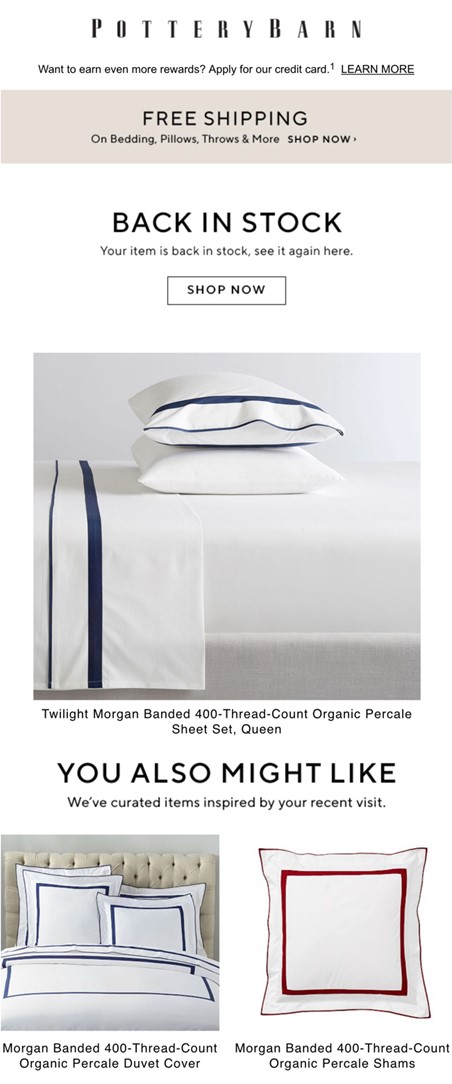 What to consider before launching these automations
Each of these automations can help you fill in a gap in your customer lifecycle messaging or reach customers who don't fall into well-established categories. But remember that they are tactics – the things you do to carry out your strategies in order to achieve a specific goal.
Before you start designing a new template for a price-drop or back-in-stock notice, check to make sure the email fills a need or has a specific purpose in your email program. Do you have the data you need to trigger these emails reliably?
The last thing you want is to send a first-purchase email to a regular customer or to miss a particularly fruitful segment because your data was inaccurate or incomplete. Nor do you want to send a win-back email to a customer who buys regularly from you but just doesn't click on your emails.
When you get it right, you'll end up with a stronger email program, one that brings in more revenue but also builds stronger connections with your customers throughout their journey with your brand.
Photo by Nick Fewings on Unsplash