Arrendale: Why Deliverability Matters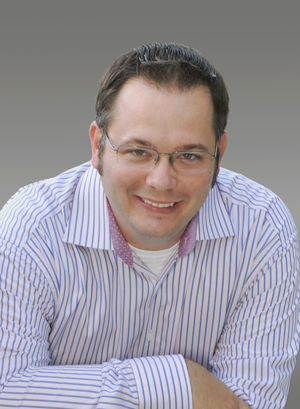 If a tree falls in the woods, did it actually make a sound? If your marketing emails don't land in the Inbox, will anyone ever see it? Delivering the right message, to the right buyer, at the right time will help get your email opened and, hopefully, convert a prospect to a client. Deliverability does not just mean getting your email "delivered" to a network. It is about getting your email into the Inbox and making a conversion. With all of the recent changes in the deliverability space, it is timely to talk about why deliverability still matters.
The deliverability landscape shifts every day and it is important to track ISP changes, ongoing technical challenges, and monitor available reports and tools. Since the writing of this article, Gmail has updated their filtering algorithm thousands of times. There are many ways to keep an eye on your deliverability:
Deliverability reporting in your ESP (review campaign reports and bounce logs)
Email monitoring tools (seed data and panel data)
Email preview and design tools (Litmus, Email on Acid)
Use all of these tools in combination and review for any anomalies that don't align
There is no denying that deliverability drives revenue. Would you still send email marketing campaigns if there were no revenue tied to it? We have worked with very large organizations that have no idea how much revenue their email marketing program makes. This is one of the first fact-finding missions we perform – understanding your "deliverability dollars". Setting a baseline for revenue, as well as opens and clicks, will help you understand how your email marketing program is performing. This helps answer the age-old question – "What should my optimal open rate be?" Don't try to compare your email marketing program to others, focus on your numbers and how you can improve them.
Authentication – Setting up the proper email authentication (SPF and DKIM) is key to establishing trust between your mail infrastructure and your recipient's mail infrastructure. This is something the ESP normally sets up, but send an email to a Gmail account from your ESP and review the headers to make sure you see both SPF and DKIM passing.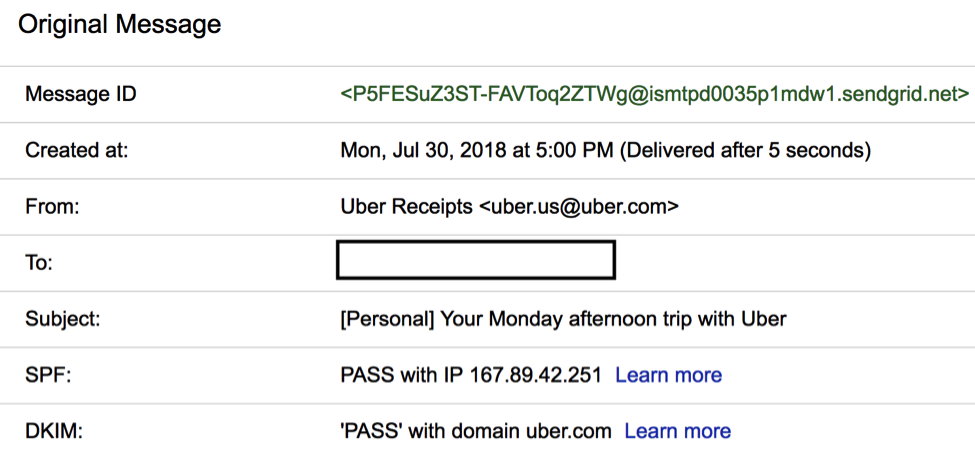 Infrastructure – Reviewing your setup is crucial to good deliverability. This is a component that many email marketers forget about. Understanding the impacts of a shared IP versus a dedicated IP can make an impact on your deliverability. Are you on a blacklist because of someone else on the shared IP? Are you sending enough for a dedicated IP? Questions like these will help you understand the current state of deliverability with your ESP.
Content – Sending relevant content is key to having good deliverability. Not just relevant content, but content that renders properly in all platforms and devices. Aim to provide quality material on a consistent basis. Have you ever received a marketing email and wondered why you were receiving this particular piece of content? Many recipients have, and this may increase your complaint rate if your content is missing the mark. By setting up a sending schedule, audiences will 'tune-in' to your content. Here are few ways you can do this:
Format email content so that it can be read on any mobile device, include a mobile-friendly landing page.
Personalize emails by addressing recipients by their first name. This helps to build meaningful relationships and improves future open-click rates.
Be clear about what you are offering in the subject line. Using gimmicky subject lines can increase the risk that a recipient will mark the message as spam!
Use a healthy mix of text and images within your email messages.
Focus the call-to-action at the top of your message.
Lists – One of the most important aspects of deliverability is how clean and up-to-date your lists are. List quality impacts deliverability in some of the same ways it impacts effective marketing efforts. A tightly curated, properly acquired contact list allows you to target only people who are likely to make a purchase from you. By concentrating only on those who want to receive your content, you're decreasing the likelihood of bounces and abuse complaints and increasing the level of engagement and conversions.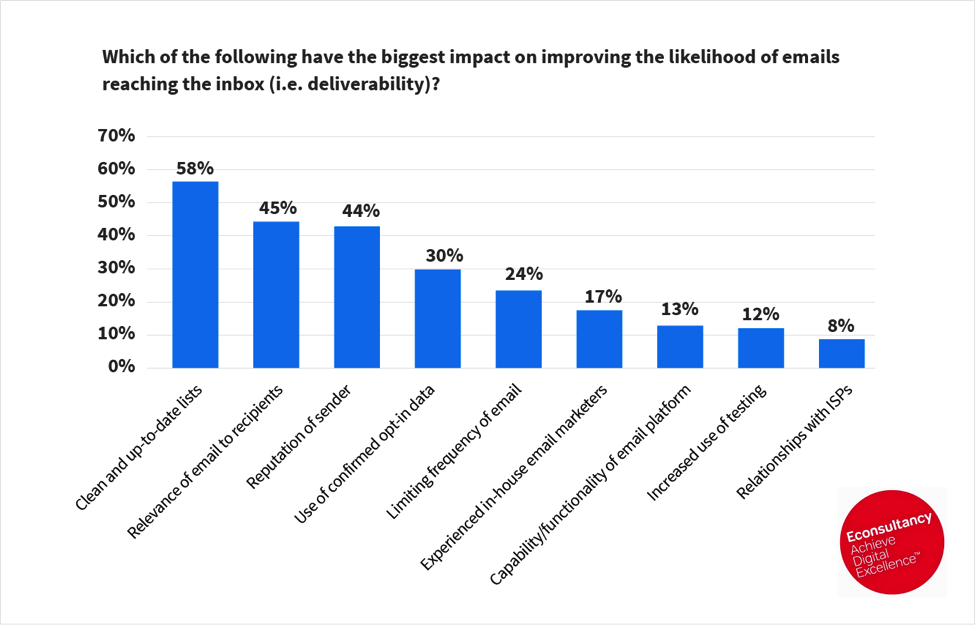 Reputation – Think of your first day of high school (I'll wait)! This is one way to visualize what your deliverability reputation is. Do you want to set a high standard and establish a good reputation when you step out on your first day (new IP/domain)? If you have a bad reputation (existing IP/domain), you can still turn things around and build it back up. To do so, you will need to evaluate your current lists, content, and sending practices.
Above all, reputation and trust are very important. As consumers, we buy goods and services from brands that we trust. When we hand over our data to a brand, we expect security in the transaction. The same goes for email marketing. A recipient's biggest concerns are "Did I sign up for this?" and "Is this sender who they say they are?" Make sure the contacts you are sending to have opted-in, that your branding matches your content, and that the message content offers value and your recipients' primary concerns have been addressed. By following these guidelines you are much more likely to turn recipients into customers.
What's Making the News
DMARC is very relevant to the deliverability conversation and focuses more on protecting your brand. DMARC was designed to "lock down" your sending domain so that no other sender can use it maliciously or without your knowledge. With a DNS record and review of your infrastructure, you can change your mail streams so that nobody else can use your domain to send email. You first start with receiving reports on other senders that are using your domain to send email and slowly move to a "reject" status to help protect your domain. As you can imagine, when recipients mark your emails as phishing, it can have a tremendous impact on your deliverability. For more information on this, you can visit dmarc.org.
Many marketers are trying to find "loopholes", instead of making an effort to truly understand compliance. It is important to focus your efforts on getting email opt-ins, creating proper documentation, delivering relevant content, and suppressing inactive recipients. Recent laws (CASL, GDPR, etc.) are meant to protect recipients and focus more on the trust layer of consent and data protection. Build a team of stakeholders within your company and make compliance a priority for your email marketing program.
The Brand Indicators for Message Identification (BIMI), is an industry-wide effort, that uses brand logos to help people identify and avoid fraudulent email. For a BIMI logo to be displayed, the sender needs to have DMARC, SPF and DKIM in place so that the source can be marked as trusted. The brand also needs to publish its logo in the DNS record. This is a great way to gain the trust of recipients and improve deliverability, but it is also a free marketing avenue. For more information about this and to join the Beta program, visit brandindicators.org.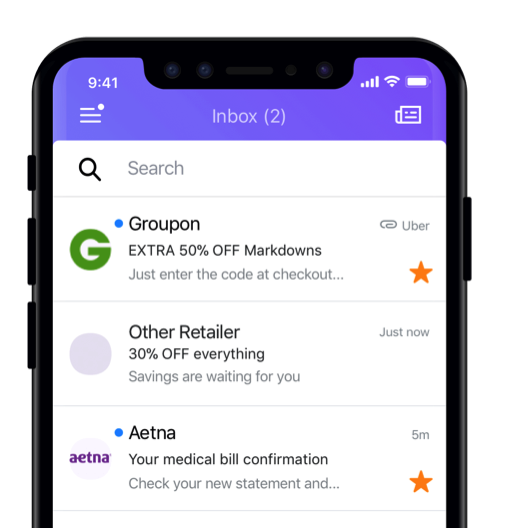 Wrap Up
As you can see, there are multiple reasons why deliverability still matters today. With the focus shifting towards compliance and trust, marketers may have a tough time on improving deliverability.
Title:
Why Deliverability Matters
Audience:
Email Marketers
Publisher:
OnlyInfluencers.com
Copyright 2018
,
Only Influencers, LLC