COVID-19 or Coronavirus -- which performs better in subject lines?
As the current crises began to unfold, I was interested to note that while we started out by calling the disease Coronavirus, the name COVID-19 began to emerge as the favorite among email marketers for use in Subject Lines (SL). So, a couple of days ago I decided to dig into the Touchstone - which uses Machine Learning to predict Open Rates - to see if I could learn anything of value.
This is what I found: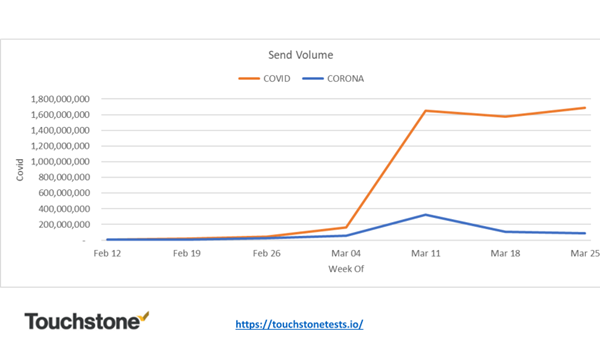 At the beginning of February very few emails being sent had either word in the SL, when they were used there was little difference in the numbers. However, that began to change in early March. By March 10th Email Marketers overwhelmingly began to favour COVID-19.Intrigued by this I took a look at how the terms compared over time in Google trends and what I found really surprised me.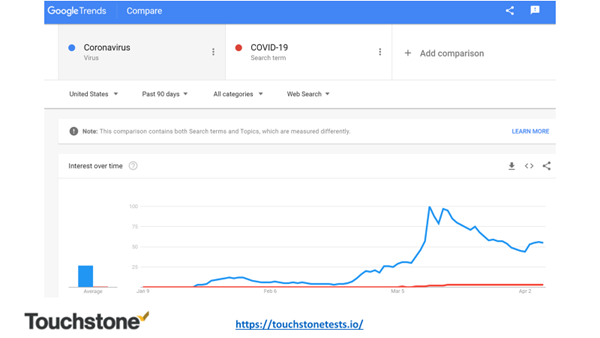 In terms of searches made Coronavirus is the OVERWHELMING favorite! So, I went back to the Touchstone database to see how their open rates for those SL's compared.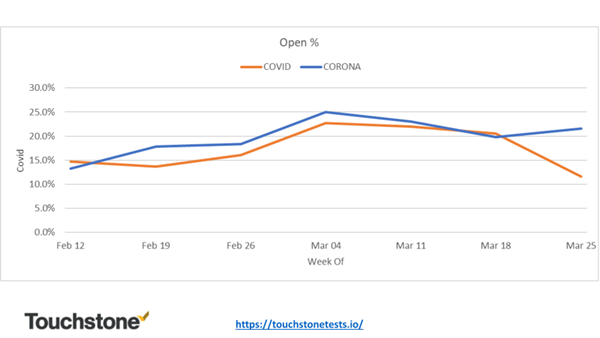 Somewhat paradoxically it seems people are choosing to use COVID-19 even though Coronavirus performed better. Open rates for Coronavirus SL's are up 2 times higher than COVID-19!
This tells me the following things are likely to be taking place.
Email marketers are not testing their Coronavirus SL's and/or they are not testing Coronavirus because they have assumed their personal preference towards COVID-19 is also true of their customers. Few would argue that Subject Lines (SL) are one of if not THE, single most important part of an email. Get them right and you are on the road to success. Get them wrong and you leave money on the table at the very least and in the long run may well reduce the lifetime value of your customers. We are operating in a time where many businesses are facing uncertainty and the rules seem to be changing daily, so SL testing is more important than ever before.
At Alchemy Worx we are testing more SL's than ever before and are very reliant on Touchstone which uses Machine Learning to identify winning SL's to do the heavy lifting. Touchstone delivers the results of our tests in minutes and allows us to run as many Subject Lines as we want without burning out our clients' email base.
What our tests tell us and I recommend you think about this as you consider what to test. Don't use either in your SL
Here are a few of the best performing Subject Lines we have used recently.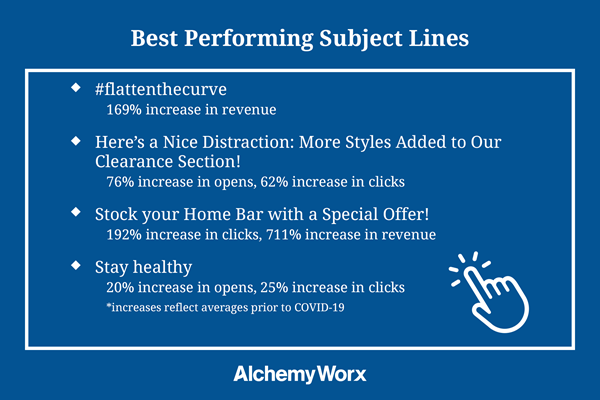 Finally, a word on deliverability. Inbox placement started out not great for either, but improved later. with no clear difference between the two terms.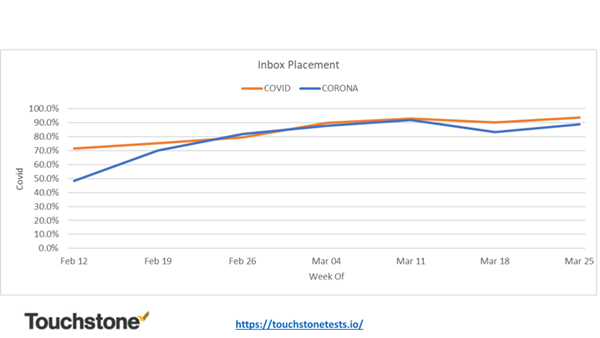 If anyone would like to try Touchstone sign up here the trial is free and I will happily extend the trial to anyone who reaches out to me during the current crisis
Happy Testing!