Dela Quist: Forget Batch & Blast, it's Fire & Forget Damaging Your Campaign Performance - Here's Why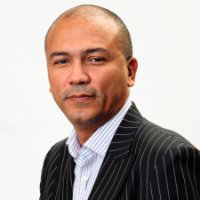 "It is not worth-while to try to keep history from repeating itself, for man's character will always make the preventing of the repetitions impossible" – Mark Twain
Back in 2013 Alchemy Worx published a thought piece on the impact of send volume, send frequency on open rates – almost always negative. We sought to calculate the impact of higher frequency mailing on total opens and to champion total opens as a better KPI than open rate. To do this we used eDataSource's competitive intelligence tool to examine the behaviour of the top 200 email senders by list size in the US over the previous 2 years. This group includes a diversity of brands and industries. The names Apple, Amazon, Wells Fargo, Intuit, Expedia, Groupon, American Express, Astrology.com and Best Buy will give you a sense of who we looked at.
What we found was plenty of proof that when email frequency goes up, open rates for a campaign typically go down. But that wasn't tell the whole story, if you look at the numbers over a longer time span, a year or more, sending more email will ultimately reach more customers and give the ones you have more chances to do business with you. A point I make here in this interview with Entrepreneur.com.
The Death of Batch & Blast
It seems to me there has been a recent upturn in the number of pundits advocating that brands need to eliminate what they somewhat derogatorily call "batch and blast" or worse still "spray and pray" emails from their armoury and either stop mailing (or at the very least send less mail to) "inactive" subscribers. So, I thought it would be interesting to go back to see what if anything had changed in the last 5 years. Using EDS Analyst once again, we looked at the Top 200 US senders' (the composition of which has changed a bit) campaigns and the results they achieved over the last 2 years. The 3 metrics we revisited were the number of campaigns sent - deployments, the total number of subscribers the campaigns were sent to - send volume and the total number of opens generated by those campaigns – opens. I have to say while I was expecting to see something like this the magnitude change came as a surprise.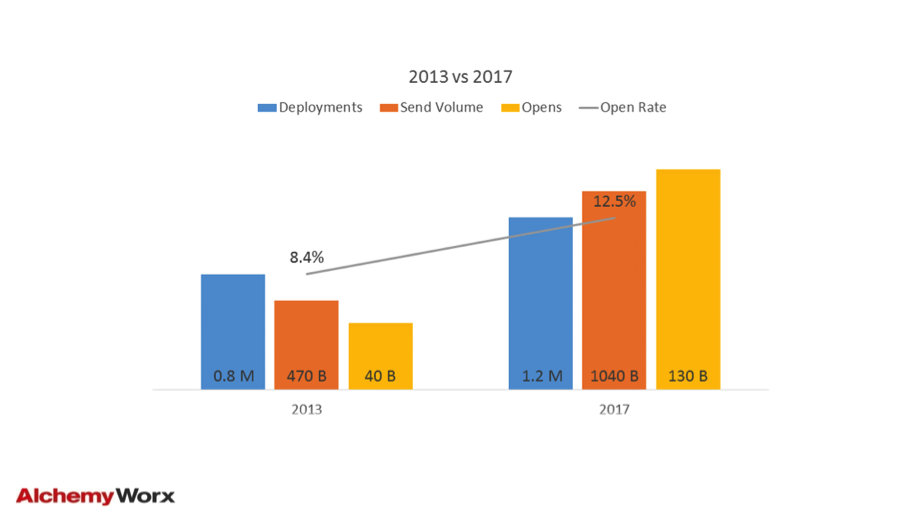 The number of campaigns sent by the top 200 senders in the US is now 1.2M up 1.5 times 2013, total send volume is 1040 Billion 2.21 times 2013 volumes.
Together these campaigns generated a staggering 130 billion opens - 3.25 times the 2013 figure.
Prevailing wisdom would therefore dictate that "bombarding" subscriber inboxes with twice as many emails as they got in 2013 would (given the belief at the time that too many emails were being sent even then), open rates would take a hit.
They did not. open rates are up nearly 50% on 2013!
Median list size remained the same, so the top 200's mailable subscriber base is about the same, but better still all these extra emails seem to have had very little impact on overall inbox placement as you can see below.
Our initial thoughts when looking at the data (I suspect many of you will too) was to assume that much of this was down to a shift towards more personalised relevant messaging driven by triggers and automations like abandoned cart and other behavioural triggers, would be the prime reason for the volume increase and the open rate improvement.
They weren't.
In order to identify highly personalised/ trigger emails from the "batch & blast" email campaigns we separated them into groups defined by the percentage of the list the email campaign was sent to. Our assumption was that campaigns sent to <1% of the mailable list were likely to be highly personalized triggers and/or automated streams 1%-10% fairly personalized and likely automated. On the other end of the scale we assumed that campaigns sent to over 50% of the mailable list would be very likely to be a "batch and blast" campaign. Campaigns sent to between 25% - 50% of the list quite likely to be batch and blast and so on.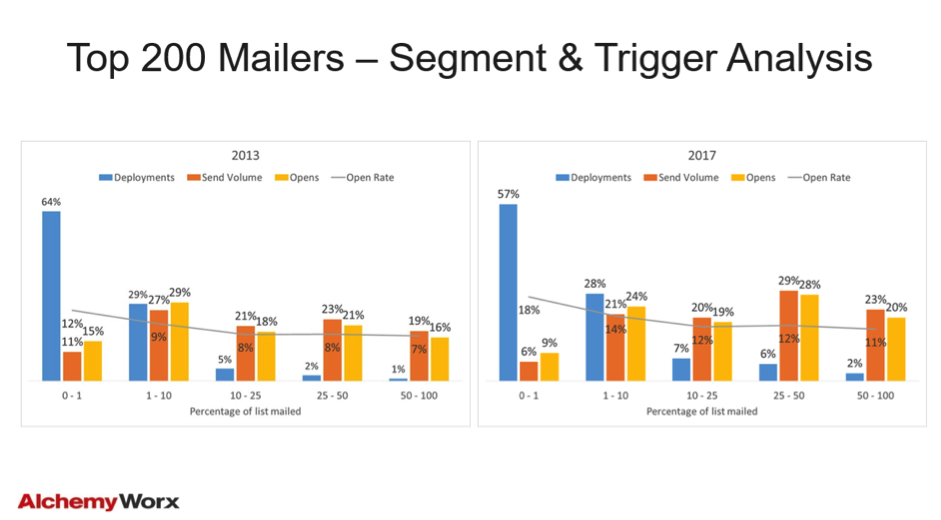 To our surprise the percentage of emails sent to very small segments - that is the highly personalized triggers - sent by the top 200 today has actually fallen by 11% when compared to 2013.
When it came to batch mailings sent to more than 25% e were even more surprised to find:
how few email campaigns (3%) sent back in 2013 data were batch email sent to more >25% of the list.
That as a percentage the number of batch emails sent in 2017 has more than doubled to 8%
To summarize
In 2013
93% of the email campaigns deployed were highly personalised/segmented/triggered email campaigns that went to <10% of the list. These campaigns were responsible for 38% of the send volume and 44% of all opens.
3% of the email campaigns deployed were batch mailings sent to >25% of the list. These campaigns were responsible for 42% of send volume and 37% of all opens
In 2017
85% of the email campaigns deployed to <10% of the list (down 10%) were responsible for 27% of send volume (down 29%) and 33% of all opens (down 25%)
8% of the email campaigns deployed were batch mailings sent to >25% of the list. These campaigns were responsible for 52% of send volume (up 24%) and 48% of all opens (up 30%)
Open rates for every category are up around 50% over the period.
The data is telling us the top 200 email senders by volume brands like Amazon, Expedia and Amex are sending fewer highly or micro segmented email campaigns in terms of both campaign numbers and send volume than they did in 2013 and (this may well be because) those types of campaign are performing less well today than they were in 2013!
By contrast these same brands are getting better – way better at batch and blast emailing
So, what's not to like?
I realize many people believe anyone sending the same email to their entire list especially if it includes subscribers who have not opened an email in the last 6 – 18 months should be put to the sword, but this data is telling us the opposite and delivers more than meets the eye.
First and foremost, the data tells us – more email does NOT lead to a collapse in open and/or inbox placement rates, let alone Armageddon. More importantly it gives us an insight into what tactics we need to use in order to increase mailing volumes sustainably.
Let's start by looking at differences I have observed about the way Email Marketers treat batch and blast campaign compared to automated or trigger campaigns.
Fire and Forget?
I have always found it ironic that automation advocates who often lead with numbers that show triggered email generate 2x 4x 5x (take your pick) opens clicks and revenue than batch emails, take the attitude that such valuable communications be fire and forget. It would be like a major retailer leaving the same decorations and store layout in all locations no matter what the season year after year.
Everything goes stale after a while, your beloved abandoned cart template, the carefully tested subject line, offer and call to action. Even the timing of the trigger loses its impact after a while. Some brands have hundreds if not thousands of automations slowly going stale out of view. We encourage all of our clients to avail themselves of trigger monitoring tools and regular (somewhere between quarterly and monthly) updates of all aspects of those campaigns. It takes time and effort but it's worth it.
Batch & Blast?
By comparison we put a tremendous amount of effort into our mass mailings – just take an email from any brand sent in 2013 and compare the template look and feel to one sent today. we use tools like Persado and Touchstone to create and test Subject Lines, LiveClicker or Movable Ink to deliver highly personalized content in real time, eDataSource and MailCharts to keep an eye on the competition Litmus and Taxi for Email to build and test. The list is endless.
No wonder the performance of these emails has improved so much in 5 years.
Heap and Reap (Reach & Frequency)
In some ways what the data is telling us is mass or batch emails are anything but dull repetitions of the same email to everyone and without TLC the performance of your automated campaigns will degrade over time.
It also shows that mass mailing everyone is no bad thing providing you are smart (#DBS) about the way you go about it. Think of the emails you send to everyone particularly non-openers as prospecting emails that deliver the widest Reach or audience to your non-offer driven information and brand values. I like to think of automated emails based on customer lifecycle or journey and emails triggered by subscriber behavior as delivering frequency and reaping the subsequent conversions.
My advice to you?
Lovingly Heap quality brand and non-offer driven messaging on your database and Reap the rewards of that activity via your triggers.
Title:
Forget Batch & Blast, it's Fire & Forget Damaging Your Campaign Performance - Here's Why
Audience:
Email Marketers
Publisher:
OnlyInfluencers.com
Copyright 2018
,
Only Influencers, LLC