Increase Conversions With Timely Relevant Messaging... Email Marketing for the Buyer's Journey!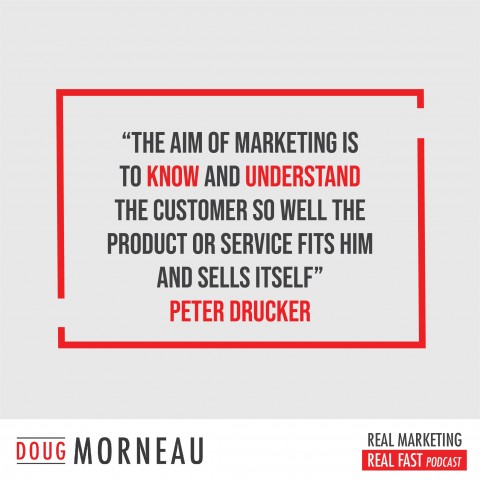 The tough part is consistent execution and achieving that goal. So how do we use email marketing to acquire a customer and satisfy that customer?
Let's start at the beginning. When you have a problem, where is the first place you look for a solution?
Google? Facebook? Youtube?
You and I can do our own research for products and brands that may solve the problem.
We can compare the features, benefits, customer reviews, and pricing. In most cases, we can complete the entire process unassisted and not require a conversation with a real person.
We move from becoming problem-aware to consideration to making a purchasing decision.
Online search and digital marketing have changed everything.
This process is known as the buyer's journey. At each stage, the intent is to move through a series of steps to get what you and I want or need to solve the problem
With so much of the buyer's journey now completed digitally, it's become more important than ever to ensure our email marketing automation and campaigns educate, inform, and most importantly, nurture prospects into taking the next step.
When you search, you'll find much has been written about mapping the buyer's journey for content marketing and paid traffic, and very little about how to incorporate the buyer's journey and into your email marketing.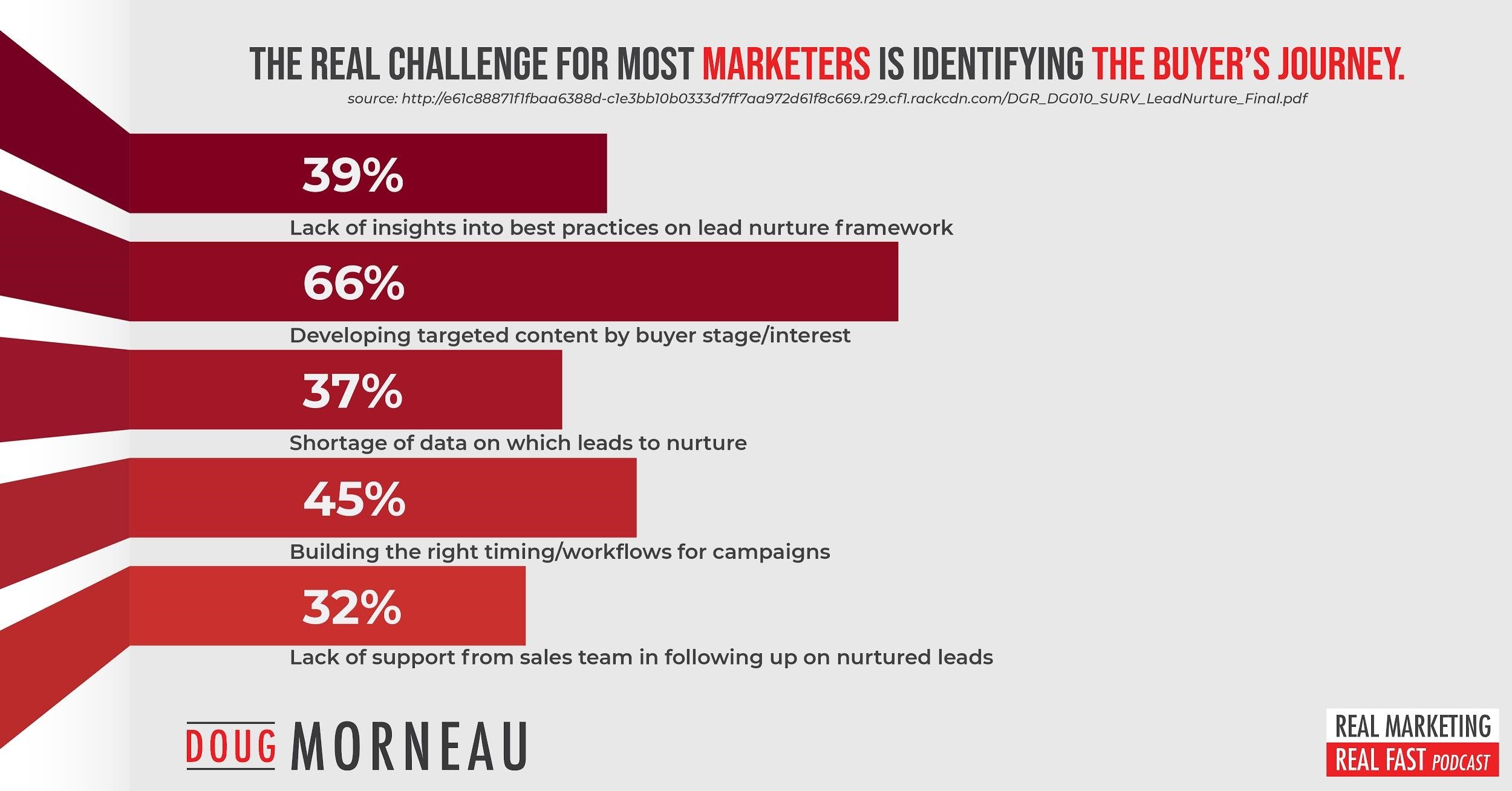 So, in this post, I'm going to discuss:
Mapping out your email marketing content and campaigns to match the buyer's journey.

How you can match the right offers to the right prospects at the right time.
What is the buyer's journey?
A recent HubSpot post defined the buyer's journey as the active process buyers go through to become aware of, evaluate, and purchase a new product or service.
The most basic steps:
Awareness

Consideration

Decision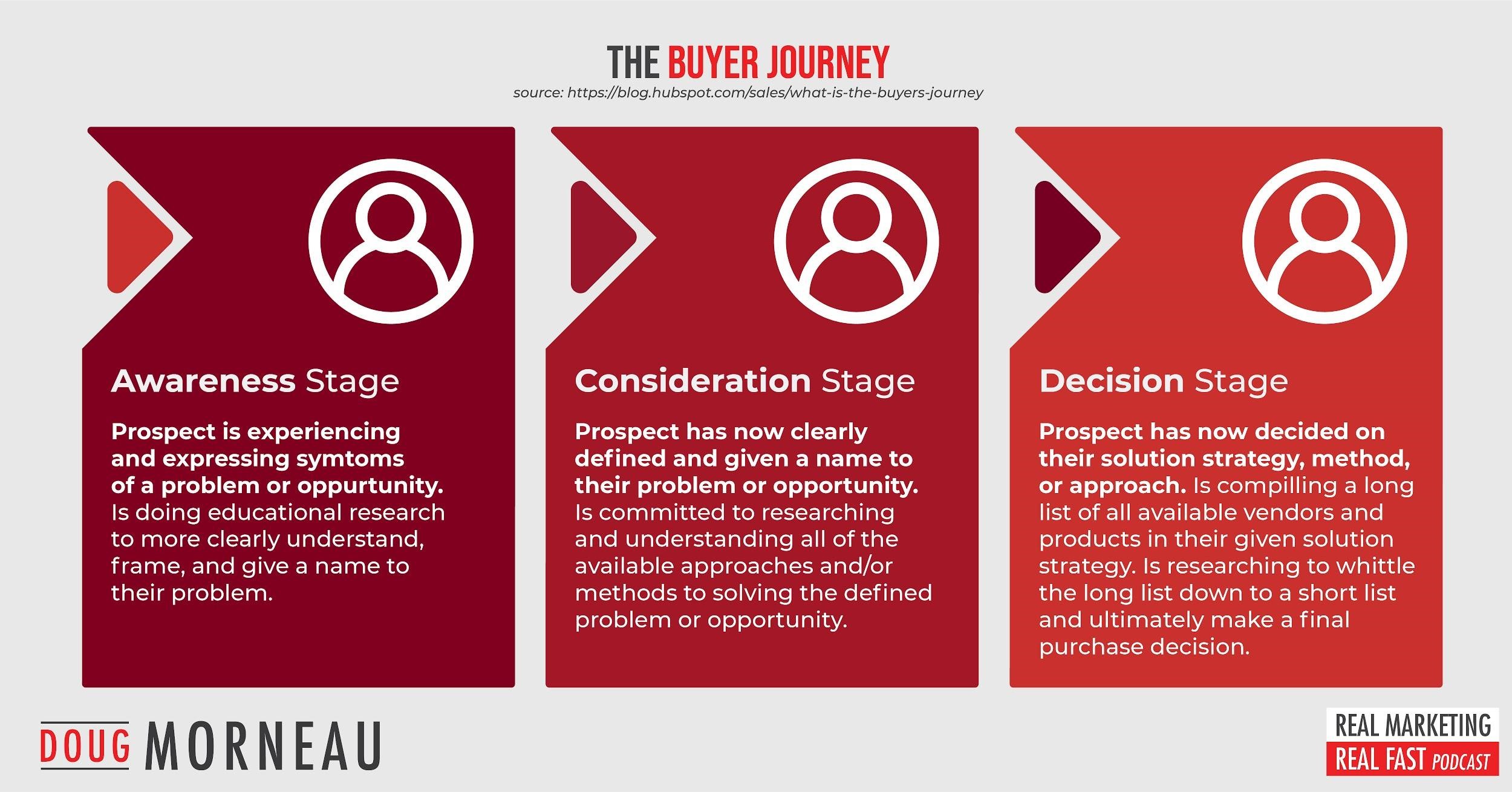 Think about your potential customers' buyer journey.

Where do they go for advice?

What questions do they have?

What concerns do they have?

How important is social proof?
How your email marketing messaging communicates with your prospects will vary depending on which stage of the buyer's journey they're currently in.

Communicating with your potential customer with the correct email message, and the correct time, that's in alignment with how far along they are in the buyer's journey will give you the highest potential to convert them into a paying customer.
So, where do you get this data? It will depend on the current systems, platforms, and technologies that you currently use for your business.
Awareness Stage Metrics:
Use the knowledge gained from the customer acquisition to gauge where the potential customer is in the buying process.
How did you acquire this subscriber? GAW Search? What were they searching for?
Percentage of old visitors vs. new visitors – Are prospects returning to your site, thus, becoming more familiar with your brand?
Are the search queries different between visitors who sign up and give you their email vs those who don't?
Does your website use Live Help? What questions does live help get?
What are common help desk questions or complaints, good and bad reviews?
Do your customers have to connect with salespeople either inbound or outbound - questions, objections, etc.
Leverage this data to solve the problem before it happens with relevant timely email content.
Identify trigger events for your customer and your industry:
Example Trigger Event: COVID
Problem: No walk-in traffic to my retail store
Search: How to sell online?
Set up an eCommerce store
Which platform should I use?
Should I do it myself or hire someone?
Google Analytics Metrics.
If you're using Google AdWords as an acquisition channel, click Acquisition > AdWords > Search Queries:
Search-queries-google-analytics
Or, if you're using content through organic search, click Acquisition > Search Console > Queries:
Queries-google-analytics
Your prospect is often identified by the type of queries they're making such as what, who, where, when, why, and how (e.g. "How to set up a Shopify store").
Analyzing search queries will offer insights into your ideal buyer and help you craft email campaigns that are relevant to their needs and interests.
You can use this data in your "Welcome Series" When they subscribe to your email list because you know what they search or clicked on to get to your website.
Remember, 72% of the buyer's turn to Google during the awareness stage. Using this data you can align your email messaging to the potential where the customers are in the buying process will provide a better experience.
Sometimes the buyer's journey is shown as a sales funnel that incorporates the above stages, from lowest purchase intent (awareness) to highest (decision) and a sale.
In the image below, it's further expanded in six stages, with the first (awareness), third (consideration), and sixth (purchase) stages corresponding with the three in the image above: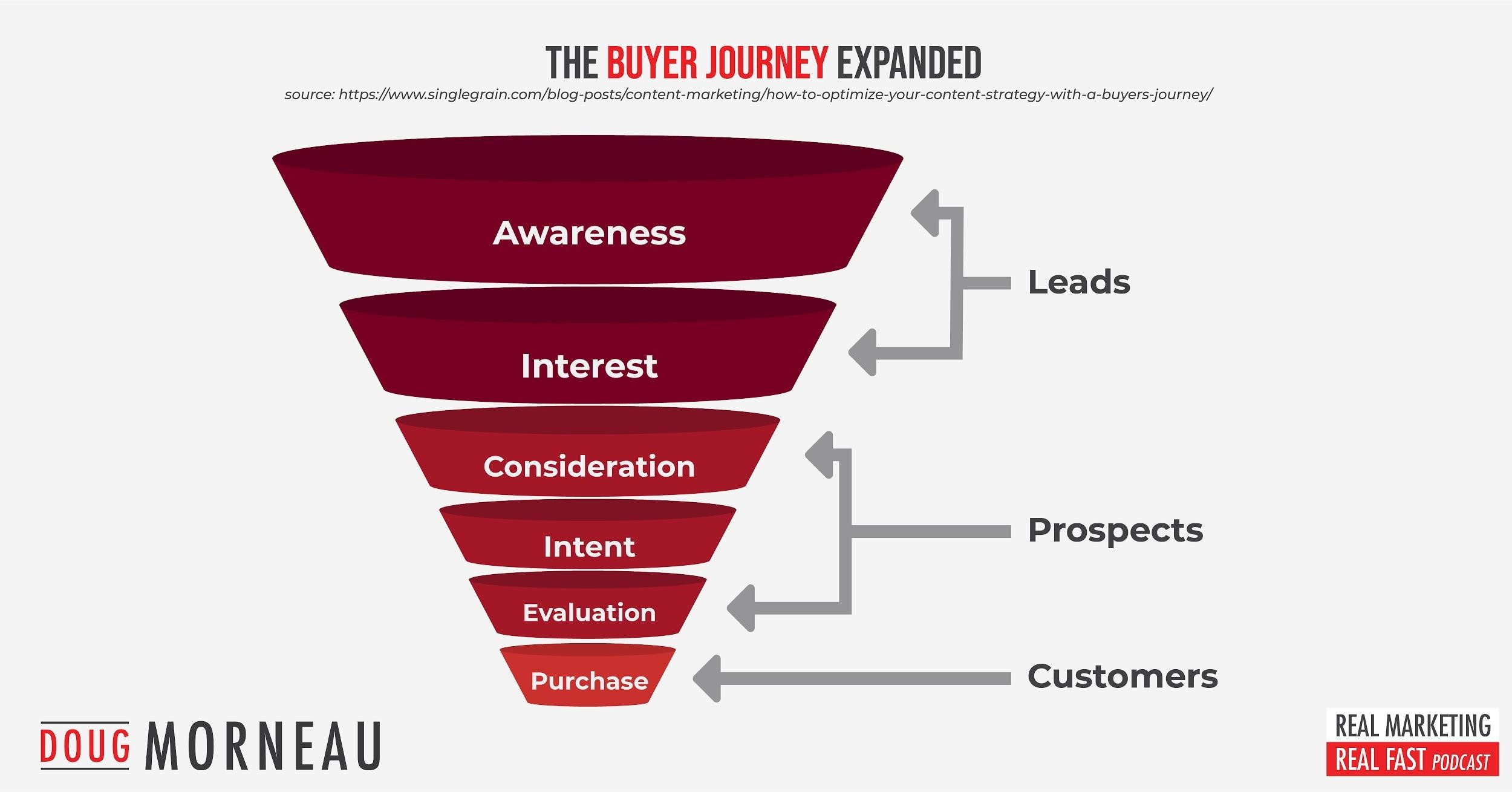 Engagement Metrics:

Are your email subscribers opening and clicking through on your emails? What link did they click on?

What pages did they visit after clicking on your most recent email?

Does your ESP (email service provider) track sessions and pageviews linked to your individual email subscribers?

Are you leveraging these data points to create personalized messaging or activate trigger email or email sequence based on your subscribers actions?
Did the visitor review and testimonial page? Send them an email Subject: Here's what our customers are saying … and include a few testimonials.
Consideration Stage:
Shopify, knowing their prospects value demonstrations, offers free online training to showcase their product.
Remember, you're not asking for purchase, yet. You're simply aligning your email messaging to the buyer's journey by inviting further engagement, with more investment from your potential customer.
Anyone who's clicking through to read customer reviews or attend a webinar is more likely to become a customer than a recipient who's only opening emails.
Metrics to monitor closely at the considerations stage include:
Returning visitors – Are certain recipients opening and clicking through on consideration emails more than others? If so, that's a good indication they're close to moving down your marketing funnel.
Webinar registrations – If you're running an evergreen webinar, the number of registrants should be consistent, if not increasing over time (providing you're continuously capturing and converting leads, of course).
Decision Stage:

At the decision stage, your prospect has clearly defined the solution for their situation and is evaluating a list of potential vendors in their given solution strategy.
Specifically, they're looking for information on how your product or service works, how others like them have been successful, and what their experience might look like if they decide to move forward with your company…
… and that includes what happens before they make a purchase.
So, make it count.
Beyond the Buyer's Journey and the Sale
It's tempting to believe the buyer's journey ends when a prospect becomes a customer, but the reality is you need to continue delivering value after they purchase.
Why?
Aside from reducing email unsubscribe rates and improving customer satisfaction, consistently offering value after purchase helps turn customers into evangelists for your business…
You now have the opportunity to make additional sales, product, or service recommendations.
And that's something every business can profit from.
Have you mapped your email campaigns to the buyer's journey? What data did you use to do this? Leave a comment below.
CONCLUSION:
The opportunity to make our email advertising work harder to close the sales loop beyond the traditional email marketing campaign is there for the taking.
During the last quarterly agency meet up with other Klaviyo partners, the feedback for email flow (automated sequences) vs just email marketing campaigns presented overwhelming cases that buyers' journey email once implemented could generate as much as twenty to thirty percent of an e-Commerce store's gross sales, with an additional twenty to thirty percent coming from email marketing campaigns. Not bad, Email Marketing for the WIN with two-thirds of sales :)