It's Back! Holiday Season Is Upon Us!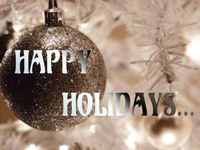 Suddenly September is here, Fall is closing in, and Holiday 2014 is right around the corner. As of today, there are 85 days left until Black Friday, the official kickoff to the holiday season. If you're not planning out your holiday strategy now, you could quickly get behind. Yes I know I'm preaching to the choir but this season comes around once a year, and there are some new email tricks you can use to drive success in 2014.
But before we dive in, let's discuss some trends. Over the last few years, there has been a shift from Black Friday & Cyber Monday "events" to a weeklong Thanksgiving extravaganza! A few clients we work with said they've seen sales tick upward before their "sales" even start, as much as a week or two before Thanksgiving. Let's start thinking about how to best serve our customers and help achieve our own targets at the same time.
In 2013, the e-tailing group found that 78% of consumers want to be contacted less than 4 times via email after vising your site, and 74% say they want to receive email from you during the month after a visit. Couple that with Redshift Research's work from April 2014 that discovered that 39% of consumers will opt-out if they are sent email too frequently. This means we need to strike a balance between the itch to click send and what we send during the holiday season. Consumers are on the hunt for a good deal, and they want to know what's happening and when. But they don't want their inbox to be so full that they can't get the information they were looking for before buying.
With that said, here are a few quick ways that you can effectively strike that balance and drive success during the 2014 holiday season.
Mobile Optimize Email – Each quarter Movable Ink releases a consumer device preference report. It shows how consumers use smartphones, tablets, and PC's for email. In the latest edition, almost 2/3 of brand marketing emails were opened on mobile devices. This is no longer a new trend but the norm. Further – tablets are the choice device at night and on the weekends. Over 50% of your traffic could come from smartphones and tablets this holiday season. Think about how you can take advantage of that traffic through mobile optimization to capitalize this holiday season.
Personalize Email – personalized email drives 3-5x returns over traditional messages. It can be as simple as adding the recipients name and account information into the email, or as complex as a truly 1:1 triggered message. If you have not incorporated some personalization into your email program, look into ways to start doing it today. Product recommendations are a quick win, or go further and start personalizing content and offers within each message too.
Location, Location, Location – Geo-targeting can increase your performance by as much as 25%. Simply considering the cultural and weather differences across the country will impact response rates to emails received. So when it's snowing up north and warm down south tailor your messages, offers, and calls to action based off of regional differences to increase engagement and click rates.
Email For Store – Within your holiday email, promote nearest store locations or promotions happening in the store. It's a quick win to start cross-channel promotion. Don't forget the consumer doesn't see your email, website, or storefront as different channels, they see it as one company they buy from. Integration will improve the customer experience.
Flash Sales – Black Friday built its name on retail sales volume, and deals available to consumers. Turn your Black Friday/Cyber Monday emails into marketing machines and promote time sensitive deals through them. Send a few emails over the course of the day promoting the next available offer, or even update the same email every hour with a new deal. We helped a retailer execute this strategy and they drove a 99% increase in email revenue year over year for cyber Monday in 2012. They got great results again in 2013.
In The Moment Email – One of the biggest innovations in email is the ability to pick what to display in real-time at the moment of open. We have been locked into a pre-send decisioning world for so long that we haven't even thought about what could be done if we could target and adapt messages after we click send. This is an emerging capability that when mixed with any of the five above can drive upwards of 20% increases in dollars per message. Use the data in the world around you to optimize on the fly, find out what creative drives the best results, and get better in sight this holiday season too.
Hopefully you found this helpful as you ramp up planning for this upcoming holiday season.