Jessica Best: 6 Steps to Putting Data to Work in Email
It's now 2017. We marketers have been chanting for "More data!" for years… and I think we can agree: we got it. Marketers use between 3 and 15 (!) data sources in their marketing, and the problem more often than not is that it doesn't all live somewhere we can get to it or make sense of it.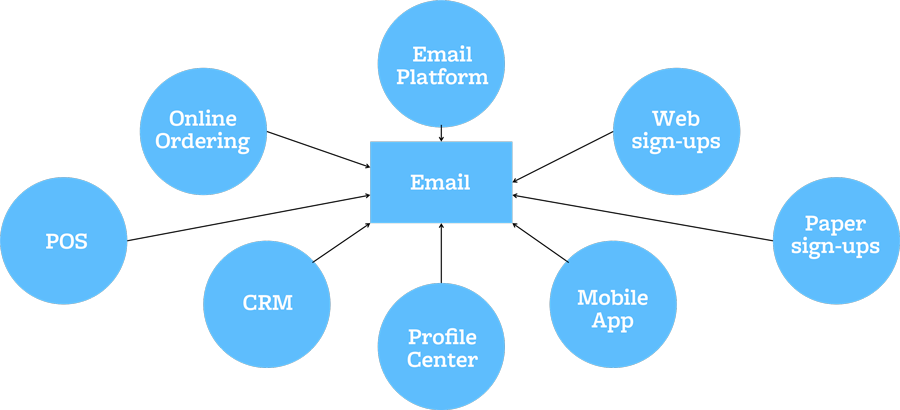 We don't need more data; we need to make our data more USEFUL.
This dream data plan is has 2 sides: First, we need to focus on what data actually means something or moves the needle for a marketing campaign. Not all data is particularly useful. You can use any of it, but only some will actually impact your results. Second, you have to be able to get to it. It all needs to talk to each other (or at least it should all talk to the marketing system you're using).
Let's take a look at putting data to work for your email program in 6 steps:
#1 – First, define the goals of your email campaign or program. Yes, write them down. In pen (digitally speaking). Make sure everyone who determines how you spend your marketing budget or reviews your role & job performance agrees that these are the goals you're all working towards. It seems silly, but you'd be surprised how often people still gloss over this step.
#2 - Set the measuring stick: What are the exact metrics you'll be measuring this goal with? They have to fit the goal itself. Open rates are great, but will that tell you if you achieved your goal of getting more online orders from your campaign, for example?
#3 - Take inventory of all the data sources you have. What attributes do you have, where they live, how are they organized (by contact, by transaction, etc.), where are they synced from/to, what data "wins" in a discrepancy?
#4 – Make a list of what data moves the needle. This is different for just about every company and industry, and the best way to answer this question is to test it. Second best, though, is borrowing ideas. Read up on case studies of what others are doing to great effect.
(Not sure where to find case studies? Start with Marketing Sherpa/MEC Labs and eMarketer for measurable stories. Also, try subscribing to Behave.org, previously called Which Test Won.)
Think of data boosting in your email program in 3 different categories:
Data can determine the

timing

of your email, i.e. automation and segmentation, ensuring the most effective use of your program.
Data can determine the

content

of your email, i.e. personalization and dynamic content, a.k.a. the juicy stuff.
Data can determine the

impact

of your email, meaning you're learning something from each send to use in the next campaign. Make the most of your best-performing campaigns.
#5 - Define what data you're missing in order to make magic happen. What data point did that case study have that you don't? Why not? Where does it live? Can you substitute similar data? Can you budget for an integration of that data with your marketing tools? What is the value of adding that data? This becomes your budget for the project. If the value of that data doesn't pay for itself, try a different idea.
#6 - Choose your data hub. Once you answer #4 & 5, you'll probably be revisiting where and how you store all of your sales, marketing, and even company data. This doesn't have to mean a system overhaul!
Figure out which data setup is right for you and your company:
It may just be your email service provider. If you have entirely offline sales and are a consumer-facing company, the data that you have or need may all fit within your email platform. Use nightly secure FTP file drops (auto export & import) to sync data to and from other systems as needed. Or, check out Zapier for a few (free or paid) plug-ins to common platforms.
If you have direct sales or service contact with your customers outside your store, i.e. business-to-business companies, you're likely using a customer relationship management system to house your customer data, plus the notes on interactions from humans and technology alike. In this case, you're CRM becomes your hub and you can sync your accounting data, contracts, and more right into one main data system that is largely aligned by contact.
When you have more than 5 data sources, OR if you don't need a CRM, OR you have data that you want to put to use in marketing that isn't organized by contact (i.e. store data, inventory data, transactional data, etc.), you're likely ready for a bigger solution like a Data Management Platform or Data Warehouse. It's a custom database solution, specifically for housing multiple types and large quantities of data to make them useful. They consolidate your data for a single, robust view of your customer across all your data points, and they come in all shapes, sizes, and budgets.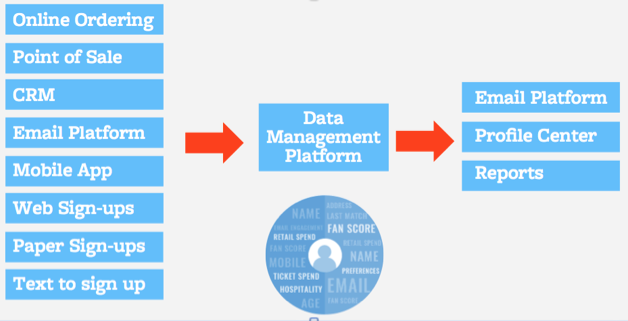 Predictably, a data warehouse will probably be more of an investment than just using your ESP or CRM (which you're already paying for) and doing a few data integrations. This is why it's important to start from the beginning and define your goals. Can your data system help you achieve those measurable goals? If so, it might be worth it. If not: save yourself the time and investment until it can pay off.
Go forth and put your data to work, my friends!
Title:
6 Steps to Putting Data to Work in Email
About:
Big Data in Marketing
Audience:
Email Marketers
Publisher:
OnlyInfluencers.com
Copyright 2017
,
Only Influencers, LLC