My Formula For Optimizing Resources and Managing Time Spent on Email Marketing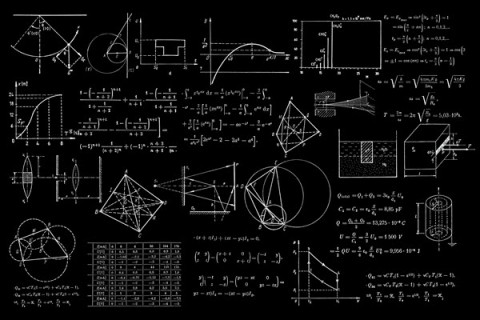 According to Litmus, in 2020, 44% of teams spent about 1–2 weeks producing one email, and 52% of them spent at least 2 weeks on the same task. That's a lot! To stay ahead of the competitors, we must find ways to work faster, better, and cheaper than others.
Being the CEO of the email & marketing automation agency for 8 years, I've come to a formula that shows my perfect email marketing workflow that focuses more on strategy and less on email production.
Email Marketer's Formula for Perfect Resources Management
My experience and the data from open sources like Litmus show that marketers spend lots of time on email production and approval processes which doesn't allow them to focus on strategy. This results in inaccurate audience research, multiple irrelevant email campaigns, and not being able to squeeze in forecasting or retrospective analysis.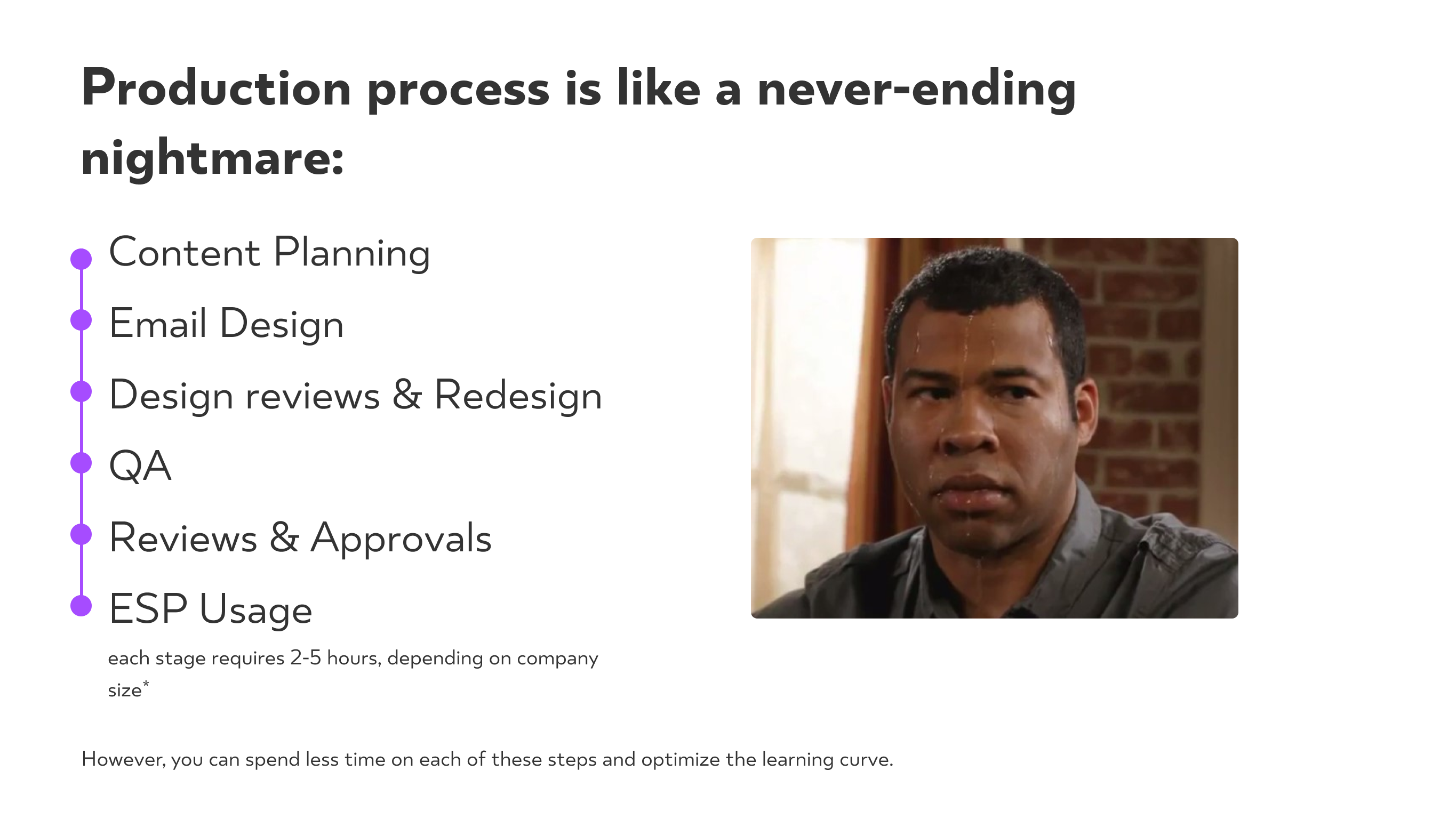 The way I see it, marketing teams should spend 80% of time on analytics and segmentation and 20% on content production with 15% spent on idea generation and only 5% on production.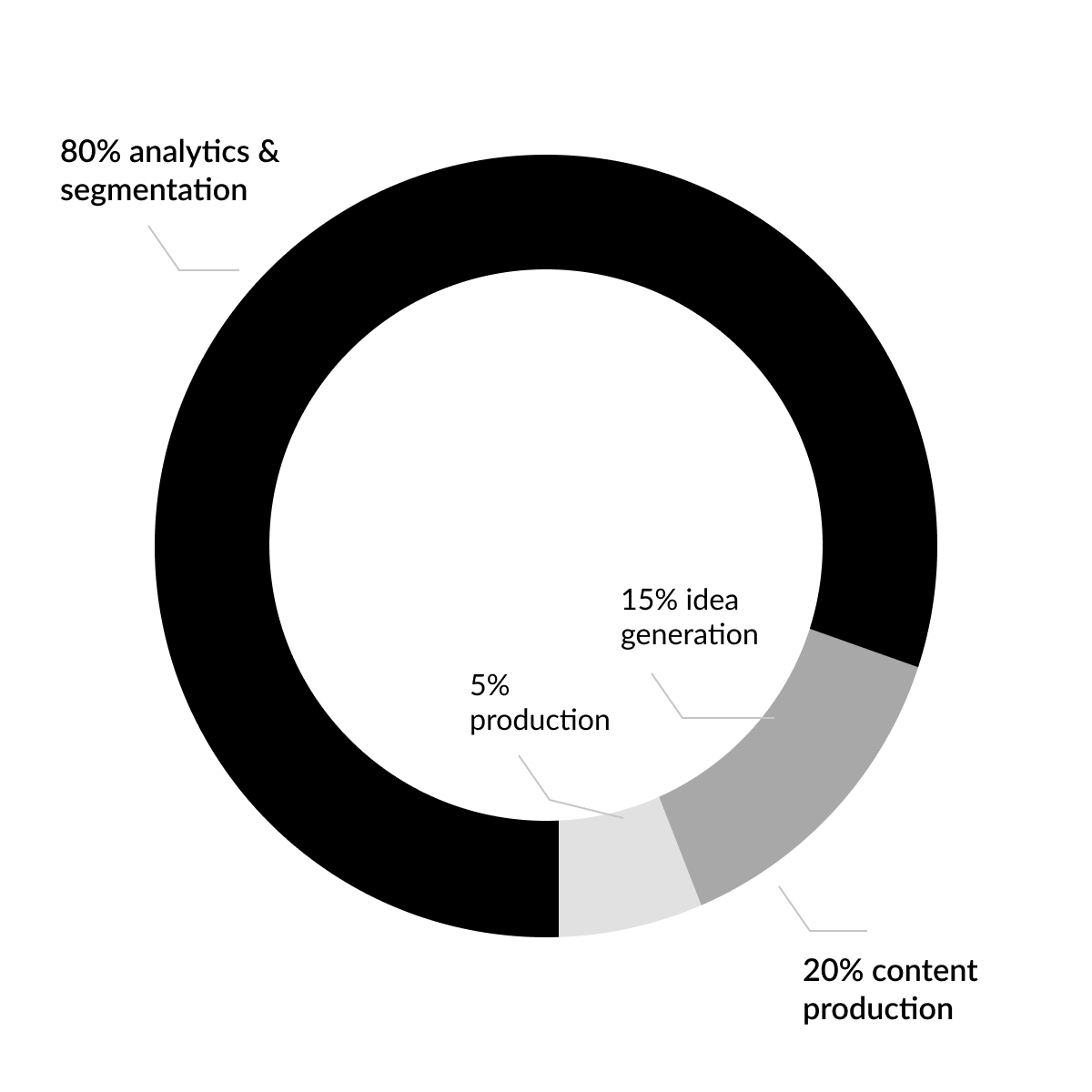 Obviously, we can't apply this formula to 100% of our projects (at least, for now): we have various clients and each of them needs a unique approach. However, even the smallest steps towards the ideal model can make a difference! Let me show you some practices that we can adopt now to optimize time and resources spent on email marketing.
My Favorite Practices for Optimizing Email Marketing Processes
Here're 3 solutions that help my team save time on routine tasks like production and focus on more complex processes: forecasting, strategizing, auditing, and setting up advanced communication scenarios.
1. Optimize your Email Design Processes
Research shows that email coding and design take up most of the production process and in 10% of cases require 9+ hours of work.
Most designers create UI kits, frameworks, and brand guidelines to save time, but in case with large clients, this is not enough. At our agency, we've got clients who just want to get email designs quicker and cheaper; we also work with brands who want us to create designs that their in-house team can reuse and repurpose.
We solve both problems using modular templates. Today, we create modular templates for most medium and large projects we have: together with the client, the designer creates the components that might be needed and adds all the button types, headers, footers, fonts, designs of certain email sections, etc. In the future, it will save our time and the client's money.
If a brand needs a solution that would work for all customer touchpoints, I'd recommend creating a design system. It includes not only email elements, but also components for the website, app, social media, etc.
2. Spend Less Time on Email Coding / Production
We need to adapt to the constantly changing world and produce emails faster. Sadly, in marketing teams, fast production is often only a dream: each time you have to wait till the first person finishes their part and hands the process over to the next one. You can't just skip one of the stages or work at them simultaneously. Put bluntly, these stages cost you a lot of money and human resources that you could use on more interesting tasks.
Looking at the processes in my team, I saw it clearly: we had to speed up the process of making emails and reuse newsletters.

Here's the workflow that we've developed for some of our clients who want to spare more resources for strategic tasks. First, we discuss the client's ideas and create custom email templates. When the production volume increases, we start optimizing design and coding using a drag-n-drop email editor (my team and clients use Blocks, but you can try any other editor that suits your needs). Such tools not only save time on coding, but also help you:
store all emails in one place and label them so nothing gets lost;

test emails and preview their mobile and desktop versions (most editors have this feature);

save complex elements of emails (like dynamic elements) for future campaigns.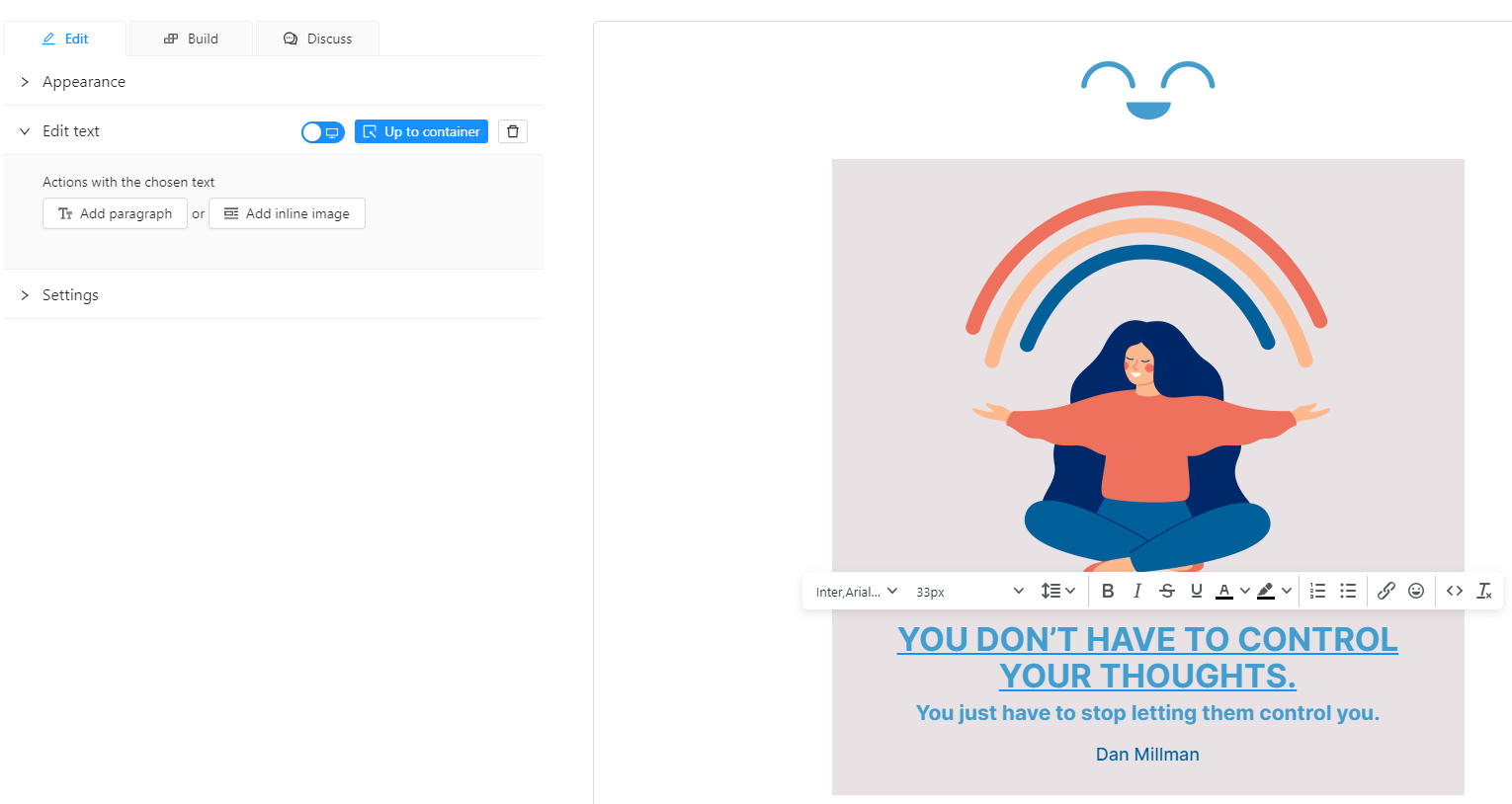 I strongly recommend you tap into the power of a drag-n-drop editor before your competitors do it. After switching to Blocks on one of our projects, we managed to reduce the production from 3-7 days to 1 day only, and the cost of the email decreased by half. If you want to learn more about how email editors save resources and why some marketers (including myself) believe it's the future of email production, I recommend watching this manual.
3. Optimize Review & Approval Processes
In 2021, 62% of marketers still used email threads or comments as the main email proofing method while 38% preferred to discuss things live in person or over video calls. At the same time, 45% of employees identified the approval process as too burdensome or too lax. Just think about all those times when you spent hours (if not days) sitting and waiting while clients, marketers, and other departments would agree on the content, email design, and coding…
First of all, try to minimize the number of email thread discussions and online meetings: emails easily get lost in tons of other messages and calls may waste an unreasonably large amount of time on questions you could discuss in a couple of messages (sometimes you still need those calls and emails. Just try to keep it reasonable).
My advice here is to start using collaboration tools as soon as possible. This way, clients, marketers, copywriters, and designers can work on the project simultaneously in one place. In my team, we usually use Figma and special groupware to discuss the processes. Clients have access to their projects and may participate in the discussion any time.
Just choose a couple of tools that are convenient for you and try to minimize the discussions of work projects in messengers and email threads.
Wrapping Up
These three practices are just small steps toward better and faster email production (and yet, they need more time to settle in marketing teams). Don't get caught up in processes and always stay result-oriented!
Photo by Dan Cristian Pădureț on Unsplash