Using Cause Related Emails as a PR Tool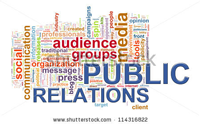 "Many companies use cause-related marketing to boost their brand image, build goodwill and create positive PR. This is widely apparent at holiday time and during October, for example, as businesses jump on the breast cancer awareness bandwagon."
Many companies use cause-related marketing to boost their brand image, build goodwill and create positive PR. This is widely apparent at holiday time and during October, for example, as businesses jump on the breast cancer awareness bandwagon.
Following are several examples of how companies employ cause-related marketing in their email campaigns.
Bon-Ton
Bon-Ton wisely incorporates social media into this anti-bullying campaign, using both Facebook and Twitter (even asking for a retweet). The subject line, although a bit long, is designed to attract anyone who wants to join in the (virtual) fight against bullying or who simply can't resist a contest: Support STOMP Out Bullying + enter for your chance to WIN!
While the email audience is likely parents, not kids, Bon-Ton also encourages subscribers to send a text for discounts. Bullying has become a hot topic lately, and the moms who receive this email probably will give Bon-Ton a few brownie points.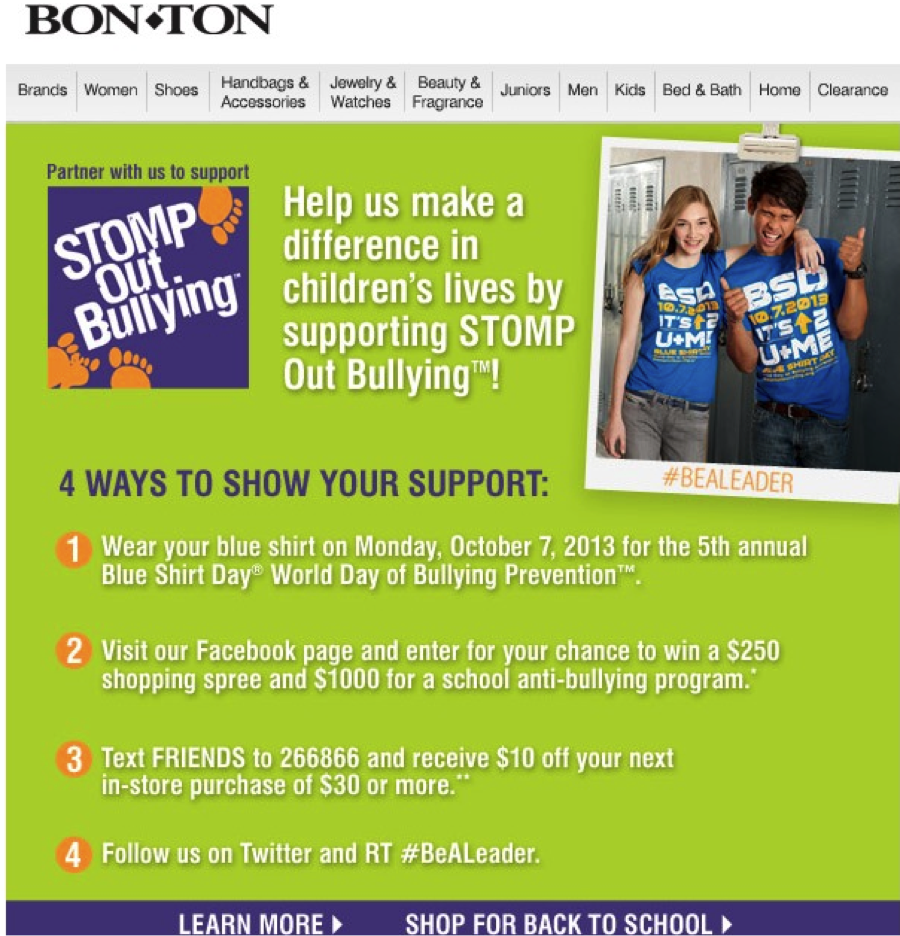 Calvin Klein
Calvin Klein includes a celebrity endorsement – from model Christy Turlington – in this striking email. The fact that the email is in black and white makes it stand out from others in the inbox. The subject line is as simple and straightforward as the email itself: Calvin Klein Supports Every Mother Counts. However, the preheader is basically a repeat of the subject line. Instead, CK could have stated the offer: We'll Donate $1 for Every Bra Purchased.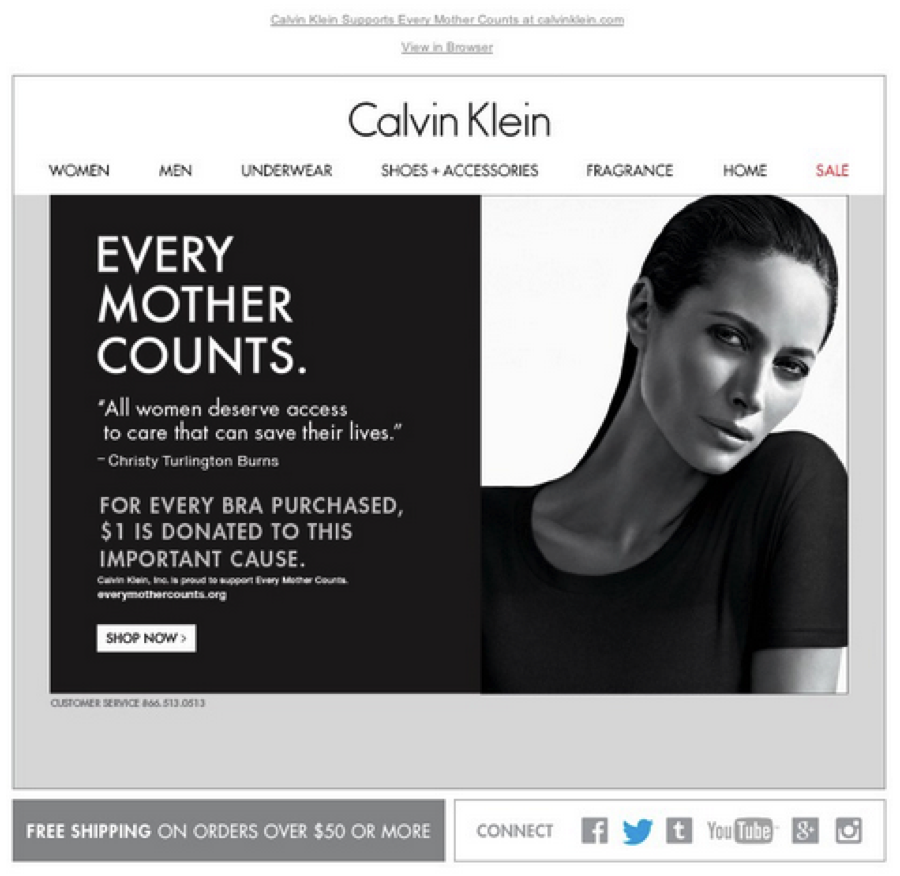 Alex and Ani
This email also captures your attention, but with a strangely compelling image. Who knew monkeys were so fashion conscious? Alex and Ani is betting on the hope that its subscribers are environmentally conscious, too. The email is a perfect example of how to tie in a cause to your product line. And the subject line – Monkey around for charity – and headline add a lighthearted touch.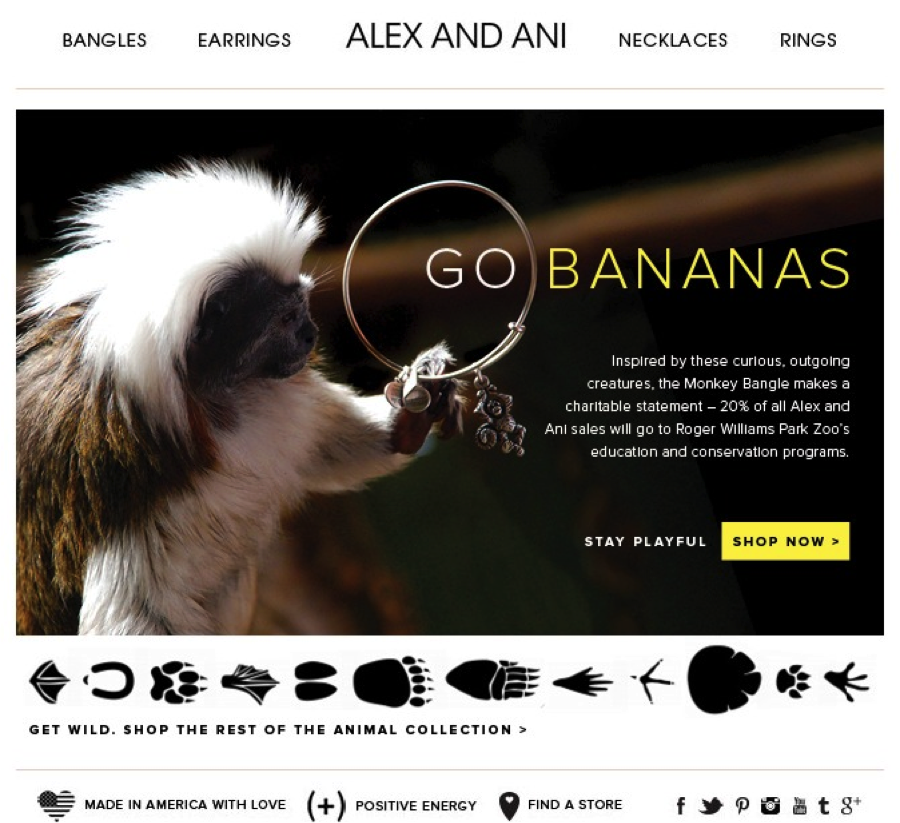 AT&T
Most of us can agree that texting and driving can be a deadly combination. This email from AT&T promotes its participation in the "it can wait" campaign. The dynamic subject line of this email is an effort to personalize the message: [First name], take the pledge to end texting and driving.
While I'm not convinced that a pledge alone will keep people from texting and driving, I applaud AT&T for taking part in this educational campaign. (However, pledging via Facebook for all your friends to see is a clever option.) What's truly admirable about the website is that the sponsors' logos are not plastered everywhere. In fact, the "Champions" (sponsors) are accessible from a link in the footer. (Other sponsors include Verizon, Sprint and T-Mobile, among others.) The campaign, apparently geared more toward teen drivers, includes the hashtag #itcanwait and video endorsements from the likes of One Republic, Demi Lovato, Olympian Gabby Douglas and more. Other videos, on the par of those you might remember from your driver's ed days, are also featured. There's even a simulator so you can see how texting impairs your driving ability.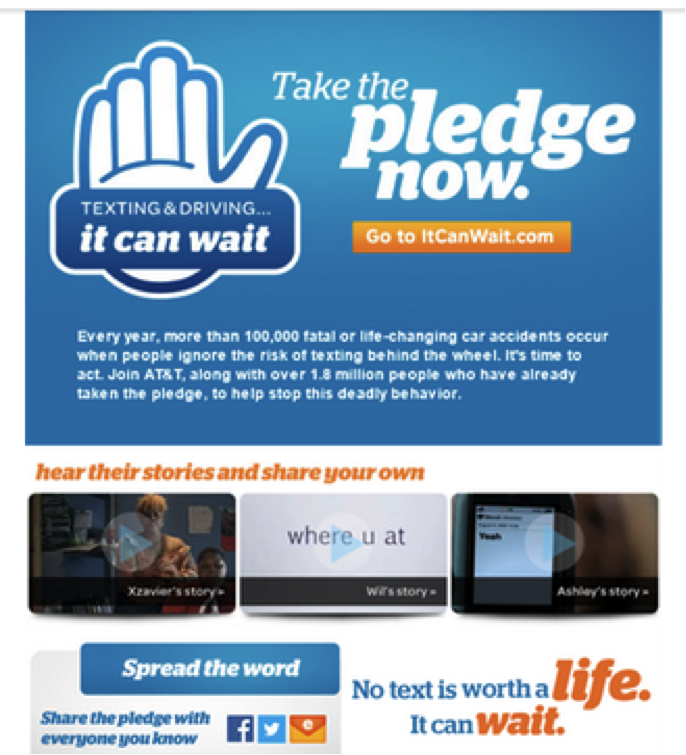 Brooks Brothers
This email does a nice job of driving traffic to retail stores. The subject line says it all: Ends Today – Enjoy 25% Off When Donating a Coat. And the headline has the double meaning of both physical and emotional warmth.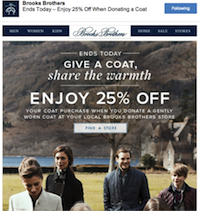 Belk
Belk also drives traffic to its stores, but takes it a step further by emphasizing support for the local community.
Walmart
Walmart leaves me wondering how I can help fight hunger. Personally, I'd like a few more details before I click through to its site.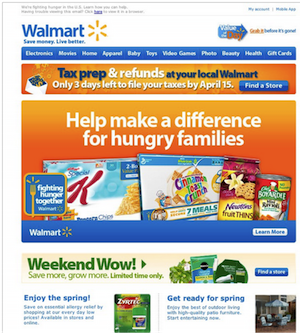 Ethan Allen
While I give credit to Ethan Allen for offering a discount, I'm not sure 20% is enough for victims of Hurricane Sandy. The subject line reads: Still recovering from Sandy? We've extended our special savings offer. (Full disclosure: I'm a New Jersey resident.) The question is whether those hit by Hurricane Sandy would even have Internet access, depending on when this email was sent and how long the offer ran. To truly reach those most impacted, the email could have included wording along the lines of: Know someone who is a victim of Hurricane Sandy? Share this information with them today!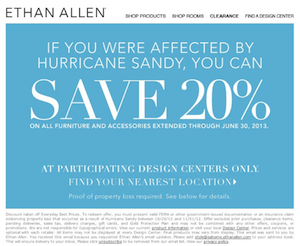 H&M
"Join us in global change. Vote to make a difference" reads the subject line. The H&M Conscious Foundation asks subscribers to vote on which three initiatives it should support. I find this interesting, as H&M in the past has been the focus of complaints regarding labor violations in Third World countries.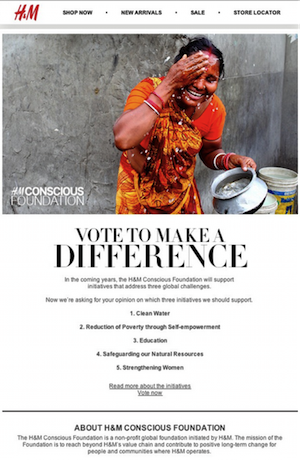 Jos. A. Bank
With all-American colors – and even a photo with an American flag in the background – this email plays to the patriotic pride of its subscribers. The rather long subject line spells out the promotion: Buy 1 Suit, Get 2 FREE + 'Give' 1 to a Returning Veteran.
Stella & Dot
Stella & Dot follows suit (pun intended) with this subject line – Support our troops – and offer: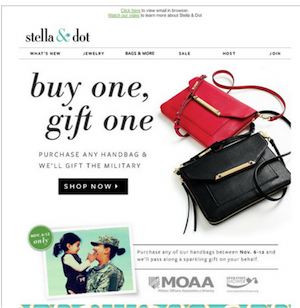 Michael Kors
Michael Kors uses an indirect product tie-in to its campaign against hunger.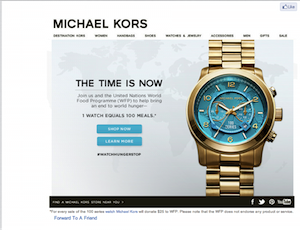 Warby Parker
Following in the footsteps (pun intended again!) of TOMS shoes, Warby Parker donates a pair of glasses for every pair purchased. By the way, TOMS also donates glasses as well as shoes.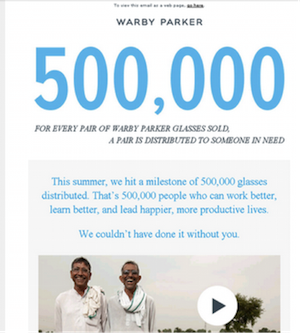 Juicy Couture
Instead of featuring a photo of a needy child, Juicy Couture features a photo of Lydia Hearst. Who is Lydia Hearst, you ask? Obviously the subscribers know who she is, since the subject line is: Lydia Hearst hearts Operation Smile!
Lydia Hearst is an actress, fashion model, columnist...and, yes, socialite and heiress to the publishing fortune. As someone who has developed materials for a company in support of Operation Smile, I have to wonder about this approach and can only assume that it resonates with Juicy Couture's audience.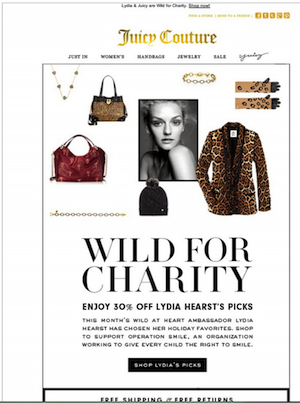 Supporting a cause is commendable, but it works even better when the cause ties in to your company's product line. Asking subscribers to join you in the effort increases the likelihood for buy-in, and creates a sort of team spirit. I would suggest that, depending on the size of your company, you focus on a single cause instead of diluting the effectiveness across several causes. And any time you can share a personal story of how the campaign positively impacted someone's life, it creates an emotional pull that draws in your subscribers.