Using 'Strategic Email Personalisation' to increase the standing of email marketing with the C-Suite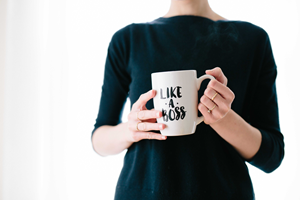 As an email marketer for over 18 years across vendor, client and agency side I'm always struck by how much of our time is spent on tactical initiatives and having the feeling of being a factory producing the same campaigns week after week.
It seems to me that most email marketers spend their working lives being told what to focus on, as opposed to being the ones providing leadership and initiative helping their organisation understand the full potential benefits of what email marketing can do to assist them in creating opportunities and solving problems throughout the business.
As a result I certainly observe email marketers being undervalued as there is a perception they are only there for short-term tactical wins - or to put it bluntly 'chucking out the weekly emails to our customers'. This could well be one of the reasons email marketing teams seem to be so under resourced.
Part of the problem why I think this occurs is because as an industry we tend to talk about tools & techniques we are using rather than the specific business objectives these solve. For example, I'm on an ESP website right now which is leading with messaging around functionality such as AI, personalisation & reporting - but nothing about what benefits a business can realise.
If you listen to many presentations on best practice in email marketing you'll always hear you need a welcome programme, reactivation emails & cart recovery. But again these are simply generic tactics or treatments. A doctor doesn't start with a treatment before understanding the problem so why should email marketers?
Business owners and the C-Suite simply won't show much interest in the above. They have more pressing priorities - perhaps around increasing margin, how to get rid of the thousands of old lines sat in the warehouse or how to add sustainable growth at lower cost.
This is where email marketers need to step up and take the initiative by working with multiple stakeholders in the organisation to understand their specific challenges, and proposing tailored ways email marketing can help with these. This is what I term 'Strategic Email Personalisation' (SEP).
In doing so email marketing moves away from being perceived as a purely tactical tool to have greater value and credibility throughout an organisation, leading to greater investment and support. Where email marketing teams get this right they have much greater say in how to execute, and avoid the dreaded scenario of sending yet another blanket email you don't have the resource to build, and your customers can't consume because someone higher up needs to push a certain line of products or move some sort of KPI.
Let's look at 3 typical examples of how SEP in action.
Improving Stock Utilisation & Margin
Every business that has a limited inventory - whether you are selling items out of a warehouse, appointments or holidays will put a lot of weight on these KPI's. As email marketers we are usually just given a simple flat revenue target, but this KPI highlights how not all revenue is equal.
If an item is sat collecting dust in the warehouse, or a holiday date passes without all spots sold, that is revenue that cannot be recovered, with all of the costs incurred still. If the business gets that right it has a huge impact on profitability, if it gets it wrong, especially in retail, it can quickly lead to serious cash flow problems in order to pay for next season's stock.
UK based coach tours operator Diamond Holidays had this exact challenge. If you put on a coach trip and fill say only 30 out of 40 seats you are missing out of 25% of revenue, 100% of which would be profit as the costs remain the same for 30 or 40 passengers.
The traditional option to sell these spots was to simply send blanket emails for specific tours. This approach has so many issues though. Firstly, it's not scalable - there are too many tours this would need doing for and there isn't the resource for this. Secondly customers are only interested in coach tours where there is a pickup point close to where they live.
To overcome this the Marketing team created a process to empower the Yield team to select which tours they needed to boost in a web form and allocated a weekly slot in the calendar for a send. On this date a process ran automatically to build and send an email to those who live within 10 miles of a pickup point of one of these selected tours with no future booking, with a personalised list of late availability deals.
The results saw nearly as much revenue from this email as the main weekly promo emails, despite them typically only going to around ⅓ of the audience. Within the business there was no longer the frequent last minute requests to blast out these offers to the database, and a much closer cooperation between departments on email marketing.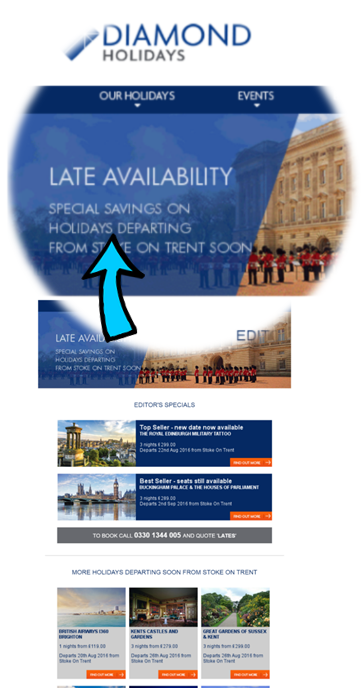 Example of Diamond Holidays personalised late availability campaigns
Creating New Revenue Opportunities
If you talk with retail buying teams, or those responsible for sourcing 'product' whether that be travel or coming up with new fitness classes most of their decisions will be based upon specific customer personas.
These personas often differ to those created by the marketing team. Part of that reason is brands can acquire customers outside of their core target audience by accident because they have an offering that suits a particular niche, although that niche isn't an audience marketing really wants to target. I call these 'Underserved Segments' where the niche will be a relatively small number of customers that don't warrant a lot of focus, but spend more on average than a typical customer.
I have my own personal experience of this from my client side role at a footwear retailer. Over lunch in the canteen one day I asked a buyer why we bought certain ugly shoes and it turned out they buy a range of 'comfort shoes' for those with wider than normal feet, or those with diabetes. This wasn't part of our key personas so we didn't do anything for them in email at that time but it led us to create a very simplified monthly newsletter specifically for this audience.
While previously they had been told there wasn't space or enough customers to justify this dedicated effort we were able to overcome this by having a semi-automated build of the email with products being pulled from a feed and simply refreshing the hero banner and subject line for each send.
This directly led to additional revenue from these underserved customers with the buying team confident it helped them increase the size of that category sales by just under 10% in the year - a big win for email with little effort.
Increasing Customer Profitability
I would argue the most important purchase a customer makes is their second purchase. Yes, without the first purchase the second could not happen but most businesses have the problem of customers only buying once. If a customer gets to 2nd purchase they are dramatically more likely to become a high valued customer who shops many times, and crucially these will be up to 95% more profitable as you don't have the acquisition costs.
What drives business growth in the long term is not simply adding more and more new customers - that isn't sustainable. Instead it is about retaining as many of your new customers to spend multiple times. If you do this and your new customer acquisition rate stays the same then clearly you'll increase revenue and profits over time.
Where these retention KPIs are owned in a business does vary (or perhaps no-one know!) but I always find that having this conversation with the finance team who are trying to create forecasts with some sense of rationale is a great starting point, and can also help when you need to demand that budget increase. Your CFO might be looking at how to increase revenue by 20%, but to do that they will need to model how they will get there. Modelling based upon an increase in second purchases, which you know has a larger knock on effect for overall lifetime-value, is the type of logical approach a CFO is able to agree with.
Let's look at a really specific example of how that might work for different businesses, stepping out of normal 'best practice' to suit the specific industry quirks.
CruisingExcursions.com invested in a bespoke upsell programme to drive additional bookings before the customers cruise. Instead of relying on a fixed series of emails via a welcome programme they designed around 12 different templates, which would be sent in rotation until the customers cruise. That could be as little as 30 days away or as much as 2 years so the frequency of these automatically adjusted, while every email was personalised with the tours available in calling points they had not booked for. This generated nearly £2 ($2.60) every time they sent one of these emails, driving up the share of excursion bookings CruisingExcursions were capturing before the pandemic interrupted all of our lives.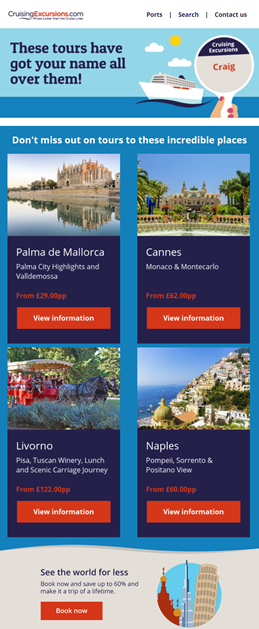 Example of one of the CruisingExcursions personalised upsell emails
Another example from back in my footwear days we looked into what customers were buying on their 2nd order while thinking about how we design a next purchase programme. What we found was an incredibly high rate of customers buying the same brand again, and looking into it further a high percentage bought the same style as their first purchase but in a different colour.
To help accelerate this we simply set up a trigger to send customers an email within 30 days of their purchase with the other colours they could buy. It was by far the highest performing email we ever sent.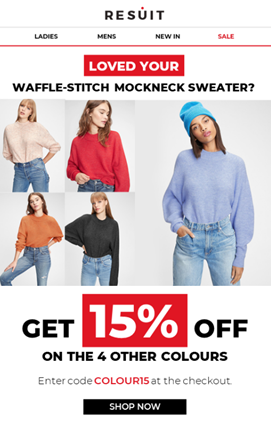 An example of a 'Buy the other Colours' email
These are just 3 ideas of how email marketing could help strategically within a business. They are not designed to be copied across as the whole point is you need to understand what is important for every individual case. However, here are some key points for starting SEP:
Start with the what, not the how
You might be wondering how on earth you might add some of this complexity to your programmes but the simple answer is don't worry about the 'how' at this stage. Initially its a case of listening and asking questions, absorbing this before coming up with creative ideas of what emails might look like to solve these business challenges.
If you fall into the trap of trying to work out the 'how' you will end up limiting your thinking to what is currently possible rather than designing something perfect for your needs.
Do things that don't scale
When you come to the 'how' don't try to build the full works. At this stage you have no idea if your theory has any legs so think like a tech startup and do things that don't scale initially to test out your theory, and get results to build a business case for resource and budget.
This could be as simple as manually building an email for one segment and just seeing what results you see. Not only will it give you these initial results it will help with finding things you have otherwise missed or realise you might be overcomplicating something that isn't important.
Measure in many ways
If you want these strategic successes to resonate across the business you'll need to measure effectively to keep the sceptics and naysayers at bay. The main approach I recommend is running your new initiatives as randomised control tests, keeping a percentage back from being exposed to the campaigns so you can be sure of incremental uplift. When you have that no-one can question your results aren't valid.
Wrapping up
Changing the perception of email marketing from being this simple tactical channel to a key strategic tool for the business is important to ensure email gets the budget, resources and attention it deserves.
No-one is saying it's easy - far from it and it can seem light years away at times when you are swamped with day-to-day 'get it out of the door' projects that start small and in time email will be rewarded with the credibility it deserves.