What's next? Why Inbox data will fuel the next wave of email innovation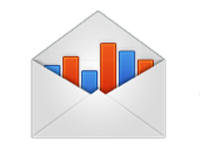 "Where are the big opportunities for email innovation over the next several years? My bet is on the Inbox."
In the last few years we've seen lots of innovation in the email world. We now have transactional email APIs, dynamic ads within email, and completely customized experiences at email open time. And more. But what's next? Where are the big opportunities for email innovation over the next several years? My bet is on the Inbox. After all, the Inbox is the source of truth for our online life. What we buy, who we really know, who we communicate most often with - it's all there. It's no surprise then that when the Inbox is opened up for access via APIs and applications, you can make a whole range of new use cases come alive for your customers. However, given limited space (and attention spans), I'll be covering just three today.
1. Smarter Shares
'Click to Tweet' isn't cutting it
In a recent study on social sharing within marketing emails, Silverpop saw that 35% of the emails studied generated zero sharing clicks and 49% had social CTR less than 0.1%. Instead of sharing that great eCommerce offer with 1000 of your closest friends on Twitter, why not click a 'Share with my close friends' link that would grab 5 or 10 relevant contacts from your Inbox based on relevant keywords in the offer? Here's a sample app we wrote (tagline for the app: 'pass the word to your friends who might actually care') to show you how smarter sharing via email could work in practice.
2. Smarter Invites
Small is beautiful
One startup I talked to this week used to do what every other company does as part of their invite flow - ask for users to import their huge honkin' address book. Then the startup tested what would happen if users were simply asked to manually input a few email addresses of people to invite instead. The result? A higher conversion rate on signups - high enough to to compel them to kill off the address book workflow. Using Inbox data to power an invite workflow could be equally effective - by suggesting the best few individuals for a user to invite to the service.
3. 'Have It Your Way'
Customers should be able to consume your email marketing content on whatever platform or app they choose, not just from their email client. Remember, you're a publisher whether you like it or not! So give them the ability to automatically ship to other apps or share your content from the Inbox (via services like Zapier and IFTTT). However, don't just hope that they'll use one of these services on their own. Bring the functionality to them directly to help them engage more deeply and frequently with your content. And get out of the Inbox!
With great power comes great responsibility
Although we can build exciting applications off of Inbox data, we need to be transparent about what we are doing with that data. We need to be clear with customers about how access to that data benefits them. And most importantly, we need to ensure that we are using this data to create great customer experiences - experiences that couldn't be built without Inbox data.
John Gannon is the CEO and cofounder of PostX, a platform for making Inbox data available to any application. He blogs at StartupCareerAdvice.com, tweets via @johnmgannon, and can be found here on LinkedIn.