Meet the Influencers: David Baker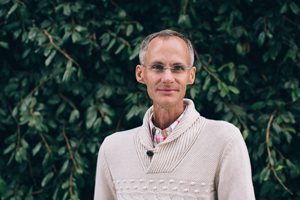 How did you get started in Email Marketing?
My career has been a series of phases. Early in my career I was all about direct marketing and eLearning. The eLearning side really shaped a lot of my thinking around how people learn, connect and how content can play a role in that. I worked at Franklin Covey during the emergence of the Palm Pilot and online calendaring days, and the transition of ecommerce and online. Imagine taking thousands of hours of offline content and trying to port to self paced courseware.
How people learned fascinated me back then, as did the concepts of the virtual classroom, self-paced learning or project-led instructional design. Back then technology didn't match the needs so everything seemed hard.
Early whiteboard technologies, chat capabilities and learning hadn't matured. But the principles behind the ways companies designed learning objectives and built content, experiences and instructional assessments to measure progress were what I believed are the core tenants of marketing.
So, while I "did marketing" in several roles, I didn't really take to digital marketing until the late '90s, when we launched TwelveHorses. We had a lot of fun innovating with digital assets, personalization and I still believe it was one of the better technologies back then.
I became fascinated with rich media and video. I met so many of the wonderful people in this industry at MindArrow and Radicalmail. Yet, I felt over time that the best vantage point for technology-based marketing was not solving email alone. Rather, it's understanding data, experiences, measurement, advertising and how data was distributed.
Thus, I spent 10 years in what I like to call being a pigeon at some of the largest digital and direct agencies. That global perch helped me develop some unique perspectives, opinions and views of some big clients with big issues to solve. It was a nice ride with Targetbase, Agency.com and Razorfish.
Five years ago, I joined Acxiom, where I worked with some of the brightest minds I've ever known. I learned from that experience through the sheer magnitude of solving big data problems and how huge brands were trying to solve to addressable advertising and data distribution.
In all of these roles, database marketing and email has been at the core of all my roles.
Tell us about your current role and what a typical day is like.
I'm a co-founder and the COO of Cordial. It's a broad role, but I made a conscious decision that I wanted to build something with some great people that I've known for a long time.
My role is a hybrid, which is typical for most early-stage companies because my concerns range from finance to operations to the little marketing we do to thought leadership and product management/strategy.
A typical day doesn't start until I infuse a four-shot espresso, and then I'm limitless usually at some crazy early morning hour!
I allocate time to read and learn something new every morning when my mind is fresh. Because of my voice issues over the last few years, I'm not as verbose and don't use the phone as much as I used to. I rely on messaging for what I used to do on the phone, so I'm continually typing and carry multiple threads in chat at the same time.But that kind of fits my personality, as I like lots of things moving at the same time.
My day goes from writing and researching to working with teams on our product timelines, making sure we run a business well and also being a cultural leader to the many super brains we have.
So, I jump between spreadsheets, writing, doing creative, thinking long-term and worrying about what we are releasing tomorrow.
What do you see as the future of Email Marketing?
It will all be about the moment. The world is faster-paced, less predictable and filled with generational biases to social and communication norms.
We will think about email differently as a 1:1 vehicle to more of an interaction and its all push/pull. We will see vast differences by device, whether in-home, out-of-home and three to four screen experiences. We will see new devices, new uses, super apps we will all use and I'm excited for how the discipline of direct communication channels like email will morph as the generations emerge.
For Digital Natives who can't fathom living without a connected device, the next 10 years will give us new challenges to be far more iterative in how we build digital and connected experiences.
This is one of the reasons why my co-founders and I decided to build in this industry instead of bending lasers in some undefined industry. Although we're playing with the Internet of Things, it's still really early for marketing in that sector.
The future will be a little about smarter data (machine learning and derived insights), a little about a more in-the-moment experience on whatever device and a little about the ability to detect consumer signals and behaviors to help us match what we observe and how people manage their lives.
Why should anyone choose email marketing as a career?
Email marketing, in the right environment, can teach you a ton about how to think about the customer by focusing on what behaviors you really want to promote and how you want to reinforce that.
Email is a great place to learn a lot fast. But, production email can burn people out, which is why we see a lot of people flipping jobs after two-year stints.
My advice for these budding marketers is to find a mentor who can help you think about how you apply your knowledge and decide whether you are cut out for brand, agency, technology or service work. Without that, you'll probably struggle to find what's most rewarding, both personally and professionally.
I pride myself on helping many of my peers, friends and colleagues when they are considering what to do next.
Why are you so vocal in the industry?
I think we can do better. Most people just need context and containers to wrap their ideas in to figure out how to challenge themselves. Thought leadership is about building stories for some time-tested concepts and others that haven't been proved but we just know are right.
Many topics we were debating in 1999 and 2005 are still relevant today. Hundreds of people are thinking, talking and writing about them instead of just a handful of insiders. This is progress!
What is your legacy? (How will people remember you?)
I used to believe my legacy, or what people would say about me, would be, "He was smart and fresh and always challenging the status quo."
Over the last few years, though, I believe my legacy evolved into "He fostered a new generation of thinkers, marketers and socially conscious people who use their brands for the greater good. He had an impact on me."
What is your Oprah Moment where 400M people will engage with your story?
My Oprah moment hasn't happened yet, but it's not far off. Yet, if I were stuck in an elevator with her and wanted to say one thing that I think 400M people would want to hear, it would be, "You don't need to be the loudest voice in the room to make an impact."
Our devices are changing everything we do across all living generations. It's not creepy. It's just an evolution of consumer trust/convenience and utility and how we manage our lives and relationships now.
I'm a perfect testament to this. As I lost my voice and speech over the last few years, I was able to maintain connections to people through other means. I influence strategy; I participate in new ways instead of overpowering people in dialog like I used to and I listen and observe much more than I ever have.
So, I'd tell Oprah, this would not be possible to live in a noisy world without a voice if not for technology and how digital has helped enable people to connect in ways they couldn't and sustain that over time.
It's all very cool stuff to be a part of these days.
Title:
Meet the Influencers: Interview with David Baker
Audience:
Email Marketers
Publisher:
OnlyInfluencers.com
Copyright 2015
,
Only Influencers, LLC