Unboxing NeverBounce
NeverBounce is a Cleveland, OH based Email Verification company that began life as a digital marketing agency.
While working with a client's email list that was generating high bounce rates, they found the current email verification products on the market lacking in price, accuracy, and/or the customer support experience. So they decided to build their own solution.
In 2014, they launched their beta product and by 2015, they sold the digital agency and became NeverBounce, dedicating themselves 100% to the email verification process. Since then, 85,000 marketers in the B2B and B2C space have signed up for an account.
NeverBounce differentiates themselves in the following four areas:
Speed
Accuracy
Price
Customer Experience
Getting started with NeverBounce is straightforward. You can sign up for a free account, no credit card required, which will allow you to receive a "bounce analysis" of any of your lists to determine if the list even requires cleaning before any money is spent.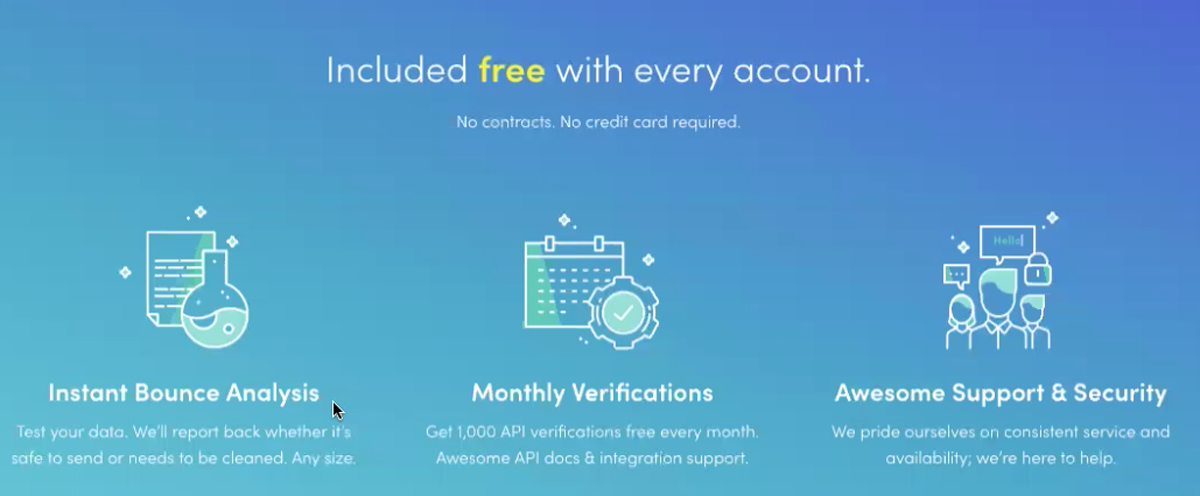 Pricing is also straightforward, and there is a pricing calculator on the NeverBounce site, based on volume, with the cost per email going down as the volume hits certain thresholds.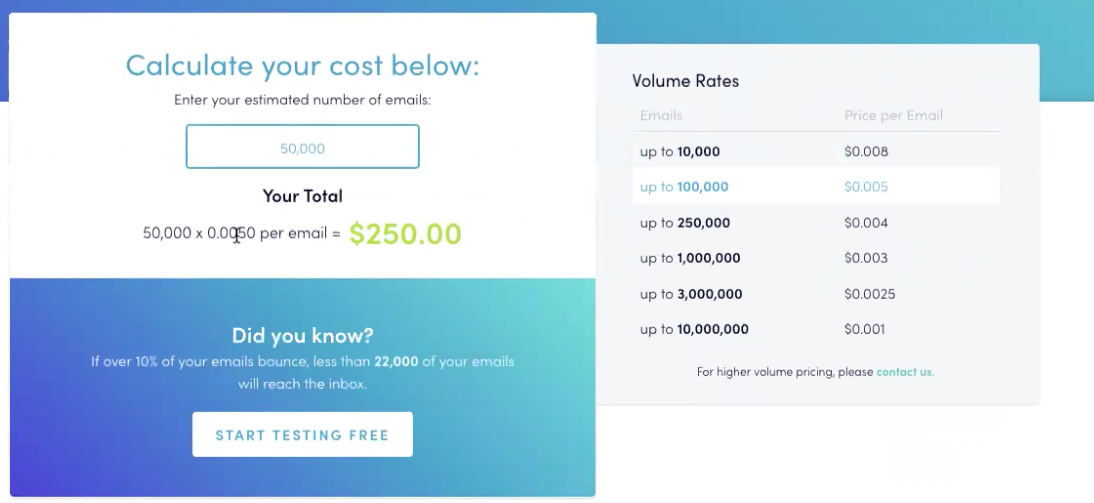 After logging in to your account, you reach the main Dashboard which shows you all the lists you have verified with related stats. You also see the number of credits you have remaining. Each credit equals one verified email. Credits can be pre-purchased for a discount, or purchased as you go.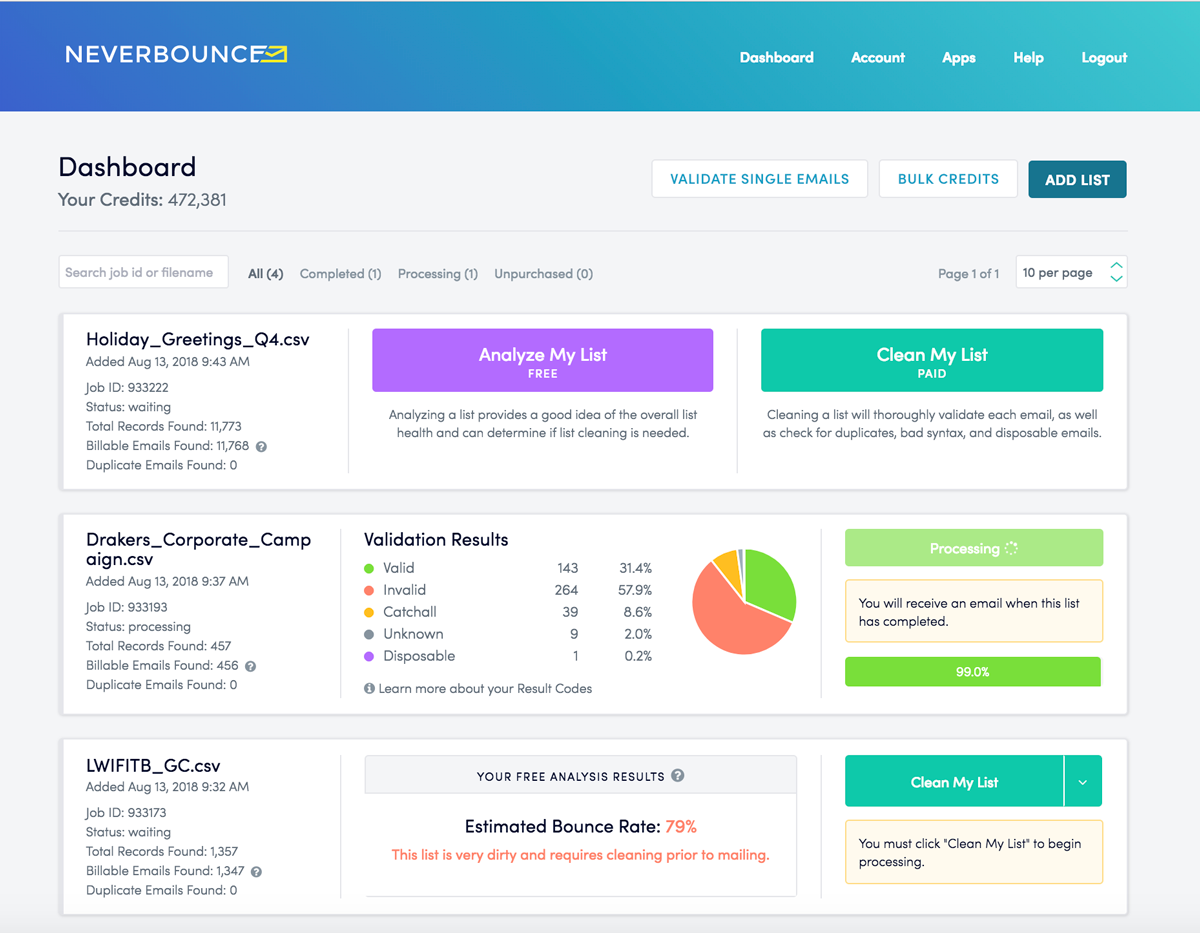 When uploading a list, you can either provide a CSV file from your computer, or connect to your data through one of the many NeverBounce ESP integrations.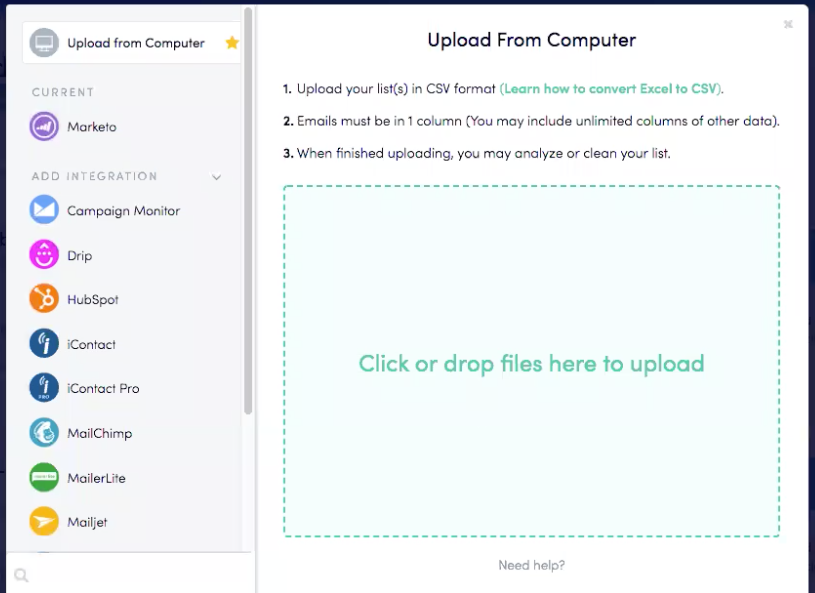 Once a list is uploaded, NeverBounce first examines the list for "billable" emails (Neverbounce does not charge for duplicate email addresses or any addresses that have syntax errors). Once up loaded, you can analyze the list for free.


Once you click the button to clean the list, you first are given the opportunity of paying with prepaid credits or with a credit card. The technology then goes out and pings each email address, without actually delivering an email to them. The analogy the NeverBounce team likes to use is: it is like going up to a house and ringing and knocking without ever going in the house. NeverBounce guarantees that no more than 3% of your emails will bounce after using their service. Should your bounce rate exceed 3% after sending only valid emails, NeverBounce will refund the difference back to you.
Validation Results include
Valid: Valid Emails that are safe to send to.
Invalid: Invalid Email addresses that don't exist or are not accepting email
Catchall: Also known as "Accept All" is a domain wide setting where certain businesses accept all email addresses regardless of whether there are typos or not a valid address. If you have a healthy list and your own IP addresses, these can be safe to send to, but if you are using a 3rd-party ESP that requires a bounce rate below 4%, avoid mailing these emails.
Unknown: Unknowns are email address that NeverBounce could not get a ping back which could mean that the servers were down, or other issues that prevented that email address from being pinged. NeverBounce will retest Unknowns 75 more times before validating one way or another.
Disposable: These are email addresses generated by services such as Mailinator, Gureilla Mail, AirMail and 10 Minute Mail designed to be disposal email addresses to sign up for information and should be avoided.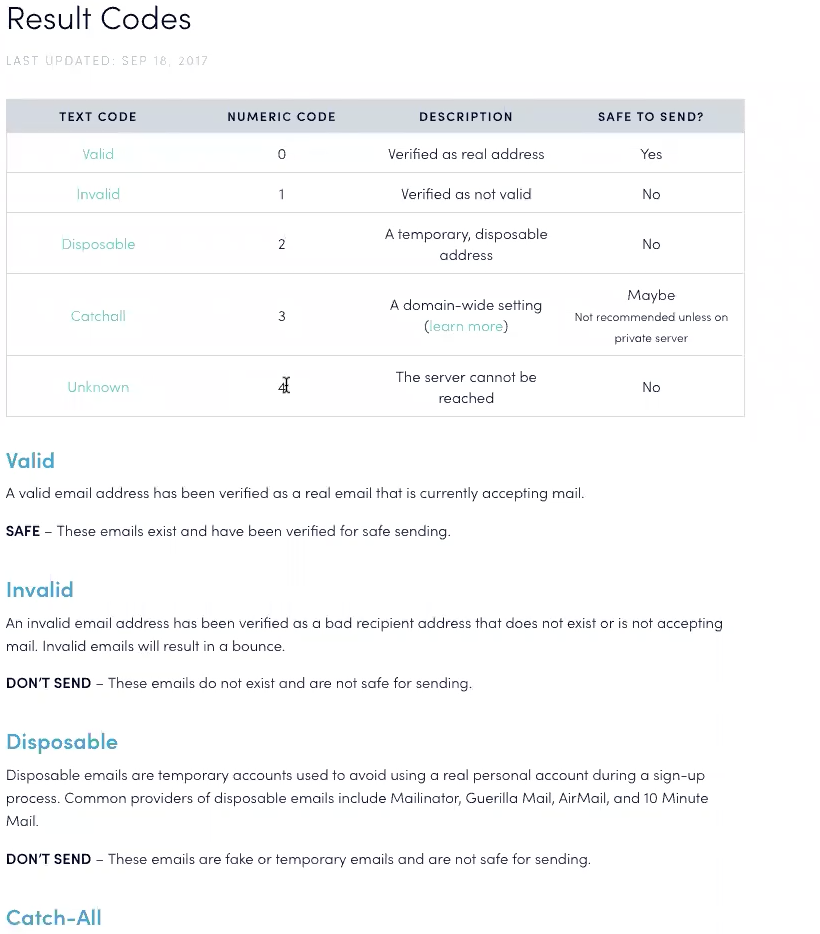 Once the list is processed you have various presets to download your cleaned list, including one for just deliverable emails.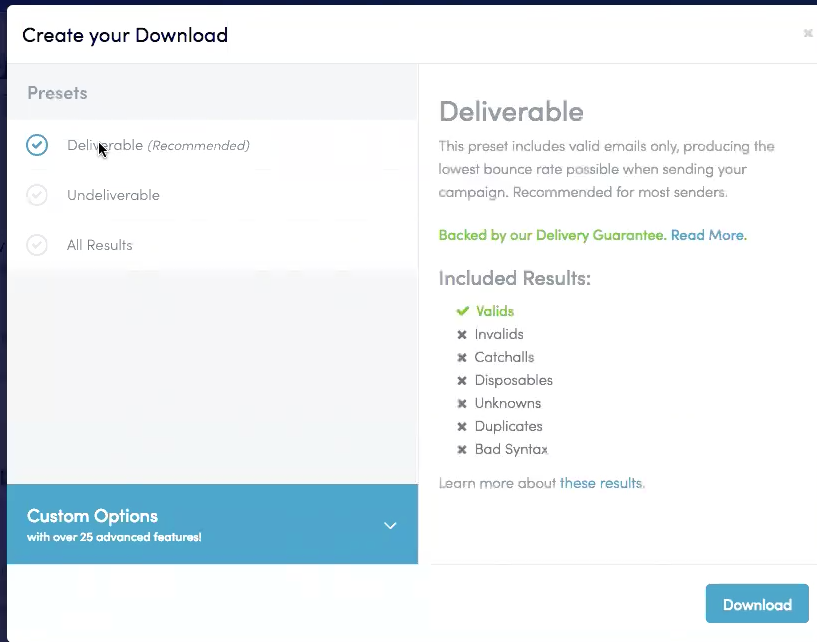 Additional presets are available to get more granular with your results. For instance you could download a list of bad syntax emails or a list of "Role Accounts". Role accounts means email addresses that are not for a specific person, but for a company "role" such as "sales@" or "accounting@" Additional identification filters such as Valid DNS records, Servers, and email aliases (such as davd+test1@) allow for very robust filtering options that can be saved as a custom preset.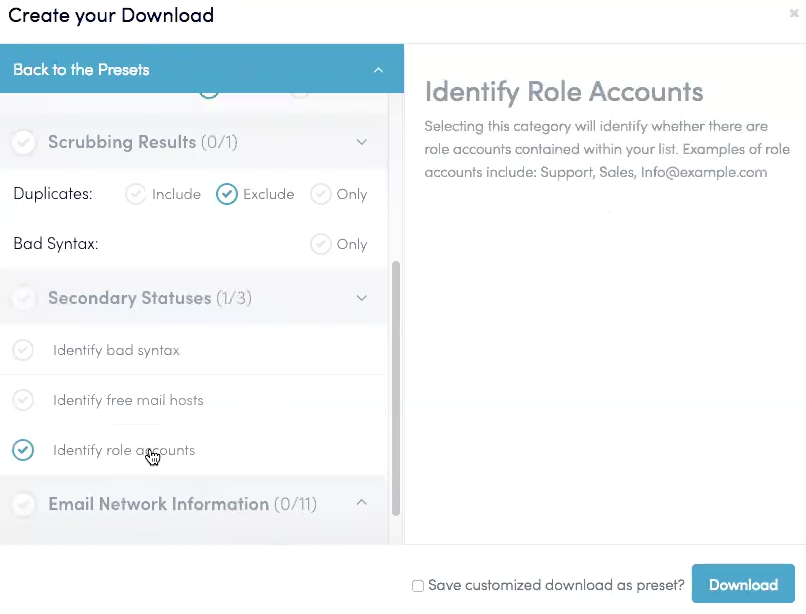 The results that come back look like this including the original fields and the NeverBounce email status, plus any of the other reporting fields from the custom downloader.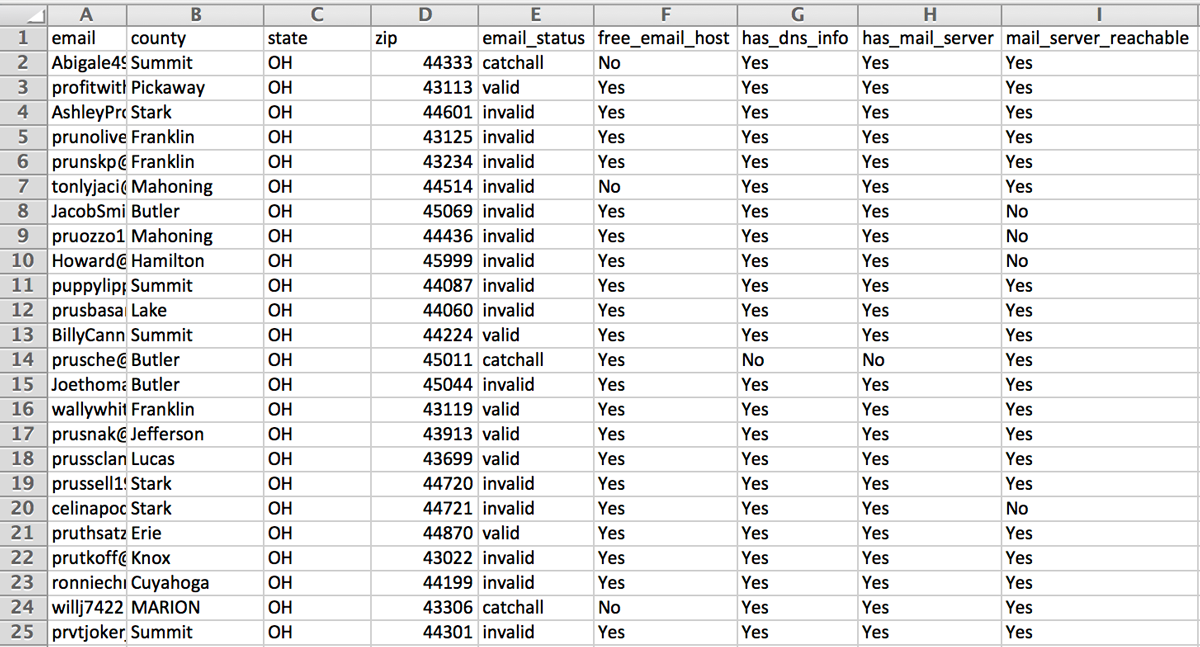 NeverBounce provides an API and Javascript Widget and apps so that you can integrate NeverBounce into POS (Point of Sale) systems and custom integrations and applications.
For more information, or to sign up for a free account, go to the NeverBounce site, or reach out to Wally Gonet, VP of Business Development, at wally@neverbounce.com.