Unboxing ServiceMaster's Email Marketing Programs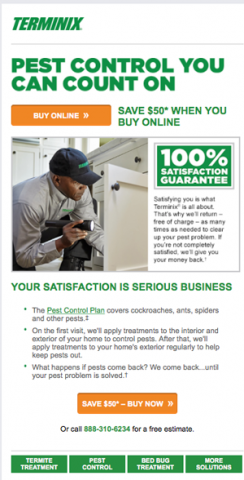 Today we launch a new Only Influencer's feature where we "unbox" the email marketing programs of top brands around the world. Today we will be exploring the email programs of ServiceMaster®, a leading provider of residential and commercial services. Their brands include ServiceMaster Restore (disaster restoration), ServiceMaster Clean (janitorial), Merry Maids (residential cleaning), Terminix (termite and pest control), Furniture Medic (furniture repair), American Home Shield (home warranties), and AmeriSpec (home inspections).
For this article we interviewed Greta MacDonald, a 15 year marketing veteran, who for the last five years has been ServiceMaster's Email Marketing Manager. In this article, Greta shares ServiceMaster's email strategy, their acquisition techniques, their on-boarding process and how Greta gets buy-in from upper management for her program.
OI: Who Do You Target with your Email Marketing Programs?
Greta: Our main focus is on "leads" and converting those leads into customers, although we do have some secondary targets as well, such as campaigns focused on cancelled customers and winning them back and we do some customer cross-sell. But we also have some customers that are unique to a specific brand. For example, with American Home Shield, 50% of our business is sold through real estate professionals as part of a home sale. Those campaigns are more focused brand building and engagement to drive home warranty sales during real estate transactions.
OI: What is the size and makeup of your email marketing team?
Greta: We have made some recent changes to how our marketing teams are structured. Previously each of the brands had individual marketing teams, but now everything has been consolidated under ServiceMaster marketing. I have two Project Managers that report to me that handle most of the email execution which allows me to focus my attention on Strategy and Analysis, new initiatives, and industry best practice.

OI: Can you discuss your Acquisition methods and strategy?
Greta: Acquiring leads is really what drives our email programs. Leads are our biggest revenue driver. We use lead generation channels such as Paid Search to drive consumers to a landing page where they can get a quote and from there we have a call center doing outbound calling. My program is structured around those leads. We do a "lead nurture" program which is triggered when they come in so they get an email right away. There are several triggers in the initial lead process. I'm able to market to those individuals long term as well.
We deploy three monthly newsletters which provide additional leads from a website blog signup: a Customer Newsletter, a Prospect Newsletter, and a newsletter aimed at real estate professionals for the American Home Shield brand. But unlike a typical travel or retail site, we don't offer incentives to sign up for the newsletter. Since they are already on our site we don't want to divert their attention from the primary objective of converting them to customers while they are there.
We also work closely with our social media marketing team to drive additional leads and email sign ups through different social channels. We have signups on Facebook for example and we run sweepstakes throughout the year where we collect email addresses as well.
Finally, we also collect email addresses when people call and request a quote. We ask for their contact information so that we can send follow-up communication.
OI: Once you have the lead, can you discuss your Onboarding process?
Greta: The first few days of becoming a lead are critical. We have the customer's attention and we want to try and convert that individual in the first few days or weeks. Our lead nurture program starts with a lead confirmation email that includes an eight page "Home Warranty Guide" PDF. The Guide lists everything you need to know about Home Warranties, or Pest Control, or whatever the brand we are promoting is focused on.
We also do an outbound call that is done in tandem with the email marketing effort. Based on the results of those phone calls, we have triggers in place. As an example, if we get a bad phone number, that triggers an email stating "We are trying to reach you, but the number we have is not valid".
These campaigns that occur early in the lead life cycle are really our top performing campaigns. The further you get from the lead date, the lower the performance is, so it is really a big focus for us.
We also have an onboarding email series where we try and set customer expectations about our products and to educate and encourage customers to use the self-service aspects of the website to manage their account and pay online.

OI: Tell us about your process for getting a campaign out the door from beginning to hitting the send button.
Greta: I try and build out my calendar out quarterly. Right now we have Q1 solidified. Unlike a retailer, whose campaigns may change based on inventory and product focus, our product lines are pretty straightforward and don't change much so that gives us the ability to build out our calendar so far in advance. Also, we only have one product per brand, which makes my job easier: We are able to take our time and have them done the way we want. It is a luxury that we have.
The process starts with our creative agencies, and we create a project brief for each campaign. We give them an outline of what we would like for them to put together for us and they come back with first round creative. We make changes which are incorporated and then the creative is sent to the brand teams for review, making sure that everything is compliant with brand guidelines. I try and keep it to two rounds. It is then sent to legal for review.
Our partners typically do our HTML coding as well and we allow a week for that. The assets are then sent to our email service provider who sets up the campaign. They send us a test email and we test the links to make sure everything works properly. We use various partners for our rendering and testing which also incorporate other technologies. We provide a targeted list to our partners, approve the count, and then it is set up for deployment.
OI: What other tools do you use or are you thinking of using?
Greta: We use Google Analytics for all our web analytics, but we are looking at different vendors for send-time optimization, which we currently don't do. We are also looking at subject line optimization and creative template optimization. We are on target to have a test in place by February. And live content testing is something we are testing. I think they have some really interesting options for us.
A lot of our brands are very much "weather based". For instance, in Pest Control, certain pests are weather related. So I'm looking to test some of the interesting weather based options as well in 2016.
OI: Can you talk about the "cadence" of your campaigns. How often to customers and prospects hear from you?
Greta: That is dependent on where they are in the lead process. We have weekly campaigns that are sort of "batch and blast" for lack of a better term. So if you have been in our file for awhile, you will probably get a weekly campaign from us. And we have our monthly newsletters, so about 5 emails in a month.
But for newer leads, we contact them more, but a lot of it is trigger based. As an example, we have an abandoned cart program in place. We have the lead nurturing programs I mentioned earlier. The closer to the lead date, the more emails they will likely get.
OI: We've talked about the new technologies you are looking at for 2016. Can you talk about the "buy-in" process to get buy-in on those initiatives from upper management?
Greta: I'm fortunate that I do have a lot of support from upper management. I report to the Senior Director of Digital Marketing and he is supportive of my email strategy and has always allowed me to do what I think is best for the business. But the biggest thing I do is bring in RESULTS! The more sales I bring in, the more upper management will let me do what I think will move the business forward.
Before I ask for anything in terms of budget, I put together a summary of performance and how we are trending year over year. (2015 was significantly up from the previous year). While they don't give me a blank check, and I have to show what it is going to do and what it is going to cost and why I think it would be good for the business, it is a lot easier to get support from the executive level when you show really great results.
Title:
Unboxing ServiceMaster's Email Marketing Programs
About:
ServiceMaster's Email Marketing Programs
Audience:
Email Marketers
Publisher:
OnlyInfluencers.com
Copyright 2015
,
Only Influencers, LLC