Special Email Innovations Summit Preview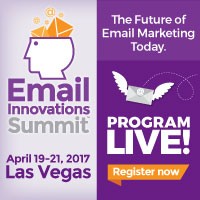 The Email Innovations Summit is just weeks away. And this year we've been able to assemble a world class lineup of speakers to take your email marketing career to the next level. Here is just a small sample of this year's incredible list of instructors and speakers. Register Early to Save and use the promo Code "ONLY" to get a additional discount just for readers of the OI newsletter
When we were designing Email Innovations I wanted to bring back the camaraderie, networking, and excitement of some of the great email shows of the past. It is, therefore, a thrill to welcome three of the earliest pioneers in email marketing back on the stage together for the first time in years: Jeanniey Mullen who founded the Email Experience Council (EEC), David Daniels, founder of the Relevancy Group, is one of the most revered analyst of digital marketing in the industry, and Morgan Stewart, co-founder of Trendline Interactive, one of the world's leading email marketing agencies will each be delivering our 3 Keynote addresses this year and I could not be happier to see these pioneers again. Jeanniey will deliver the opening keynote: Email: The Rise to Power, Morgan finishes Day One with Measuring the Impact of Innovation, and David Daniels kicks off Day Two with The Future of Relevence.
New on the Agenda:
This just added to the agenda. Kath Pay, Founder of Holistic Email Marketing, will be speaking on The Art of Enhancing the Customer Experience using Personalization. And a special panel has been organized by Women of Email: Rumpelstiltskin Marketers. Find out how these members of Women of Email move the needle without big-brand budgets or market recognition in this insightful session that's sure to spark fresh ideas for email challenges.
And check out some of Kath Pay's recent articles on OI:
Take Inactives by Designing for their Buyer Personalities
Use Email Testing Insights Across Other Digital Marketing Channels
Email is the Ultimate Push Channel. It's NOT a Shove Channel
Post-Conference Workshop:
Hang out an extra day in Vegas and be sure to attend Paul Airy's half day "HTML Typography in Email (advanced) Workshop. Every attendee of Paul's Workshop will receive a copy of Paul's book "A Type of Email: A Handbook For Working with HTML Typography in Email."
Here are some HTML Tips Paul recently shared with Only Influencers:
Paul Airy: 5 HTML Typography Tips
Incredible Brands:
Email Innovations is all about the pro in the trenches and this year we've got some of the world's leading brands to open the kimono and show you the real secrets behind running a top email marketing team. Erin McDonald from The Clorox Company and Shilpi Talwar, Marketing Director of Engagement and Loyalty as ShopatHome.com will discuss what it is like on day one when starting at a large and established brand with their panel entitled Newbie On Board: Tips for an Email Marketers First Days.
George DiGuido, head of Email Strategy at About.com talks about Bringing About's Vertical Brand Strategy to Newsletters. Libby Snead of Classmates will talk about innovations engagement and how she keeps 65 Million Members Engaged. Kevin Kao, Senior Manager of Email Marketing with the New York Times will talk about Challenging Traditions to Drive Email Success. Michael Kumlin, Manager of Targeted Marketing with Staples will share his Email Testing Cheat Sheet, while Chuck Schroeder, email product development manager with Hyatt Hotels will speak on Rebuilding a Foundation for Innovation by Taking a step back to move forward. And Brian Campbell, who handles email automation and products for Overstock will be joining the Innovations in Email Panel along with John Thies, co-founder of Email on Acid, Chris Marriott, Founder of Marketing Democracy, and Allen Nance, founder of WhatCounts and now with Emarsys.
And there is more.
Making his 3rd Email Innovations appearance will be Tim Watson, email consultant with Zettasphere, talking about Trigger Mapping and Email Automation. John Thies will be lecturing on 5 Ways to Improve Your Email Campaigns (and Get Better Results), Johnathan Chinchilla, with Google's Nest | Alphabet division, will guide you through Interactive Email from Design to Deployment: A Brand Perspective. Jordon Cohen from Fluent will head up an all star pane on Innovations in Acquisition. Reed Pankratz, Senior Digital Strategist with Finish Line, will explore Innovation Inside the Inbox and finally, Jeanne Jennings will help you Reimagine Your Email Marketing Program with Segmentation, Automation and Personalization.
And of course, tons of the finest networking, parties, and after parties, awards and give aways and a an exciting show floor to get a first hand glimpse at the latest Innovations in Email.
See everyone there in only 6 more weeks!