SPECIAL REPORT: Recap of the 2017 Las Vegas Email Innovations Summit
Last month Only Influencers and Rising Media produced the 3rd Email Innovations Summit, our second one in Las Vegas. It was an incredible gathering of email marketers from around the world at what is becoming the email marketing industry's family reunion. As the first conference for email marketers that's created by email marketers, this year we paid homage to the pioneers in email marketing by inviting industry legends Jeanniey Mullen, Morgan Stewart and recently named Thought Leader of the Year, David Daniels to deliver keynotes. Comments I heard from folks: "This is the first conference I've been to where I didn't feel I was being sold something." and "I came because I heard this was the place to meet real email marketers".
---
Below is a sampling of some of the incredible content from the show. Members of Only Influencers are invited to download select presentations from the show:
Jeanniey Mullen Keynote: Email: The Rise to Power: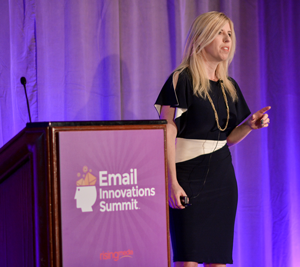 The day started with Jeanniey Mullen, founder of the Email Experience Council (EEC), delivering the opening keynote address: Email: The Rise to Power. As Jeanniey points out, Email started as an inbound tool whose intent has always been to improve the consumer experience. Today's email is different, but just as powerful, in fact more powerful than Social Media. Jeanniey sees three keys to unlocking the power of Email Today:
Using email to solve a problem (Creating a discovery path),
Using email to enhance life (Defining the Experience), and
Using email to provide a reason to come back each day (Ensuring Personal Value)
Key to success in email is to define the various audiences for email and how to approach each group with a winning strategy:
The Silent Generation (70+) are driving by physical and mental wellness issues. They go on line for personal information on health and family, and their main interface is through tablets, which they get as gifts. Things like "helpful tips", "simple sharing via email" and service oriented offers are the most successful way to hit this market.
The Baby Boomers (50-69) respond to lifestyle imagery that reminds them of younger days. They are very Smartphone centric and very prone to impulse buying. 64% use email to manage their life.
Generation X (35-49) are the first "Digital" generation. 92% own a smartphone or tablet, they are very email centric with 75% having logged into online sites with their email. And while they engage with traditional Social channels first, email is secondary but is primary for spend.
Older Millennial (born between 1981-90) gets their primary messaging from Message groups. And they respond when you connect with their culture (they love Full House). Retargeting via Social is important in reaching this group.
Younger Millenial (1991-2000) speak in Emojis. Mobile and gaming are native to them. For them, video converts better than images and they make "group-think" decisions. For this group conversations sell, not ads.
Tim Watson; Trigger Mapping and Email Automation
Tim Watson, founder of Zettasphere, spoke on Email Marketing Automation. Tim defined the three buckets of Email Automation: Auto-responders (Automatic reply to an email), Triggered (Automatic email in response to a user action), and Automation (Automatic email sequence in response to action or inaction, with business logic). Here is an example of a sample flowchart for Automation: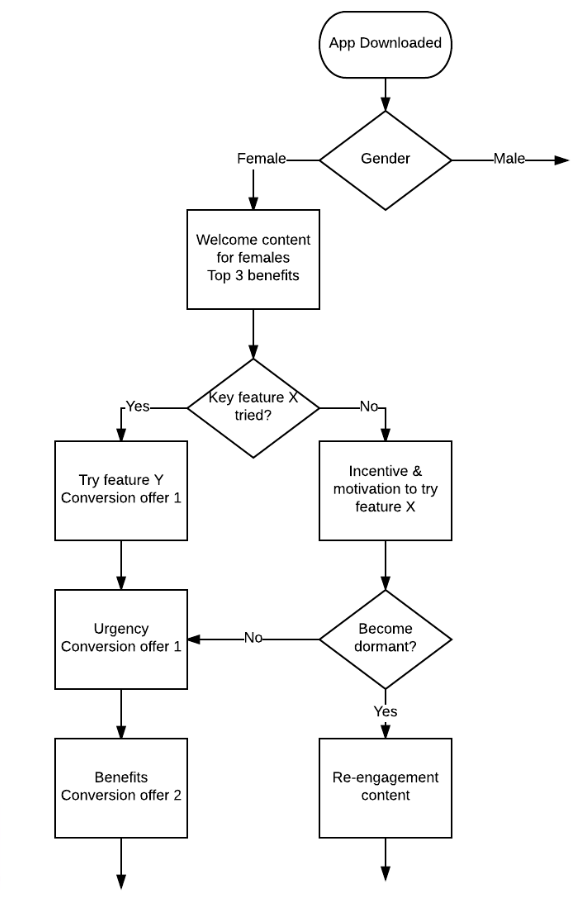 Automation has been taking off since 2014 with those reporting they are Very Successful and Quite Successful using automation going up dramatically and those who who claim lack of success going down. Tim provided a list of possible triggers and then divides them into the most to least effective triggers: Cart Abandonment triggers being highest, press release triggers being least impactful. In an A/B study, those who received automated trigger emails converted at 8% higher than those who didn't.
And while automated messages do NOT save time or resources, their true value is the increase in response. They are effective because they are perfectly timed, and have high content relevance. Tim suggests using Automation and Broadcast together.
Chris Jenner and Erin McDonald: Newbie On Board: Tips for an Email Marketers First Days
The Email Innovations Summit continues its tradition of introducing new speakers to the Email Marketing Industry, and it was exciting to see 2nd generation email marketer Erin McDonald deliver her first public presentation. Chris Jenner, VP of Email Marketing for Caesar's and Erin McDonald, email marketer at Clorox discussed being a Newbie in the email marketing world and how to manage your career. Suggestions include: Building your personal brand by looking at role models and mirroring their behavior, Being invaluable by taking on more than just your specific function and working both smarter and harder. Don't be afraid to self promote, but don't be annoying and remember you are part of a team.
Libby Snead: Keeping 65 million Members Engaged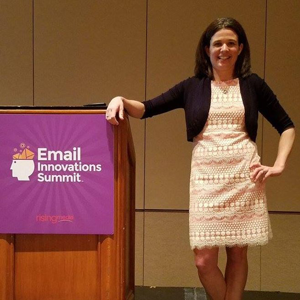 Libby Snead, Manager of Email Programs for PeopleConnect, Inc., which owns and operates the Intelius and Classmates brands, presented "Keeping 65M Members Engaged" and her presentation was so compelling that Tim Watson wrote up a great article on it for his ZettaShere Blog. Tim does a better job than I can, so check it out.
John Thies: 5 Ways to Improve Your Email Campaigns (and Get Better Results)
John Thies, Founder of Email on Acid, gave a great presentation on 5 Ways to Improve Your Email Campaigns (and Get Better Results). A common theme in many of the presentations was about how email beats social when it comes to driving sales and John points out that email drove 18% of Black Friday Sales last year while social only accounted for 1%. John preaches Relevency and says you need to be relentless about relevency. Examples of relevancy include emails from Brooks Shoes which includes localized weather triggers, cart abandonment emails (abandonment rate is 67%), reengagement campaigns to remind inactive why they were attracted to your brand in the first place.
John's defines the difference between Delivery and Deliverability. Delivery is whether or not a recipient accepts your message. Deliverability is where the message ends up once its accepted: Inbox, Spam Folder, or another folder. Email design and content can have an effect on inbox placement. John advices to avoid using an all image design. You should target about 500 characters in the email body and keep the email size below 100kb.
There are 3 opportunities to encourage a subscriber to open your email: The From Name, the Subject Line, and The Preheader Text. John suggests using a trustworthy name and recognizable "From Name". Subject Lines have an big impact on open rate: 35% of email recipients open an email based on subject line alone. Subject lines with 61-70 characters get more reads. Brands using emoji's in their subject lines saw a 45% increase in their unique open rates. And Preheaders are an easy win, says John, and Personalization increases opens by 26% .
An often overlooked area of email design is Accessibility, At the Email Innovations Summit, we did an advanced accessibility workshop run by Paul Airy, from Beyond The Envelope. In John Thies powerpoint he gives many HTML examples on best practice when it comes to accessibility in your emails. Fonts should be legible, minimum 14px, and you should maintain a logical reading structure and avoid Center Aligned text.
Only Influencers Members can download select presentations Here . Login is required or you will a 404 error.
Upcoming Shows
The Email Innovations Summit will be coming to London on Oct 11-12th and next May will be returning to Las Vegas and expanding the show to Mandalay Bay.
Title:
SPECIAL REPORT: Recap of the 2017 Las Vegas Email Innovations Summit
About:
Email Innovations Summit
Audience:
Email Marketers
Publisher:
OnlyInfluencers.com
Copyright 2017
,
Only Influencers, LLC