Mother's Day Email Promotion Round Up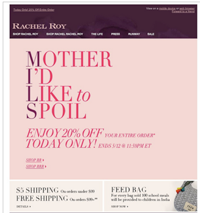 "As email marketers, it's our job to get a slice of that Mother's Day pie. Let's take a look at how online retailers are promoting the holiday."
U.S. online consumers will spend an average of $162.94 on Mother's Day gifts this year, down 3.6% from $168.94 last year, according to a survey from the National Retail Federation. The survey said 29% of consumers plan to shop online.
As email marketers, it's our job to get a slice of that Mother's Day pie. Let's take a look at how online retailers are promoting the holiday.
I'll start with a few emails I saved from last year's swipe file. The first is from JC Penney, reflecting its epic (or epic fail?) rebranding effort. I give JCP credit here, with its clever "mother's may" and bold graphics and colors.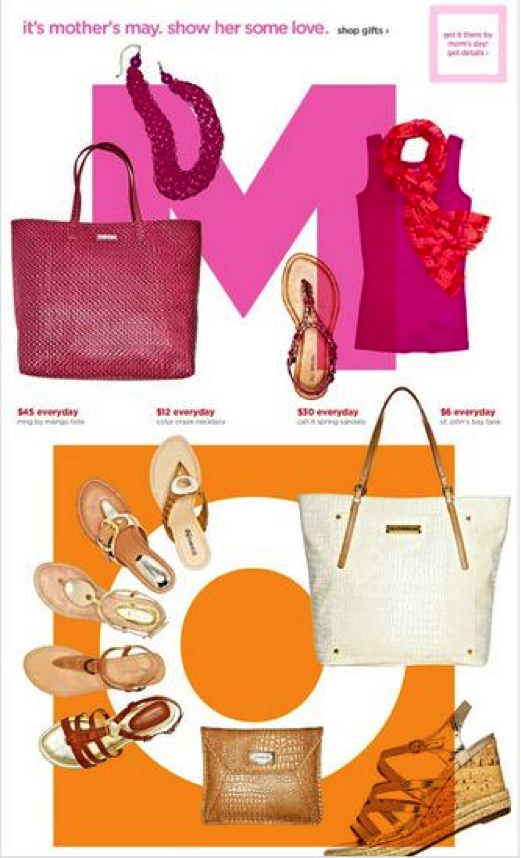 Next is one from Rachel Roy, with a subject line that grabs one's attention: Happy MILS Day! 20% Off. The headline, too, may cause you to do a double-take.
And a favorite of mine, uncommon goods, uses a brilliant play on words to tout its preferred shipping: "Don't you think Mom would've liked A Faster Delivery?"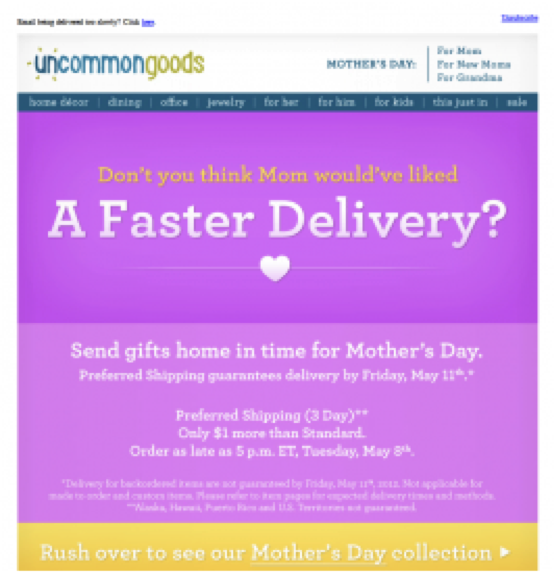 Fast forward to Mother's Day 2014. I'd like to give a shout out to Wayfair, which used the subject line "Mom's the word: Get gifting with hand-picked favorites she'll love." (Full disclosure: I used "Mom's the word" for a Mother's Day email when I was a copywriter at Lenox.)
Pine Cone Hill uses copy to sell without overdoing it. The headline — THE MOTHER LODE — draws you in.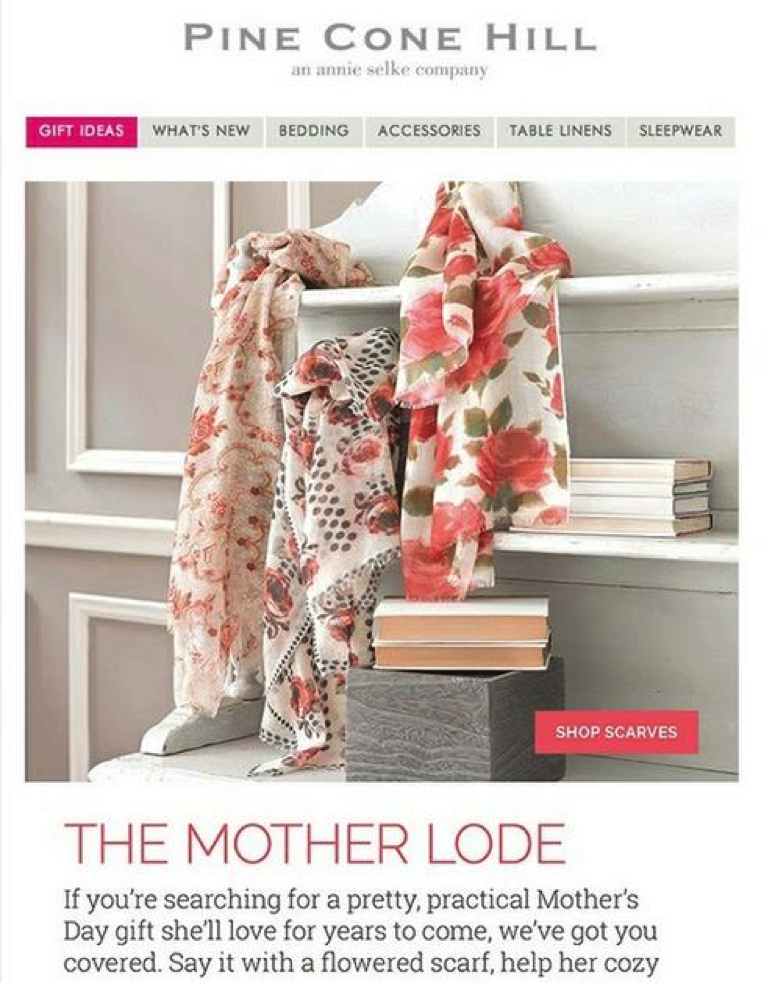 Bath & Body Works has an all-encompassing subject line: Give Mom The World! All NEW Fragrances + $6 Fine Fragrance Mist & More! The body of the email pays it off, promoting fragrances inspired by other countries.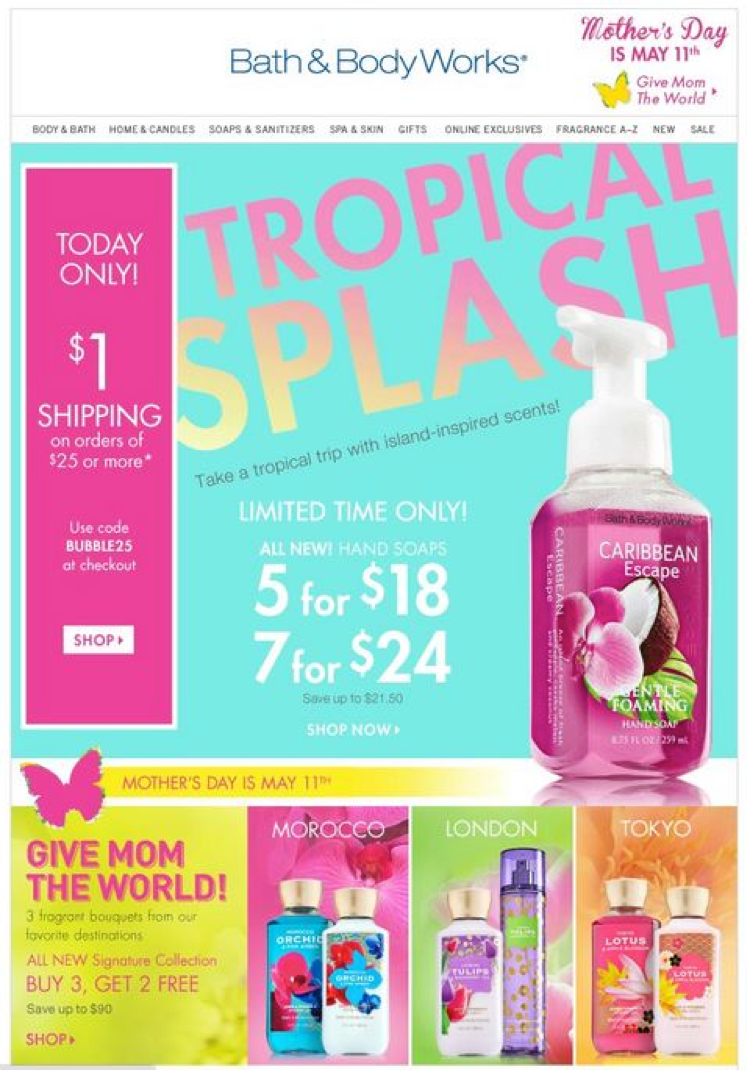 Some emails focused on new moms. This email from Nordstrom tugs at the heartstrings. It's a study in pink. My question is whether a blue-themed email was sent out as well.
David Yurman takes it a step further, using cause-related marketing. The subject line reads: Gifts that Help New Mothers. The copy-heavy email explains that a portion of its proceeds will benefit a foundation promoting maternal health. As an added bonus, those who contribute will receive a jewelry box as a thank-you gift.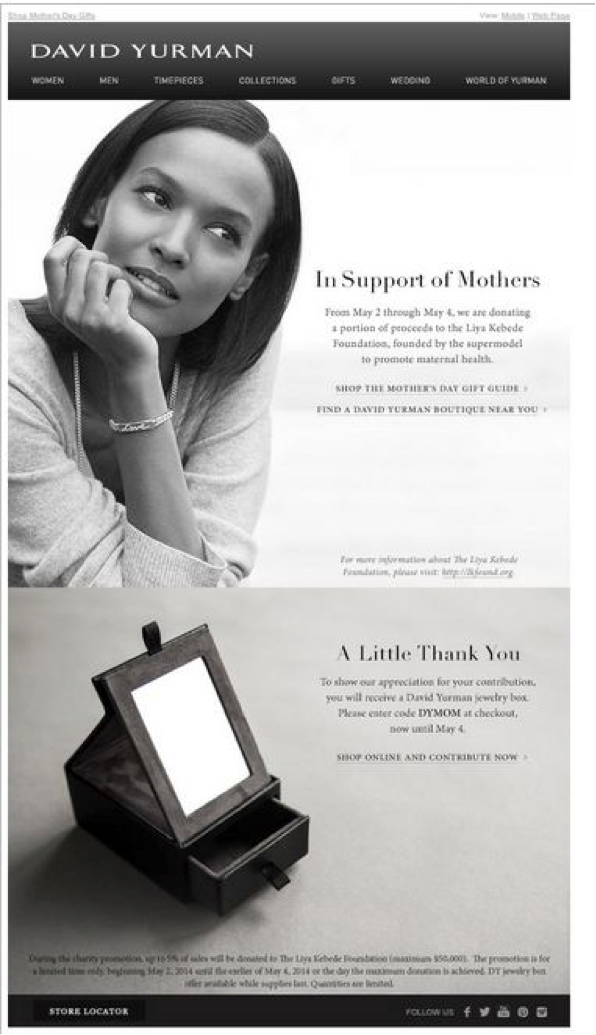 The following retailers used cross-promotions in their emails. Jack Spade keeps it all in the family, promoting the kate spade new york site. The subject line serves up a dose of motherly guilt: Your Mother Would Love To Hear From You. It's paid off with the headline below.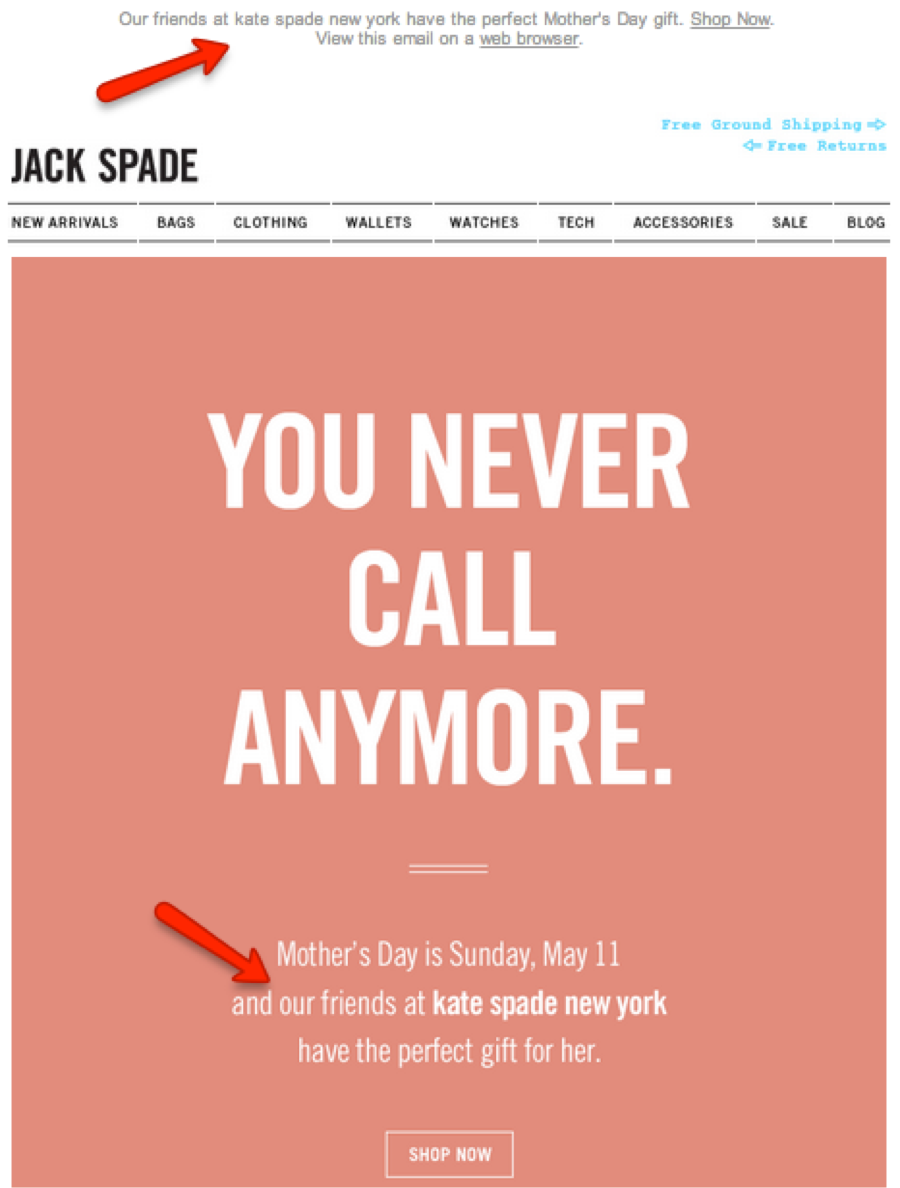 Burlington Coat Factory includes a co-op promotion with 1-800-flowers. The subject line spells out the offer — Just in time for Mother's Day - 20% off at 1-800 Flowers — but doesn't feature any of its own products. It also appears that there may have been special characters, such as hearts, that did not render.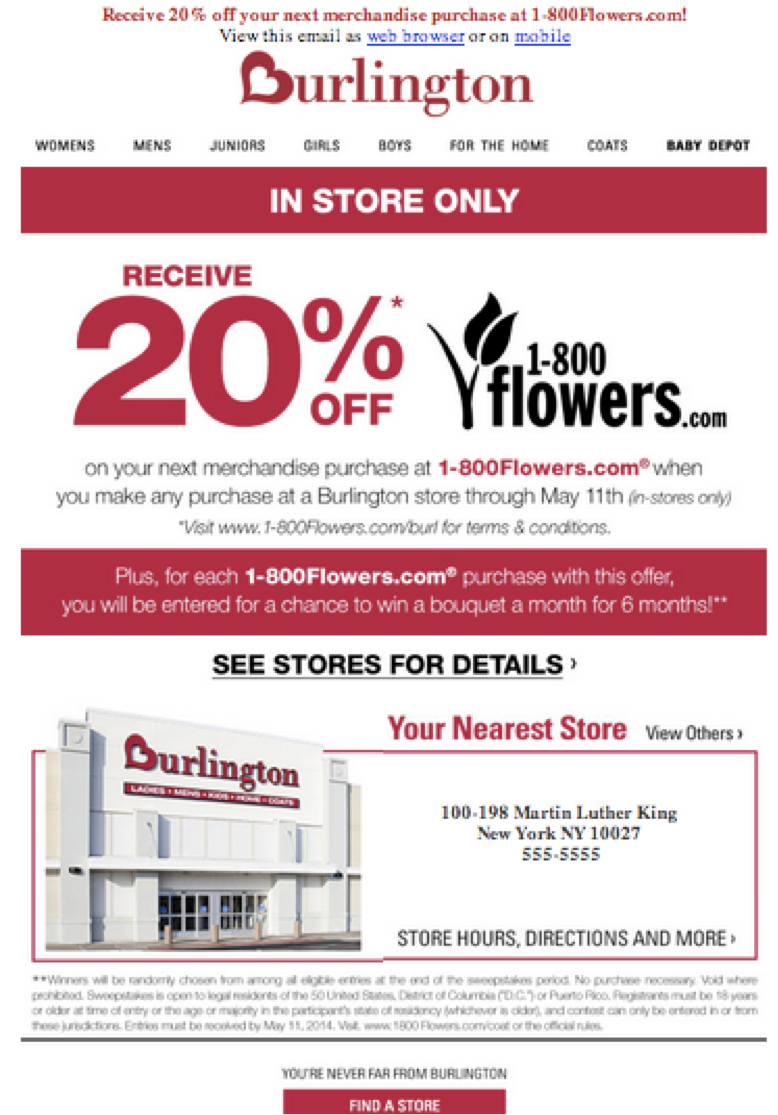 ---
Speaking of flowers, ProFlowers gives its subject line a sense of urgency with "URGENT: Last Chance for a $19.99 Special for Mother's Day!" The layout and copy are straightforward, simplifying the purchase decision (even for those with hard-to-shop-for moms).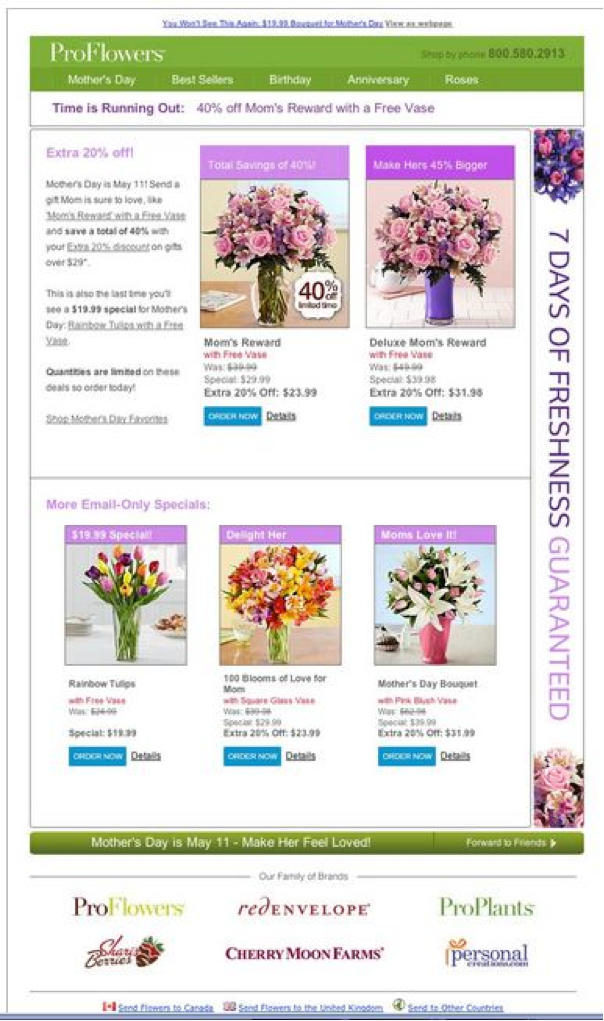 ---
Like flowers, chocolates are popular Mother's Day gifts. This Godiva email does a good job of promoting gifts for all the moms in your life — mom, wife, sister, friend.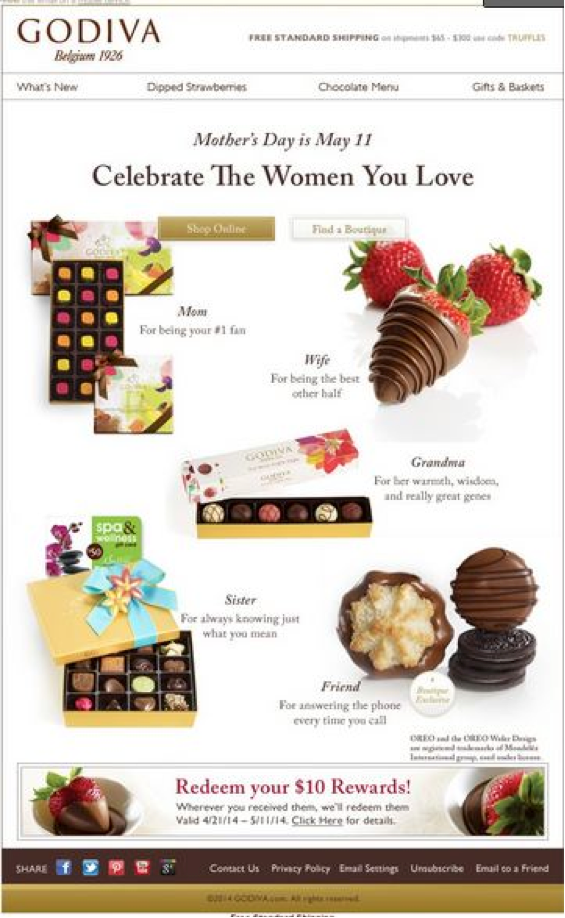 Not all Mother's Day emails receive this mom's approval, however. Take the Dirt Devil email, for instance. The subject line is filled with good intentions: Make Mom's Life Easier This Mother's Day. And the headline is spot on (pun intended). But do moms really want a vacuum cleaner for Mother's Day? One year I received a waffle maker for Mother's Day; it was one of those gifts where you say "You shouldn't have!" and you certainly mean it.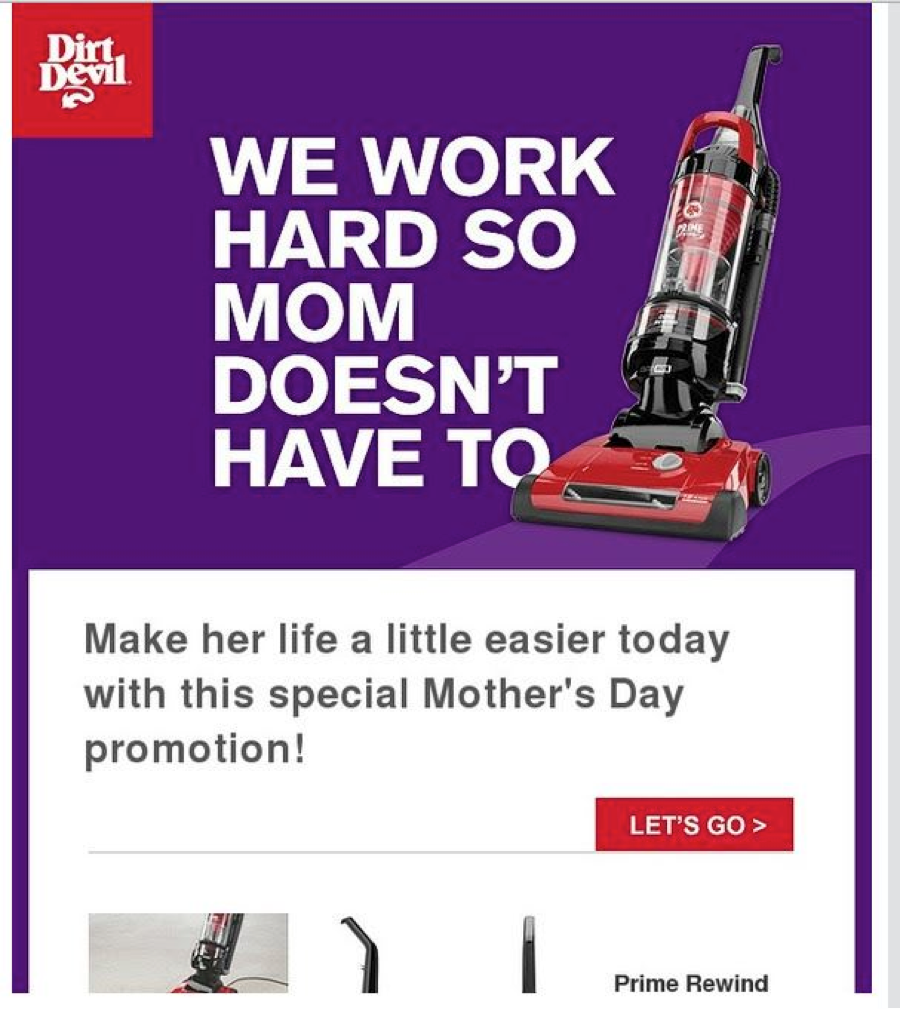 And what about this email from J. Peterman? I expect more from the cataloguer known for its creative copy. I'm sure Elaine from "Seinfeld" would agree. A "Roses are red, violets are blue" rhyming poem? Seriously?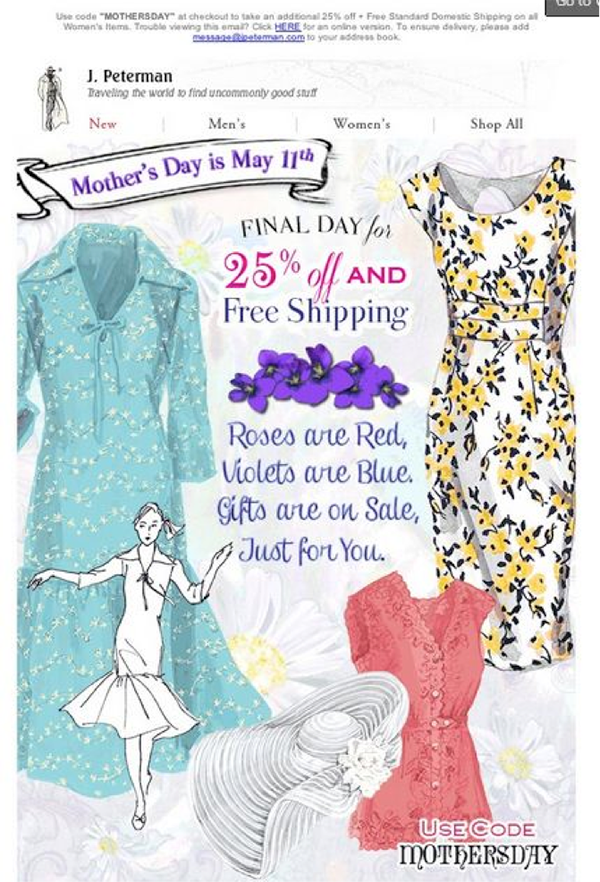 In this Dean & DeLuca email, the cheesecake gets lost on the white background. I'm sure the monochromatic look was intentional, but a darker plate would have made the product pop.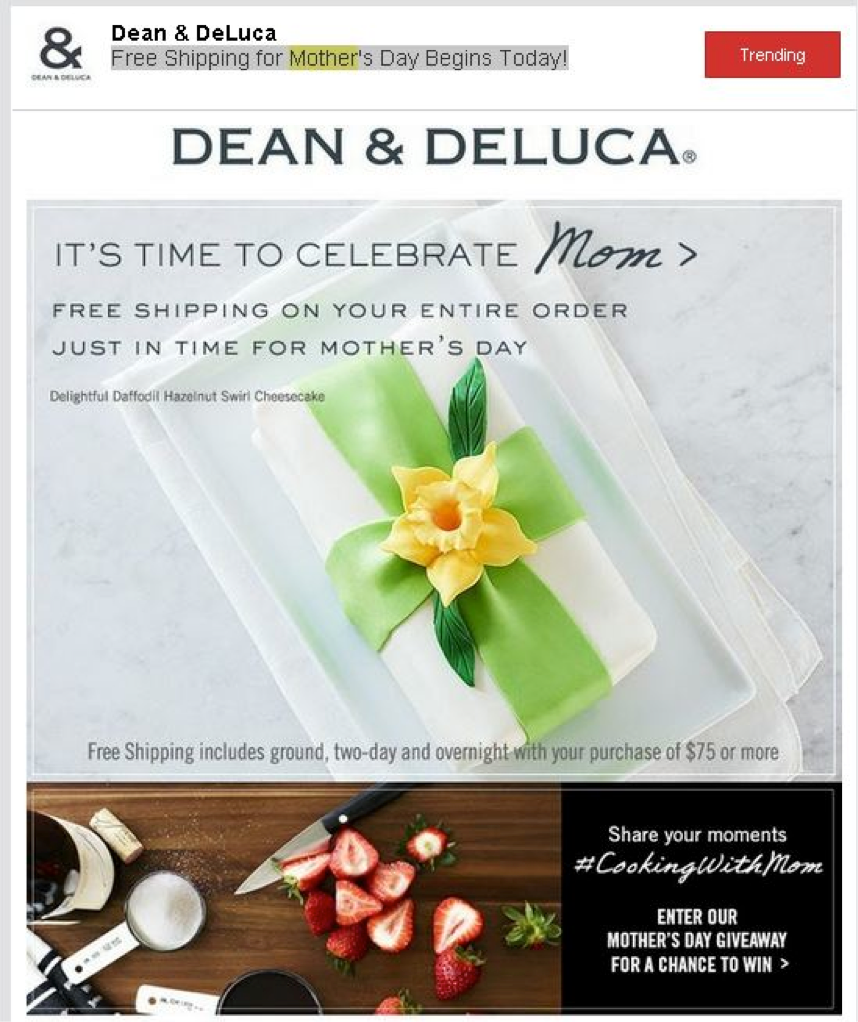 This email from Michael Kors leaves me scratching my head. The subject line reads " For the Mother Who's Ahead of Her Time." I'll admit it's cute for an email promoting watches. But the watches definitely are mini and petite, as the hero image focuses on the model (who's not very "Mom-ish") as opposed to the product.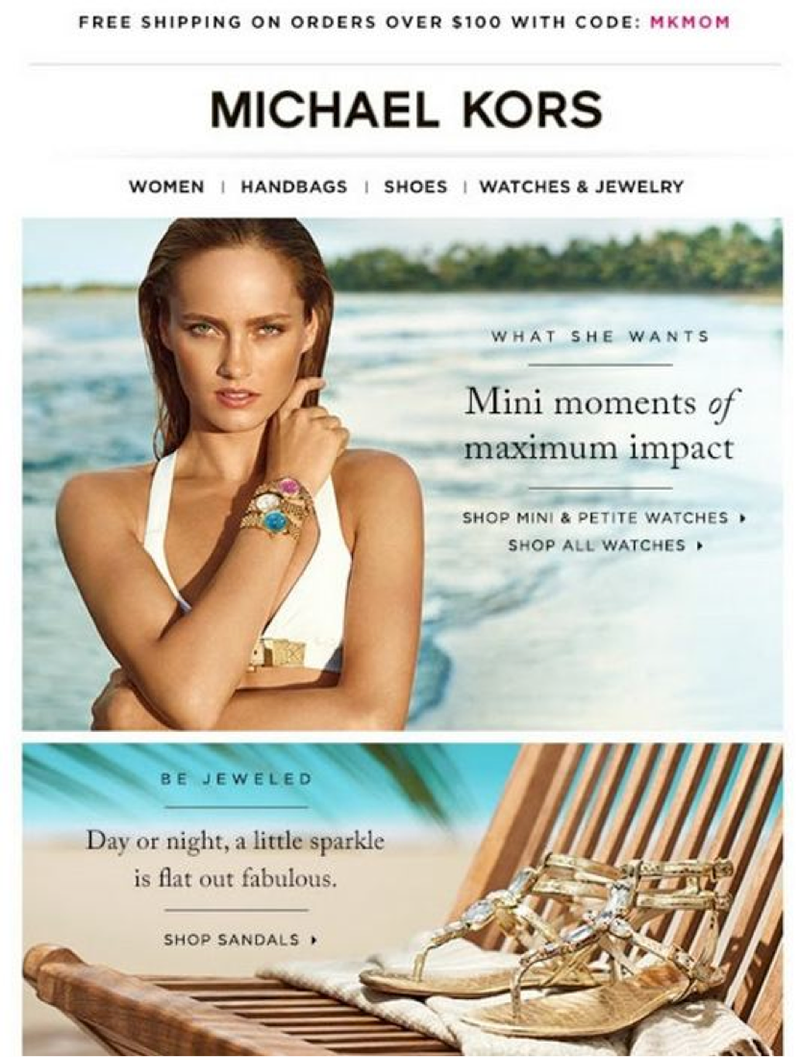 On the other hand (pun intended), Fossil uses a simple but effective subject line: Got a great mom? We've got a great watch. The design showcases the watch, and the copy ("momentous savings") is subtly clever.
I doubt that the folks at Belldini meant to give a plug to MailChimp, but that's what they did when they forgot to remove the template copy in their email. With their offer of 20% off sitewide, I'm sure moms will forgive them.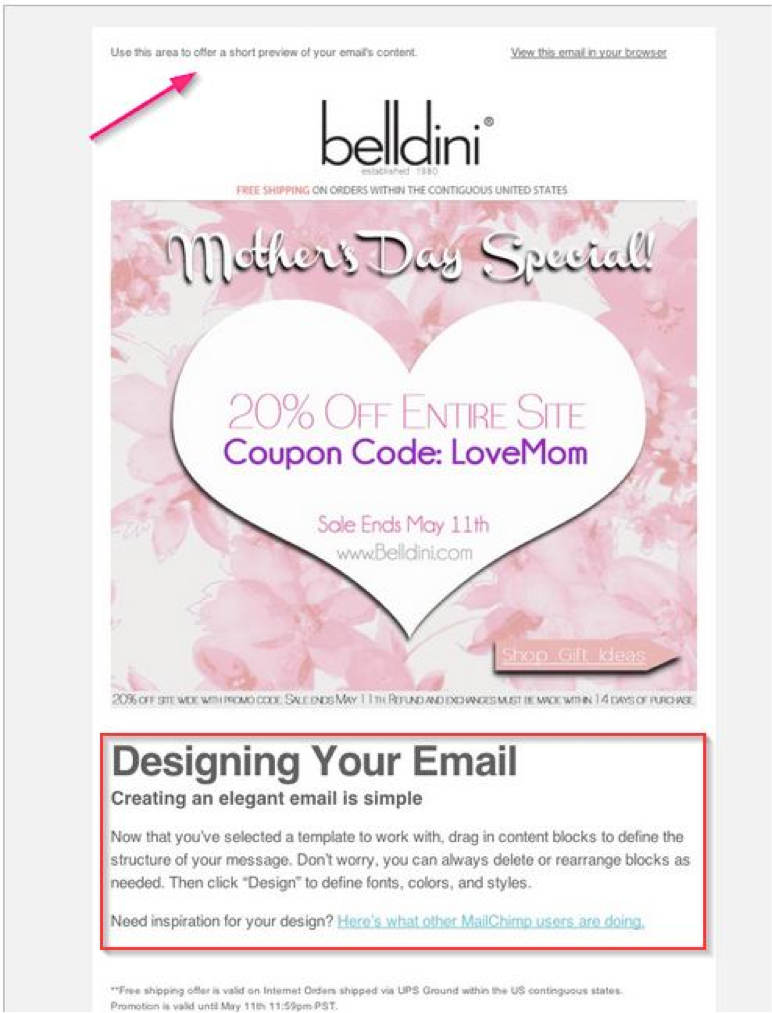 As Mother's Day approaches and we wax nostalgic over fond maternal memories, an old song comes to my mind. With lyrics by Howard Johnson and music by Theodore Morse, the song "M is for the Million Things She Gave Me" debuted in 1915. While its words paying tribute to moms everywhere still hold true today, I took the liberty of creating my own acrostic (in the spirit of Rachel Roy's MILS email) paying tribute to Mother's Day emails. No "Roses are red, violets are blue" for me:
M is for the Millions of potential gift buyers
O is for the Offers we that can't be refused
T is for the A/B Tests we love to conduct
H is for the list Hygiene we practice
E is for the Emails sent hawking Mother's Day
R is for the big ROI we hope to see
Happy Mother's Day to all the moms out there!
Stay Informed
When you subscribe to the blog, we will send you an e-mail when there are new updates on the site so you wouldn't miss them.