Tim Watson: 7 Inspiring Automation Emails

Email automation is not the panacea for email marketing that many articles seem to suggest.
The story goes "buy a leading edge automation platform" and your email marketing is no longer spam and strategy is improved double quick.
I've never seen this to be true and have certainly spoken to too many email marketers who have found out it's not true - the hard way.
Email strategy is not created by buying some cool tech.
But more about email automation strategy later.
Let's start with 7 examples of automated emails that show case use of automated emails beyond the well-known examples of welcome and cart abandon emails.
Tesco coupon expiry
This is smart because it's customer focussed. The Tesco Clubcard scheme allows members to collect points and every quarter points are converted to money discount coupons to be used online or offline.
The money discount coupons each have an expiry date. Whilst some brands might secretly hope that customers fail to use their coupons Tesco focus on the customer and repeat purchase. They send out an email to reminder customers their coupons are going to expire.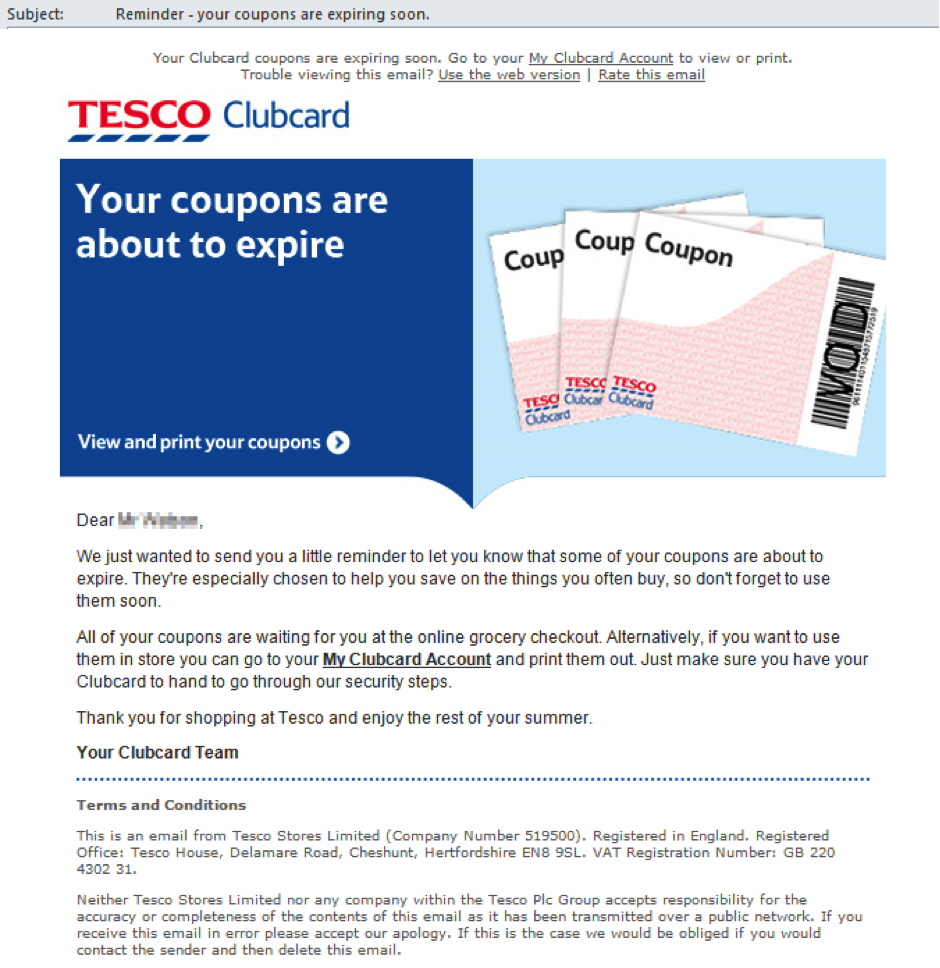 Flybe Fabulous Faro
This browse behaviour triggered email was sent within a couple of hours of viewing Faro flights on the airline's website.
The email aims to be helpful as it provides information about the destination resort. Also making an email with more emotional appeal.
This is one up on a basic "we saw you were interested in flying with us to Faro, come back and book now".
Flybe still find space for a touch of promotional content with a footer promoting hire car savings, the Avios loyalty scheme and their branded credit card.

DSW Help with your wishes
Letting your customers who expressed an interest in a specific product know when it's about to go out of stock is a helpful touch from DSW. In this email originally shared by Julia Peavy.
It works too with a read rate double that of DSW's normal campaign emails and 30% higher than their Birthday emails.
Not all brands have wish lists and even when they do they are often not well used. Consumers often using the shopping cart as a temporary wish list. In which case this concept can be a trigger email to add to a cart abandon sequence. If an item has been languishing in the cart for some days or weeks even, then a low stock notification is still relevant and a good way to re-gain interest.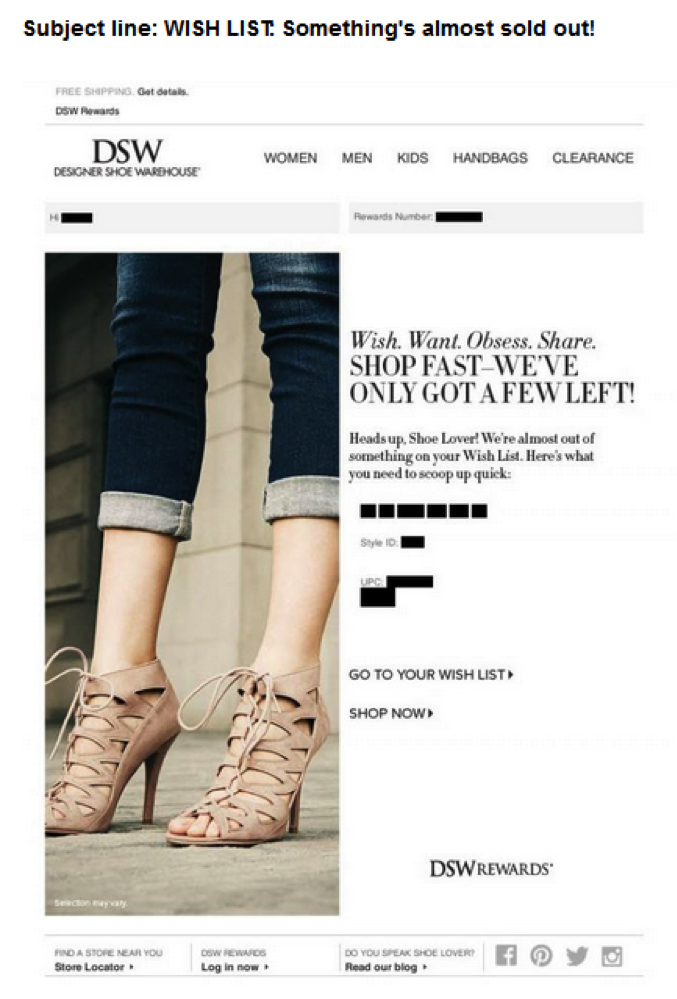 ViewRanger your first steps (actually first track)
ViewRanger is a GPS navigation App specifically for walkers and cyclists. It allows route planning, recording the route you actually walk – a track, plus lots of stats on your activity.
Picking up on the user's desire to share their explorations with their social networks they provide an easy way to upload and share your recorded tracks with others.
Once you upload your first track a triggered email motivates you to share the track and lets you know about more cool things that users typically do, such as add photos. The whole email is all educational, helpful but ultimately turns new users into stickier users.

Amazon Kindling interest
As part of the overall marketing push for the Kindle they leveraged automated emails.
This example sent shortly after purchase of a physical book, offer a free Kindle book. The automated email gives a degree of relevance hard to achieve with broadcast campaign. Reaching out to the right audience (book readers) at a time when they are engaged with the brand.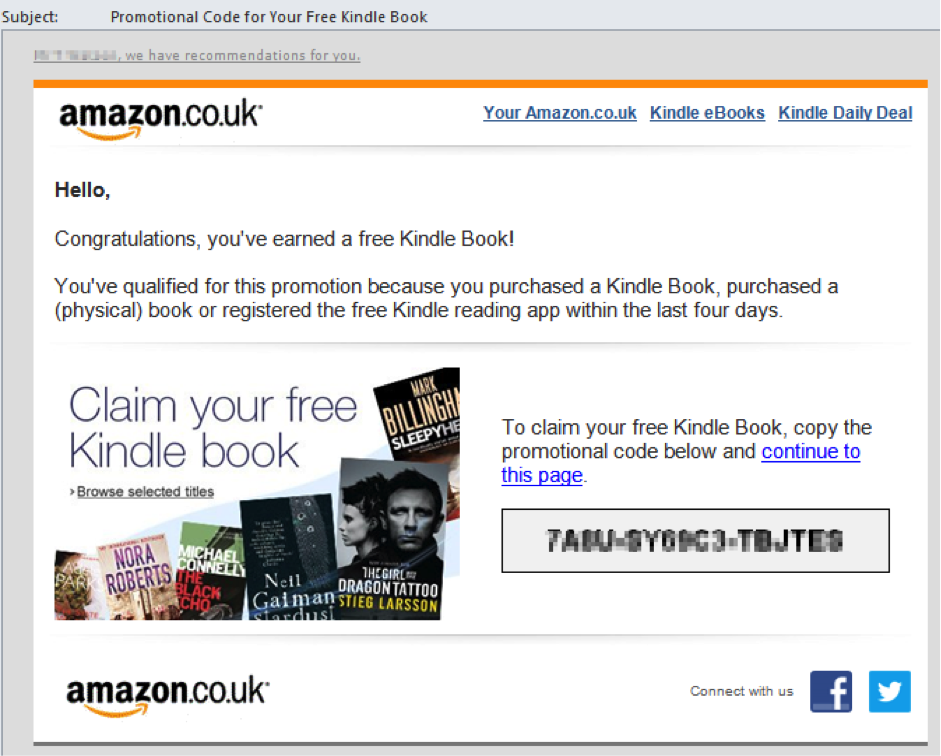 Hargreaves Lansdown smart listening
Hargreaves Lansdown are an online self-service financial products company, primarily for share trading.
This email is a good example of follow-up. An initial broadcast campaign email reminded their customers about the closing tax year and gave possible options for people to tax. The options taken from the email caused the follow-up email to continue the conversation in more depth around the particular area of interest.
A good use of automation is to consider what types of pivotal pages you have on your website. For example, if you are selling kitchens and someone looks at your financing options page, automation can be used to start a journey explaining more about financing.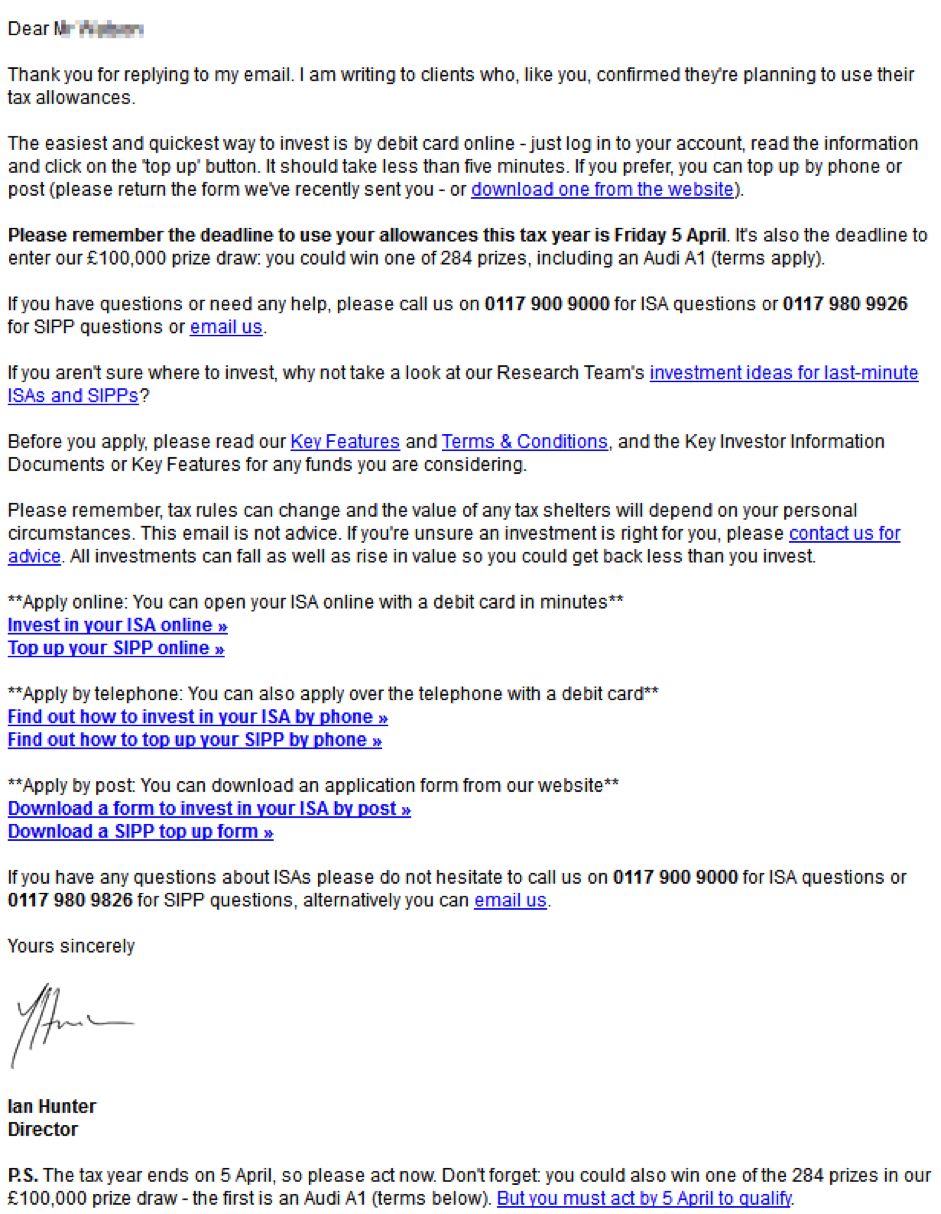 TripCase missing hotels
TripCase is an App to help organize your travel, keeping all details of all bookings and services as part of a journey together.
To retain users, the App really needs to be an indispensable travelling companion. Automated emails prompt users to enter hotel details if they have flight details entered but no matching accommodation.
The is sent email focussed on the benefits of adding the missing hotel. Short and to the point.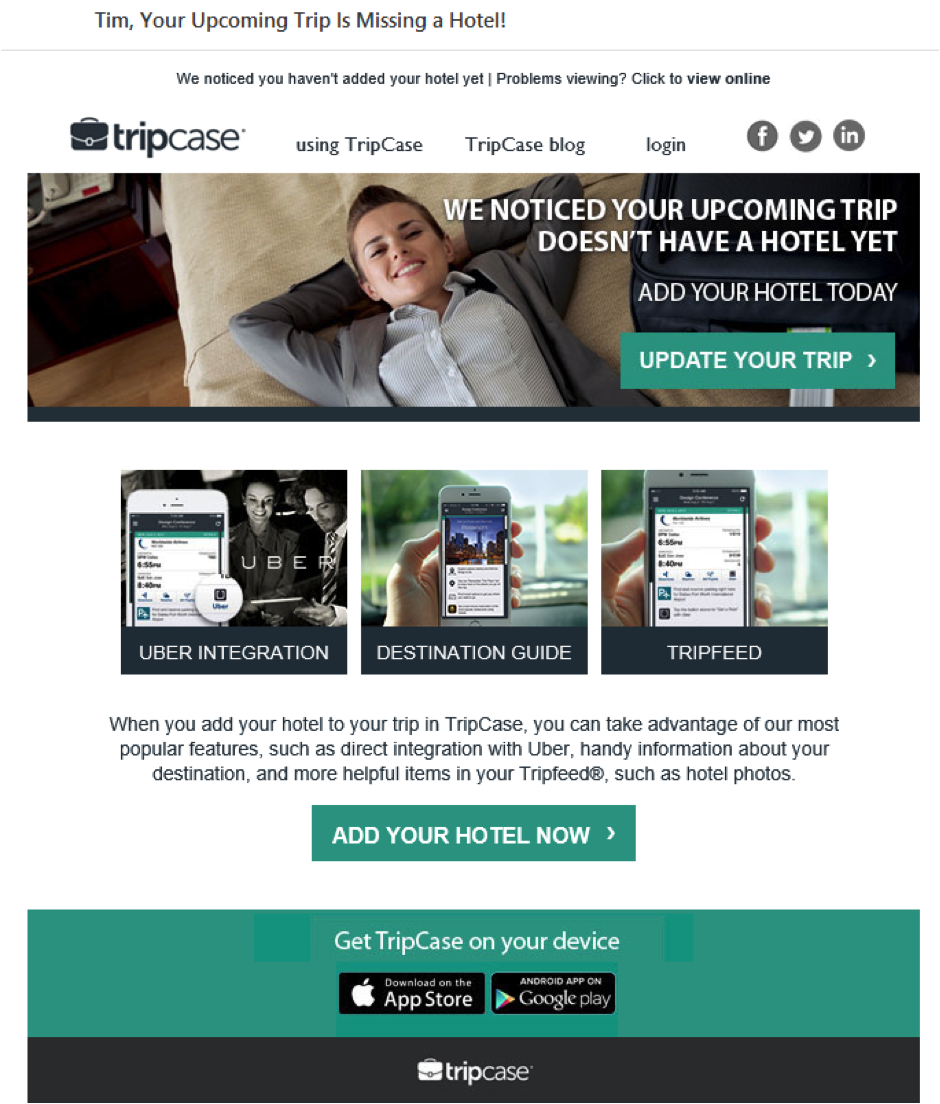 As long as you want to use automation for the right reasons. Namely one of investing more time and resources into email to increase channel revenue then automation is great avenue to pursue. If your main focus is to save time with a set and forget email strategy, then you'll be disappointed with automation.
Email automation is not a replacement for sending traditional broadcast campaigns.
Effective email automation strategy needs to take account of the strengths of email automation and broadcast email, combining and integrating the two into a single coherent strategy.
At the OI Email Summit in April I'll be looking further at use cases for email automation and more importantly how to build an integrated email automation strategy.
Title:
7 Inspiring Automation Emails
Audience:
Email Marketers
Publisher:
OnlyInfluencers.com
Copyright 2017
,
Only Influencers, LLC
Stay Informed
When you subscribe to the blog, we will send you an e-mail when there are new updates on the site so you wouldn't miss them.