2021 State of the ESP RFP Survey Results and Conclusions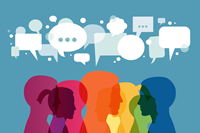 In late December of 2020 I created a short survey to gather data on the impact of COVID-19 on ESP RFP plans for email marketers in 2020. I also included some questions pertaining to what platform features and functions email marketers in 2020/2021 are most interested in exploring in their RFPs. And finally, I asked which ESPs were both top-of-mind in late 2020, and who was going to get invited to the most dances in 2021.
While the results don't represent quantitative data (we had 50 of you very nice people take the survey), they do provide some very good insight in to the upcoming RFP landscape and what brands will be looking for. Of particular interest to me was how much the results align with what we are seeing in our RFP work with brands. But there is plenty in the results that might surprise vendors.
About the Survey Respondents
We got a good mix of brands responding to the survey. Brands ranged in size from the top of the SMB category all the way up to enterprise-sized email volumes. This chart shows how they break out by email volume: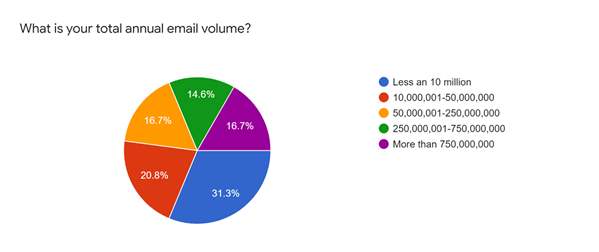 The diversity of brand volumes was valuable as there are areas where size of email volume determined how a brand responded to a question, as we will see shortly.
Impact of COVID-19
Among our survey respondents, 40% of those who had originally planned to conduct an RFP postponed or cancelled those plans. If those numbers are at all reflective of the industry as a whole (and I don't see any reason why they wouldn't be), that represents a major disruption to business as usual in 2020. From our personal experience, 2020 was the first year since we started in 2012 where we did not begin a new RFP, let alone 3-4. Suffice it to say, a large number of planned RFPs didn't happen in 2020. The other 60% of those who responded and had planned on an RFP in 2020 went ahead as planned.
The highest and the lowest volume senders were the most likely to have gone ahead with their RFP plans in 2020. Those in the middle volume ranges, on the other hand, were more likely to push them into 2021. Why was this the case? One possible explanation for why enterprise brands moved ahead with RFPs is that email is too critical a marketing channel to continue for another year with a solution that is merely "good enough". Larger email teams at the enterprise brands were probably also a factor, as there were hands on deck to do the selection and integration work that might have been otherwise outsourced (but which were unaffordable expenses in 2020). There is also a greater likelihood that certain enterprise vendors didn't make it easy for brands to extend a contract only until an RFP could be conducted.
At the lower end of volume, the RFP process is reactively simple, and the ESP options relatively fewer, which could explain why many of those went ahead. In the mid-market, the number of options is the largest, and email team members likely had their hands full just getting out the campaigns, which had taken on a much greater degree of importance for many brands when brick & mortars were closed down.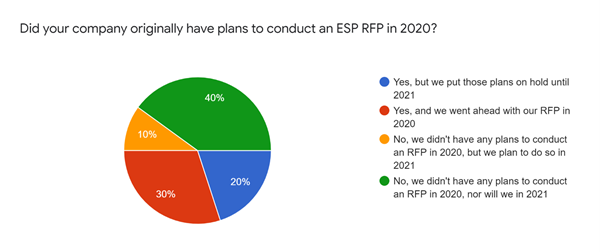 What about the RFPs that didn't happen in 2020?
Fewer than half of the brands that decided to pull the plug on RFP plans in 2020 will go ahead with one in 2021. In fact, only about a third of brands who decided not to go ahead with a planned RFP in 2020 will go ahead and do it in 2021. If these numbers hold up across the industry, that is still a lot of additional RFPs happening in 2021.
What about the others? 18% signed an extension with their existing ESPs. Many ESPs, worried about their own business fortunes at the time, were certainly willing to grant pricing concessions in order to extend a contract and avoid a drawn-out RFP. Not every ESP is as flexible (you know who you are) when it comes to discounted contract extensions, and as we said above, brands on those platforms are more likely to have gone ahead with RFP plans.
Another 18% of the delayers plan to look at their options in 2021, while avoiding a formal RFP if at all possible. The remainder have not yet figured out what they plan to do.
What's the Primary Driver of your RFP?
Here's where the results start to get even more interesting. We asked respondents what is or was the primary factor leading them to conduct an RFP. 10 years ago, the primary answer would likely have been "To lower the total cost of email our program", as brands expected email marketing costs to continue their downward trend, especially when it came to CPMs. Of course, "we hate our incumbent vendor" was always a possible trigger as well! But CPMs and overall costs can only go so low, and in our own experience with brands and RFPs, we've seen cost becoming less of a factor in deciding which vendor to choose.
Which makes sense based on our survey results. Less than 20% of our respondents listed lowering cost as the primary driver of their RFPs. So what's the driver of most RFPs today? Broadly speaking I would say that they are driven by a sense among email marketers that there is a better solution in the marketplace than the platform they are currently using. That shows up in their answers to the question, where the top two drivers of RFPs are "We have outgrown out existing platform" (44%) and "Want to see what some of the newer platforms have to offer" (26%). Better pricing and a relationship gone stale trailed way behind both of these.
The amount of change in the email vendor landscape, with next gen platforms gaining credibility, and with legacy systems continuing to innovate, is certainly a factor behind this. Brands are interested in seeing what all the noise is about, particularly around some of the "new" platforms, and this has led to some crazy RFP line-ups on the vendor side. We'll get to that shortly!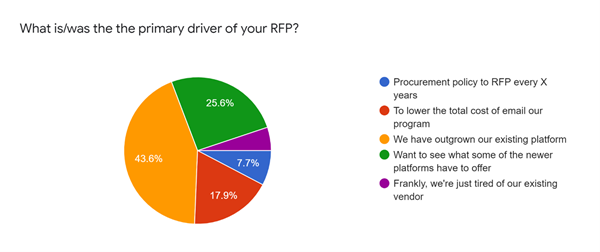 What capabilities are most important in an ESP?
The answers to this question prove once again that many vendors talk the least about the things that are most important to the folks at the brands. Why is that? Part of the reason lies in the fact that vendors want to appeal to the C-Suite at brands, so they run from the ESP label and focus on how they can fundamentally change a brand's business outcomes. But the people doing the selecting at most brands are looking for an ESP and are interested in how a platform can help make their email marketing better.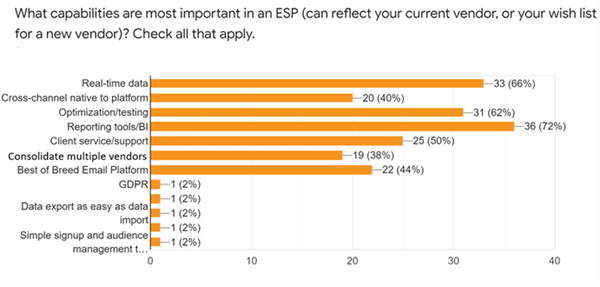 As you can see from the chart above, those capabilities most important to our survey respondents tended to focus on the things that directly impact the day-to-day operations of the email marketing team, with reporting tools/BI being the most frequently listed capability (72%). Real-time data finished second (66%), just ahead of optimization/testing (62%). The importance of real-time data to our respondents is a likely reason why CDPs are of such interest to so many email marketers these days. But that's a subject for another day!
Out of the options we listed, the two carrying the least importance to the respondents are those capabilities that are the ones that many vendors focus on when they are touting the superiority of their platforms over another. Specifically, the ability to consolidate several platforms into a single one (38%) and cross-channel native to platform (40%). Neither of these really impact the daily life of an email marketer, and that shows. While they C-Suite might appreciate those capabilities, who is making the decision on which vendor to choose in an RFP? Hint: it's probably not the C-Suite….
Hot or Not
The last question in our survey was open-ended, asking the respondents who, if they were to start an RFP tomorrow, would be three vendors they would be sure to include. The responses to this question reinforced what we have been seeing and saying for the last year or so: certain ESPs have become "flavors of the week", and are the platforms many brands want to see in order to ensure they aren't missing out on "next gen" capabilities. In no way does this mean they are the only next gen platforms; it simply indicates that they are the proxies for all of those platforms. Which gets them invited to a lot of RFPs.
Another take-away from the survey responses is that brands no longer appear group ESPs by "SMB", "Mid-market" or "enterprise" designations. Instead, they put them all into the same bucket. This, then, creates a scenario where they will start an RFP with a very wide range of ESP sizes. I've seen this lead to some very odd pairings.
Take the Klaviyo vs. SFMC. I've had brands come to me saying these two ESPs are the final two contenders in their review. They often ask me who I recommend. More often than not, I recommend that they start all over. Because if you are starting an RFP with a vendor list that includes (for example), Marketo, Salesforce and Klaviyo, it's clear to me that you don't really know what you need. Nothing against any of those platforms, as they are all good at what they do best. But what they each do best is dramatically different from the others. It's as if someone went looking for a new car and his or her decision came down to a choice between a bike or a semi-trailer. Clearly something went wrong in the process!
Almost half of the respondents listed there top 3 ESPs that are dramatically different, whether it was B2C vs. B2B, Enterprise vs. SMB or some other variation that didn't make a lot of sense. It points to a couple of things I've been saying for the last year:
There are a lot bigger differences between vendor platforms than most email marketers recognize.

Many email marketers go into an RFP without a clear understanding of their unique requirements, so they include vendors that simply can not meet their real needs.
Any RFP that includes vendors that are poor fits has a higher chance of failure than one that only includes vendors that would be good fits.
Summary of Findings
COVID-19 had a significant impact on the RFPs initially planned for 2020

2021 is going to be a big year for ESP RFPs, but many RFPs originally planned for 2020 will never happen

RFPs are no longer driven primarily by a desire to "get a better deal"—there is a growing sense among email marketers that they are "missing out" on better technology

Brands are looking for specific features and functions more than they are looking for multichannel & platform consolidating offers—and the CDP-ESP confusion is only going to get a lot worse before it gets better

SFMC is the top-of-mind legacy ESP appealing to brands across all levels of email volume; followed closely by Marketo

ActiveCampaign may be joining Iterable, Braze and Klaviyo as "Flavors of the Week"

Brands don't think of ESPs in terms of "enterprise" or "SMB", leading many to group dramatically different platforms in their own wish lists (e.g., SFMC and Klaviyo)
In conclusion, I think some vendors are going to have to think long and hard about how they present themselves to prospects. My advice to vendors? Review what you are focusing on in regards to product marketing and product roadmaps. Make sure you appeal to the decision-makers AND the C-Suite.

On the other hand, brands clearly need to do more homework when putting together a list of ESPs to review. As I have written before on this blog, there are much bigger differences between the vendors than most email marketers are aware of. My advice to brands? Do your homework so you go into RFPs with the right mix of vendors.
IF you are one of the brands who is planning an RFP in 2021, the right place to start would be to read this. Good luck, and let me know how we can help!