9 Steps to Prepare Your Holiday Email Marketing Strategy for Success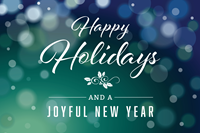 The holiday season is the most important time of year for retailers, with a large portion of sales being done at this time. MasterCard SpendingPulse reported that holiday ecommerce sales account for an average of 14.6% of total retail spending (and much more in some cases).
When Deloitte asked people how they'd split their holiday shopping, consumers indicated they'd use the following channels:
59% online shopping
36% in-store shopping
And with 79% of shoppers willing to buy from a new retailer over the holidays (source: Deloitte), it's never too early to be thinking about both your email marketing acquisition and retention strategies specifically for this time.
Here are 9 steps I take with retail clients gearing up in advance for the holiday season to ensure their success...
1. Encourage an opt in
As the holiday season kicks in in earnest in November, consider theming your email opt ins around this. As always, tell people the benefits of subscribing to receive emails and more specifically any additional holiday specific benefits (such as early access to your Black Friday sale, or specific gifting ideas for those you need to buy for).
Also consider the data you're gathering on sign up that will help you personalise you content from the first email. Could you add an additional data field during this time to ask if they're shopping for themselves, or specific family members or friends, for example?
2. Re-evaulate your automated campaigns
Run through your library of automated campaigns and see which ones could be used to help drive engagement and increase sales even further.
Have a look at whether you need to update any information, extend the delay on delivery emails if shipping times are longer for example, or add in specific holiday imagery, product categories or specific information regarding delivery's and returns.
Adapting your welcome email programme is a great example of this – when new subscribers sign up during this time, they are likely to be searching for gifts or other seasonal related products (if only alongside their usual purchases). Adapt your welcome email content to account for this.
3. Clean your list
If you have segments of your audience that you don't regularly contact but would like to more frequently during the holiday season, consider running your list through an email verification service provider such as kickbox.io to ensure you're only sending to deliverable emails.
Also consider your campaign results from the last year (across the year but during the holiday season in particular) and look for any red flags.
Did you see any increases in complaint or unsubscribe rates, or decreases in opens, clicks and conversions on certain campaigns or at certain times?
Were there segments of your list or campaigns that generated these results?
Analyse your results and identify any areas that you can improve before the season starts (such as removing troublesome data generating high complaint or bounce rates).
You may find eFocus Marketing's deliverability decision tree helpful here too.

4. Work on your timing
Really understanding your audience involves considering how they might be purchasing during the holiday season and how you can help support that at the right time.
Each year there are an array of statistics published showing the changing behaviour of customers – and particularly following the changes we've seen already seen and will see post Covid-19.
The type of subscriber you have will help you determine when might be the best time for specific types of content and offers. For example, …
52% of UK female shoppers said that they get a jump-start on their holiday gift buying in the October-November timeframe, with 24% admitting to getting started even before that.
For male shoppers, while October–November is the prime time for their festive shopping (45%), 39% are still very active in the November–December period.
For women, the focus is on gift purchases for the household and children, while male consumers shop primarily for their partner/significant other.
There is often a clear correlation between age demographics and spending plans, with 45% of UK shoppers aged between 30-39 indicating the desire to allocate higher budgets (£500 or more) on their seasonal shopping this year.
(Source: Modern Retail)

Here are some other statistical food for thought to help inform your strategic timings:
$1 of every $5 spent online during the holiday season took place during Cyber Week, an 18% increase from the previous year. (

Adobe

)
60% of holiday shoppers start buying Christmas gifts before December 1

(

Statista

). However, the average holiday shopper in the U.S. has 53% of their shopping still to do in December. (

Think with Google

)
Only 26% of shoppers complete their holiday shopping before Cyber Week.

(

Think with Google

)
33% of consumers will hold off on buying holiday gifts until there's a sale.

(

Think with Google

)
Mid-December sees a big uptick in "free shipping" searchesas the shipping window for Christmas delivery diminishes. (

Think with Google

)
Last-minute shoppers and those that missed the delivery window are the reason why "store hours" mobile searches on Christmas Eve tend to spike. (

Think with Google

)
Mobile searches for "gift idea" or "gift ideas" increase after Black Friday, reaching their peak a week before Christmas. (

Think with Google

)
Think about how you can start identifying key additional segments of data to target at different times based on information like this and of course, your own data.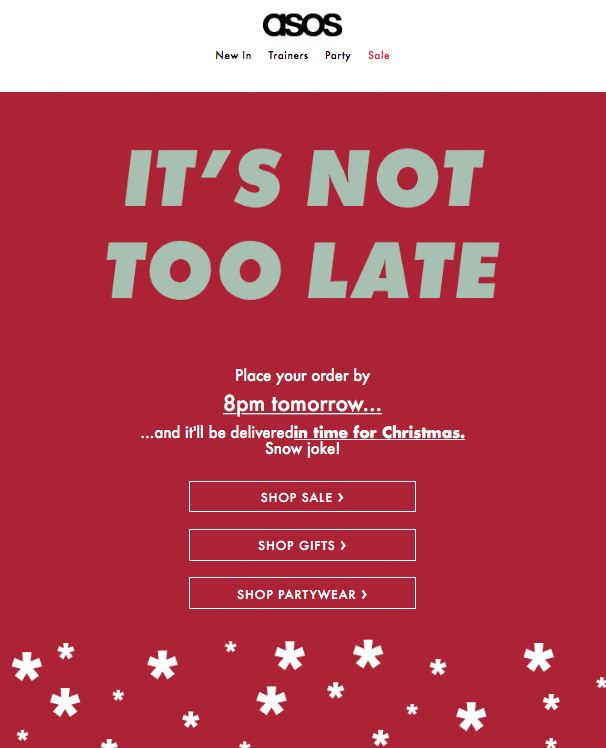 6. Consider your audience behaviour
Think about which segments you're sending to and how active they are and have been with your emails in the recent past, as well as the last time you emailed them and the usual frequency with which you send to them. This may well be different for different segments.
If you don't have a regular reactivation strategy in place (consider setting up an automated process generally in your strategy), segment out any subscribers who haven't interacted with your emails in a long period of time (depends on your business) and consider how you want to reengage as many people as possible before the holiday season through a series of re-activation emails or remove inactive subscribers from your mailings (during this time or generally. Also consider their other behaviour with your business in your decision, such as purchase behaviour).
When you're considering the engagement of your subscribers, also look at their behaviour last year – when did they buy, what did they buy, what type of gift categories and price levels. You can use all of this information to create a specific segmentation strategy in the run up to Christmas and better target your audience with the right messaging and offers for them.
Many retailers, for example, may have a distinct segment of their audience who ONLY buy in the run up to Christmas, or only buy low level priced products, e.g. wrapping paper. Here your normal segmentation strategy isn't always optimal for this critical period and the changes in behaviour that often arise. Think about your strategy and what you need to continue with or pause during this time.
Multichannel holiday shopping is more and more becoming the norm with (Deloitte):
69% of people researching online, but buying in store (Deloitte)
57% researching in store, but buying online (Deloitte)
45% buying online, picking up in store (BOPIS)
6. Get your subscribers excited!
Especially around events like Black Friday, asking people to register for a VIP waitlist or pre-sale guest list or similar can be a great way to identify people in your audience who are primed to buy.
As you ramp up your messaging, understanding what your audience value during the holiday season will help get your audience excited and help you stand out in the inbox. If you're not sure, look back at your previous holiday season campaigns and see what content generated the best results. Also consider surveying your audience using in-email polls and short questionnaires or quizzes to provide further insight.
A big area that I often see being overlooked is actually asking your audience what THEY need this year!
What type of content would be most helpful and relevant to them during the period, e.g. who are you looking to buy gifts for; you can then provide tailored content around these answers to better serve them and increase the relevancy of your offers.

7. Warm up your IPs
If you're planning on significantly ramping up your volume during the holiday season and you're using dedicated IPs, make sure that you warm up your IPs to your new required upper send volume level.
Mailbox Providers (ISPs) don't like seeing big spikes in volume (as well as high bounce and complaint rates for example), so in the weeks before your main holiday season strategy begins, start to increase your send volume over time to get to build up slowly to your desired volume.
8. Allow people to opt out easily
It's always important to allow people to opt out from your email campaigns using a clearly visible easy to use unsubscribe mechanism, but in this instance, we need to consider the human element of the holiday season – it may be that some people don't want to receive gift inspiration or the like due to personal circumstances.
As we've seen with retailers in the past around events such as Mother's Day and Father's Day, offer your subscribers the chance to opt out, or reduce the frequency of, your holiday campaigns specifically.

What are you doing to prepare your strategy and your audience for the holiday season this year? Are you changing anything now based on these ideas?
Let me know in the comments!