Why Email Service Providers should outsource client consultancy and deployment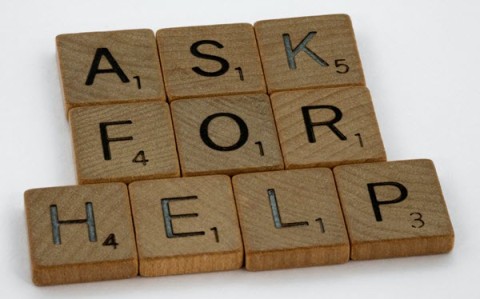 The growing Martech Stack
The global martech industry is worth an estimated $344.8bn (The Martech Report, 21-22). The ecosystem itself has grown considerably to over 8,000 vendors in 2020 (The Chief Martech landscape).
In 2021, 76% of companies reported using marketing technology (HubSpot State of Marketing Report, 2021), and usage will continue to grow, with 90% of marketers prioritising technology over people in their investment plans.
Marketers believe that their tech stack is crucial to business growth and are investing further. They see technology as a way to improve results and increase efficiencies, despite reducing budgets and headcount.
The Problem
However, with all this new shiny tech promising great results, there's a problem.
50% of marketers are overwhelmed by the wealth and complexity of technology that's at their disposal (Clevertouch, State of Martech Report 2022). This has led to over 40% of technology going unused, as marketers lack the internal skills and capabilities to expand on their martech maturity.
The problem is that frustrated-but-ambitious marketers are unable to achieve the results they were promised at the beginning of adoption, and they soon lose interest, desperately looking elsewhere for the answers, therefore leading to migration to a new platform.
The pace at which marketers move tech providers is growing. 93% of marketers say that replacing, updating, or consolidating their martech stack would make it function more efficiently, as they desperately seek the 'holy grail' that will enable them to easily meet their goals. (Martech.org)
This consistent movement of tech has resulted in an ever-growing lack of loyalty in the B2B buying space.
But, as we all know, customer loyalty is critical for email service providers, it delivers licence renewals, brand advocates, and is an essential cog in creating a profitable business model. However, as with the rest of the martech stack, ESP loyalty is also waning, with marketer dissatisfaction driving regular ESP migration.
As a leader it's your business to ensure that you prevent this.
Let's look at some of the problems you may be facing and how an outsourced agency supporting your clients, can help support your technology business's growth.
1. Your clients are using less than 40% of your technology
If a product isn't used or adopted well, then getting a return on the investment for the buyer is hard to achieve. For ESPs, if product adoption is low, then it's very likely that marketers are not getting the value they could or should from your technology.
When the perceived value is low this then triggers the marketer and other business stakeholders to look for alternate solutions and invest in a different product set to help them meet their goals.
The main reason for low product maturity or adoption is an internal lack of skills to be able to use a complex solution effectively.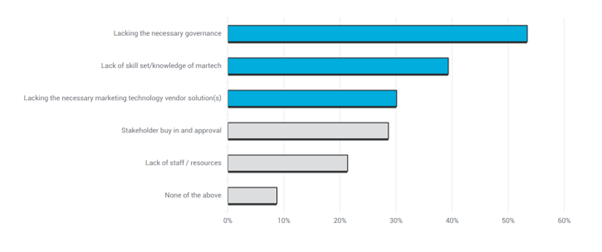 Source – The Martech Report 2021 – What are the biggest barriers to driving your organisation's martech maturity
External agency support: Helping a client find their strategic direction and how they will meet their goals will ultimately lead to increased (targeted) sends and a greater adoption of more advanced platform features, in more use cases, as they progress.
2. Your clients need to deliver better results
Clients are demanding that they achieve an ROI with their investment. Demonstrating that results improve with deeper adoption will increase even further adoption. Increased adoption and better results can create happier, stickier clients that come back for more, and are less likely to churn.
External agency support: Technology alone won't get these results – clients need to know that their strategic and tactical implementation of campaigns is going to engage, surprise and delight subscribers and how they can make this happen for their business and martech stack, in order to increase adoption.
3. You have a complex technology that requires external support
ESP's have grown in sophistication, and with powerful functionality comes complexity in execution. Most marketing teams lack the internal skill set to marry strategic objectives, with data, creativity, and technology. This is why over 40% of technology is unused, as ¾ marketers admit to not having the technical ability to achieve their ambitions. (Clevertouch)
External agency support: A specialist email agency will understand how to help clients make improvements and additions to their strategy, data and creative – resulting in an increased use of technology to drive this strategy forward and implement it in a scalable, intelligent way within your platform.
4. Your business is focused on investing in technology not services
The Marketing Technology space is constantly growing and consolidating at the same time. Businesses are regularly searching for further funding from investors or looking for a sale. Tech businesses that avert their attention and investment away from the technology roadmap and into services are not as attractive to buyers or investors.
You're in the tech business, you're focusing on creating leading technology that will solve business problems, creating a function within your business that deliver expert services can be a distraction for the leadership team. Plus, not all customers will want or need the support, so why create a function where there may not always be demand?
External agency support: Having an external email agency provide these services for you, as and when your clients need it, allows you to focus on what your business does best; whilst still offering the expert consultancy they need to drive them forward.
How can an email consultancy and deployment agency provide the solution?
Outsourcing to a specialist email marketing agency that has in-house experts, who are highly skilled in solving complex email strategy challenges and implementing campaigns in your technology, is a powerful way to retain clients and grow their revenue.
It can be a great way to ensure your clients get the best results from your technology without the need for additional hires or training.
We know that email marketing is both an art and a science, it is a perfect blend of strategy, data, creativity, and tech execution. Ultimately without the right strategy, however good your technology, marketers will never be able to achieve the best results.
Tailored strategic support
From defining an initial strategy, developing complex integrations, implementing high-performing automated lifecycle programs, or delivering campaign audits, a focused email marketing agency is on hand to support your client for every use case.
Working together with a true outsourced agency partner gives your client the best of both worlds – your team's in-depth platform knowledge, and the agency's expert strategic knowledge – so they get the most out of their investment with you.
Using an agency instead of building a function in-house can be hugely cost-effective, delivering value to the client when they need it, without the necessity for your business to build an internal team that is a constant draw on profit. An outsourced agency gives you the ability to be flexible with supply to clients without overhead costs, and operational risks.
For many technology providers, partner consultant agencies are crucial to their ecosystem and the success of their business.
If you're a leader at an ESP and you haven't considered building relationships with key email consultancy and deployment agencies, maybe it's time you should.
Photo by Brett Jordan on Unsplash