Benchmarks and Insights: Click-through Rates, Triggered Messages and Email Newsletters
The 3Q 2015 Email Trends and Benchmark Report was released by Epsilon earlier this month. If you haven't seen it, it's worth taking a look at – reading it 3 things struck me.
1. Business-as-Usual Click-through Rates Continue to Decline but Mobile Optimization Alone Isn't the Reason
The average click-through rate on non-triggered ("business as usual") email messages continued to decline, hitting 3.5% in 3Q 2015. It hasn't increased quarter-over-quarter since 3Q 2013, two years ago, when it was at 4.5%. That's a 22% drop in two years.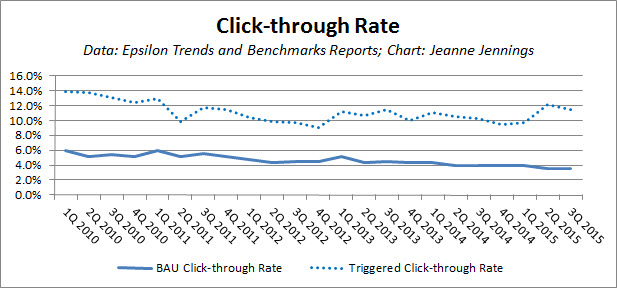 Epsilon suggests this decline is due to more people reading email on mobile devices; their reasoning is that we read on mobile but we don't click. I don't completely disagree (although I would say I click more now than I did a year or two ago), but I think there's more to it than that.
The business-as-usual email click-through rate has been trending downward since at least 3Q 2006 (the first Epsilon report I have in my files), when it was at 7.3%. In the 9 years since then this click-through rate has decreased by more than 50%.
Epsilon started reporting on triggered email benchmarks in 1Q 2010; this average click-through rate has gone up and down in the nearly 6 years since it was introduced. The ranges are telling:

If mobile was the sole cause of the decline in click-through rates, shouldn't we have seen the same trend in triggered email messages?
In addition to mobile, I think that people are getting a higher volume of email messages and are pickier about what they click on. Triggered messages are usually more relevant than 'business-as-usual' messages since they are sent as a result of an action by the recipient. This relevance is why click-through rates here haven't suffered as they have with business-as-usual email messages.
So while optimizing for mobile may help your click-through rate, increasing the relevance of your messages is another 'must do' to improve click-through rates and, hopefully, bottom-line performance.
2. Triggered Email Benchmarks Continue to be Strong
As I alluded to above, triggered email marketing benchmarks continue to tower over business-as-usual benchmarks.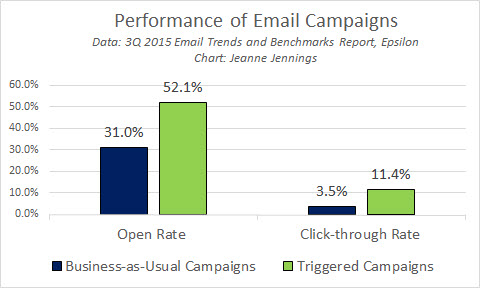 More and more companies are increasing their triggered email marketing programs to see these results – but once again it's about more than the trigger. It goes back to relevance, as well as strategy, content, creative and, for triggered messages, timing.
The click-through benchmark here actually fell quarter-over-quarter throughout 2014; it rallied for the report before this one, 2Q 2015, and remained strong for this report. It's a bright spot, especially when compared to the business-as-usual click-through trend. Smart companies are looking to increase their triggered email programs; this is where the low hanging fruit is in 2016.
3. Marketing Messages are Making Up More and More of the Email Mix
This really surprised me. Email is a pipeline that can carry many different types of messages. Most of the email work I do for my clients involves editorial (AKA non-promotional) content as well as promotional messages. But the overwhelming majority of messages sent since the beginning of 2014 have been marketing-oriented.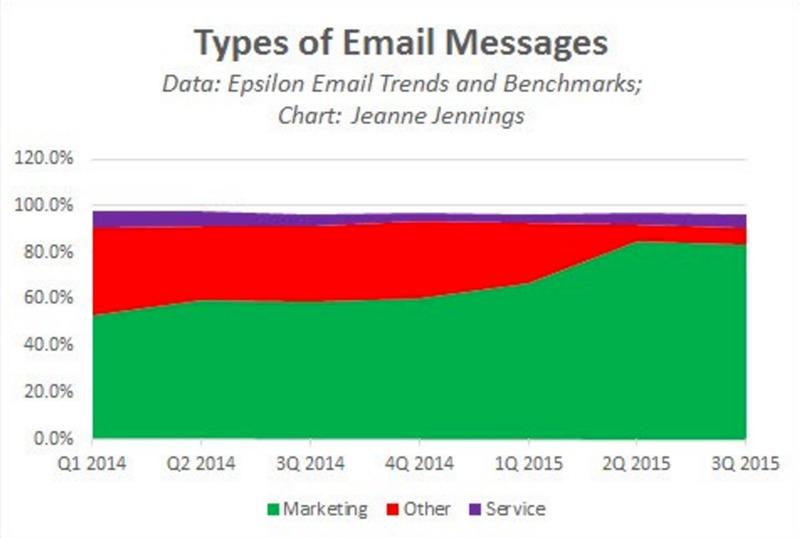 Marketing messages have steadily increased their share of all messages sent, from 53% in Q1 2014 to 83% in the most recent report (Q3 2015). Here's the full list – in the chart above I excluded any message type that didn't generate at least 5% of volume in a single quarter: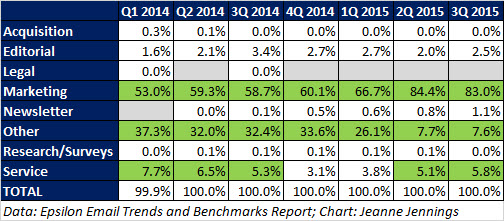 TheSkimm, Lena Dunham's Lenny Letter and other email newsletters have brought new life, much press and venture capital dollars to the email newsletter format. So it was surprising to me to see them make up just 1.1% of all messages sent.
This is likely due to the opt-in nature of acquisition for newsletters, as opposed to marketing emails which are often sent without advanced permission.
But it's rare that adding a high quality email newsletter into your email mix won't help boost your engagement and bottom-line performance. Email newsletters are one of the top content marketing vehicles. I am still shocked that only 1 of every 100 emails sent is an email newsletter; they are so much more engaging than traditional promotional emails.
So key takeaways:
Understand that you'll have to work harder to get people to take action on your email messages
Look for opportunities to develop and implement triggered campaigns to boost engagement and response
Marketing emails are great, but look to add different types of messages into the mix in support of your strictly promotional messages.
Title:
Benchmarks and Insights: Click-through Rates, Triggered Messages and Email Newsletters
Audience:
Email Marketers
Publisher:
OnlyInfluencers.com
Copyright 2015
,
Only Influencers, LLC