Highlights of the OI 'Email Industry Career Journeys and Resources' Special Report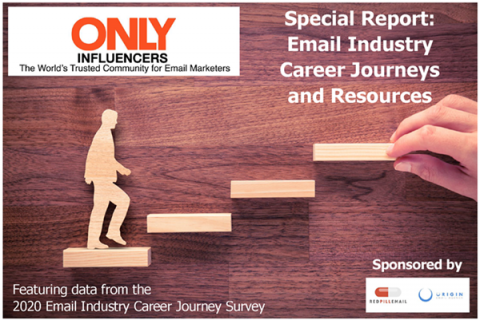 Earlier this year many of you took our Career Journeys in the Email Industry survey -- thank you!
And thanks to our sponsors, Origin Email Agency and Red Pill Email, as well as our committee chairman, Ryan Phelan, and members, Kate Barrett and Anthony Chiulli.
We are excited to be publishing the results, in the form of a special report. Here are some highlights from the report -- see the link at the end of this post to download the full document.
Entering the Email Industry
Where did you begin your email career? Not surprisingly, 45% of survey respondents began their email industry careers in marketing. But past that, there was a lot of variety.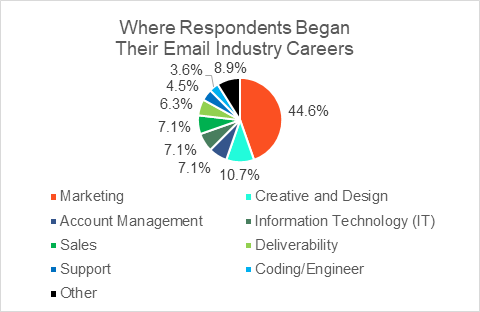 Creative and design was the onramp to the email industry for 10% of those surveyed, while three other areas each garnered a 7% share:
Account management

Information technology

Sales
Deliverability was close behind, with 6% of respondents beginning their careers there. Support (5%) and Coding and Engineering (4%) rode sweep in our analysis.
I think it's interesting that I've always referred to this as the "Email Marketing" industry - our Only Influencers (OI) tag line is "The World's Trusted Community for Email Marketers."
But this survey got me wondering if the term "Email Industry" wasn't a better one to use, since our membership and the industry as a whole includes many people that don't consider themselves marketers. Would love to hear your thoughts on this!
We also asked survey respondents to share whether they chose email -- or whether email chose them. The results were illuminating...
Nearly 79% of those surveyed said that email chose them.
I know that while I love email now, there's no other channel that I'd be as excited to work in, I kind of fell into it. It's nice to know that I'm not alone.
How about you? Did you consciously choose email? Or did email choose you?
A Career in Email
There have been articles written about email being an entry point to digital marketing, with the thought that people start here and then take those skills to work in other channels, like social media or programmatic.
The conventional wisdom has been that people stay 2 or 3 years in email and then move on to more 'sexy' (but usually less profitable) channels.
Apparently the conventional wisdom is wrong...
According to our survey, the median tenure of an email professional with a single organization is between 5 and 6 years. This is even longer than the median tenure of an employee at a single organization, as reported by the U.S. Bureau of Labor Studies, which is just over 4 years.
Breaking it down further, 75% of respondents had been with a single company for more than 4 years; a full 21% had spent at least 10 years with the same company.
One of the reasons for the long tenure may have to do with another question we asked on the survey: How satisfied are you with your current job?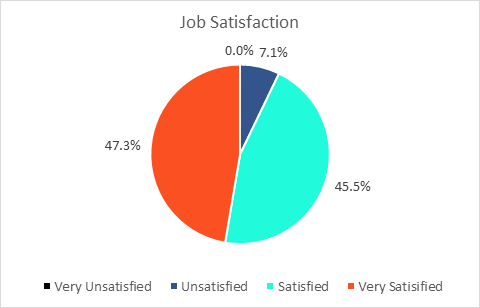 This was another pleasant surprise -- the email industry professionals who answered our survey are overwhelmingly happy with their current jobs.
47% were 'very satisfied' with their current position

46% where 'satisfied' with the job they are working right now

only 7% were 'unsatisfied'

and no one, not one person, reported being 'very unsatisfied'
It's not just nice but amazing to see so many people happy with their roles in our industry. While some of this may have to do with the global pandemic -- with so many people out of work those with jobs may be feeling very fortunate -- we hope that it's a trend that we will see continue in future years.
By the way, how satisfied are you with your current job in the email industry?
Getting Ahead
It's nice to know where people came from and where they are now, but what about future career paths? And resources to help move forward?
We asked those things too, and I think this may be some of the most valuable data in the report.
Continuing education and training is a proven way to boost your skills and your value in the industry. And the good news is that 83% of those surveyed said their company encouraged employees to undertake these activities.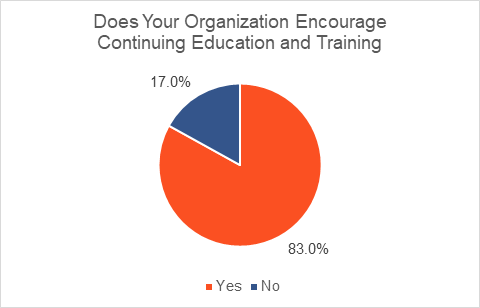 Does your employer encourage you to improve your skills?
Even if they do, the next question is: who covers the cost? There's more good news here...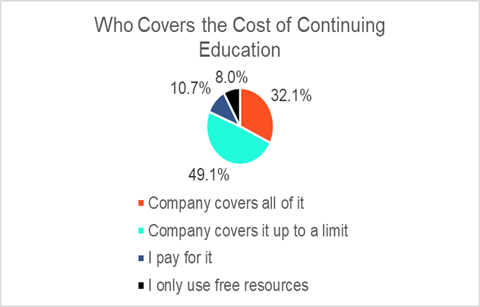 Over 80% of respondents reported that their company pays for some or all costs of continuing education. If your company doesn't, here's the chart you can use to approach them about changing that policy.
Another 10% said that they pay for it themselves; with 8% relying solely on free resources to improve their skills.
We also asked people "What content would you consider a 'must read/listen/watch/ for email professionals?" This was an open-ended question, we didn't provide a list for them to choose from. We wanted them to provide the first resources that came to mind.
There was a clear consensus around a few:

Litmus was the most mentioned here, of an individual or organization. If you haven't checked out their blog, now's the time! They also run conferences and host webinars. While most of their information is targeted to creatives, there's a lot there to like.
There was a tie for second place, between Chad White and our own Only Influencers (yeah!).
Chad White is an email industry treasure. Currently Head of Research at Oracle CX Marketing Consulting, he's also author of Email Marketing Rules. He's done stints at Litmus, Marketing Land, Mediapost, Salesforce.com, ExactTarget, Responsys, Smith-Harmon, and the DMA. He began his career as a journalist; the fourth estate's loss is our gain! Check out his blog -- great stuff here. We were also honored to have him speak at Email Innovations Summit 2020 -- maybe we can convince him to make a return appearance at our 2021 show!
Only Influencers is family for me. I was a member long before I took the helm as General Manager, after founder Bill McCloskey's retirement. I was excited to see us make the top four -- we've expanded our roster of blog contributors, initiated a regular Thursday OI-members-only live Zoom call where we have experts and authors lead discussions on industry topics, our members-only email discussion list is going strong, and we're excited about the 2021 Email Innovations Summit. It's nice to see that email industry professionals find our content a 'must read/listen/watch!'
Really Good Emails rounded out our top 4 -- they provide an amazing service to the industry. The best email swipe file ever -- free to search and use for inspiration and competitive examples. And I love their 'school' content -- articles and videos about how to make your email marketing more successful.
In the survey we also probed membership in industry organanizations. More than half of respondents, 55%, said they were active members of at least one organization; another 30% said they were passive members of at least one industry community. Only 16% didn't belong to any industry group.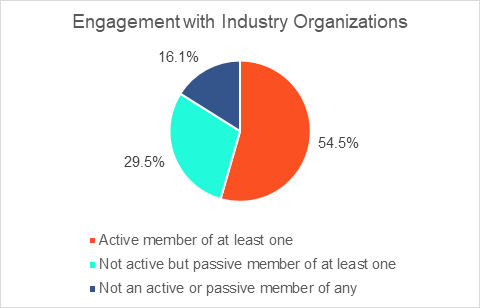 This was good news; everyone on the committee believes in the value of industry organizations and the community they provide. A question asking which organizations people were members of also yielded some interesting results...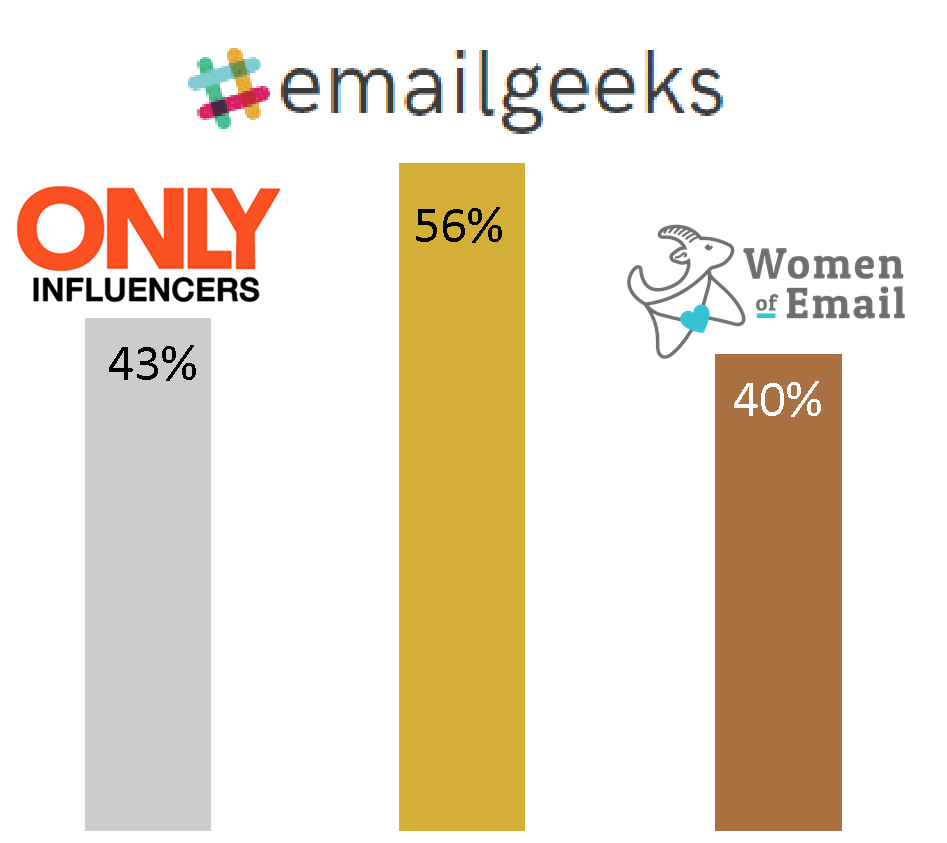 The #EmailGeeks slack Channel came in first, with 56% of respondents citing membership. Our own Only Influencers took second place, with a 43% share of email professionals as members. In third place was Women of Email, with a 40% share of the market, very impressive considering that only female email industry folks can join.
Interesting note: both #EmailGeeks and Women of Email are free organizations -- there's no cost to join. Only Influencers is the only one of the top three that charges a membership fee. We take it that our $200/year or $20/month more than pays for itself, based on the results.
The final area I want to touch on here is mentorship.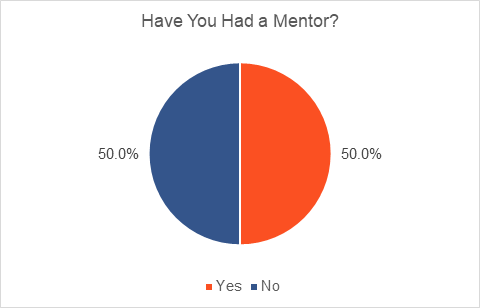 Half of survey respondents said that they have a mentor. Once again, the committee was pleasantly surprised; we all know the value mentors can bring and were excited that so many email industry professionals have or had one.
I believe this is further proof of the email industry's collaboration and cooperation, even among competitors. I've always found people in the industry willing to help -- and I hope you have too.
That's it for my 'highlight reel' -- but there's a lot more where this came from! Download the full report today to get more information on:
Entering the Email Industry: You might be surprised that 14% of those in the industry today started their careers here back in the 1990s

A Career in Email: A full 7% of respondents have a mix of agency, brand and vendor experience

Getting Ahead: Multi-media is nice, but a full 50% of respondents say that blog posts/reading are the most effective content types and sources for them -- compared to less than 5% who said the same about Instagram.
Download the Special Report Now - It's Free!