How Can Retail Marketers Stand Out This Holiday Season?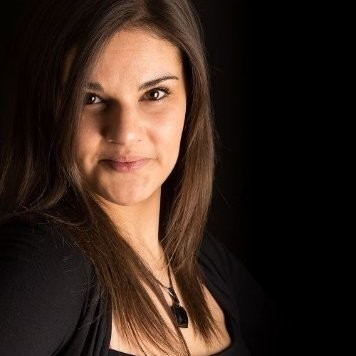 I hate to say it, but we are now at the end of October and Christmas is almost upon us (the marketing is starting to ramp up in earnest)!
For most businesses out there, email marketing planning for the holiday season would have started months ago, if not the beginning of the year, and quite rightly so.
Particularly for retailers, the next 3 months will be the most important of the year with a whole range of events to sell to…
Thanksgiving (US) (Thursday 28th November 2019)
Black Friday (Friday 29th November 2019)
Cyber Monday (Monday 2nd December 2019)
Christmas (Wednesday 25th December 2019)
Boxing Day (Thursday 26th December 2019)
New Year's Eve (Monday 31st December 2019)
New Year's Day (Tuesday 1st January 2019)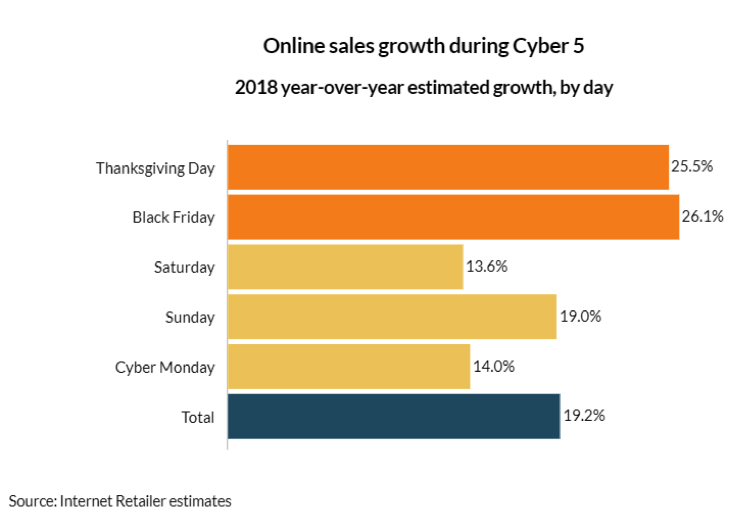 Although high streets are in decline and struggling more and more, ecommerce is booming and during the holiday season, both see a boost in sales; retail sales in the US are expected to grow between 4.5–5% in 2019, according to Deloitte's latest annual holiday retail forecast, as well as ecommerce sales being expected grow 14-18%, up from 11.2% growth in 2018.
In response to growing online demand, retailers are continuing to improve their customer experience, as well as boost engagement and efficiency.
And email is a primary channel to help do this; according to Shopify, email marketing was responsible for 24% of holiday sales during the 2018 holiday eCommerce season.
"Convenience is the new retail currency; retailers who offer seamless experiences, have products available, and can deliver items more quickly than ever are most likely to win this holiday season."
Rod Sides, Deloitte's U.S. retail and distribution sector leader
In a time of rising customer demands and acquisition costs (we've all heard the stats that its 5X+ more expensive to attract a new customer than to retain one), retail brands need to find ways to both meet and exceed expectations and win the hearts of customers, particularly in the crucial holiday period.
So how can this be done using email marketing?
Here are the 6 main ways my clients will be doing it this holiday season:
1. Make sure they're on your email list so that you can communicate with them on an ongoing basis (for the holidays and beyond!)
92% of consumers will visit a brand's website for the first time for reasons other than making a purchase (Episerver Reimaging Commerce report) so it's important to have an sign-up process that stands out and appeals to them in order to get the opt in; of shoppers visiting a website for the first time, 45% are searching for a product or service, 25% are comparing prices or other variables, and more than 10% are looking for store details.
Make sure that you have a compelling headline, succinct benefit driven copy letting the consumer know WHY they should sign up and what will happen next, and an actionable CTA button.
During the holiday period you may even want to use this as an additional 'hook' to get subscribers on board. For example:
"Get the latest from [Company name] sent straight to your inbox every week PLUS get an exclusive Black Friday deal."
"Be the first to know about holiday deals. Register to receive our daily emails and we'll send you our holiday gift guide, access to black Friday offers before anyone else, regular style inspiration and exclusive discounts throughout the year"
"Want to make your Christmas shopping easier? Sign up to receive our emails and receive exclusive offers, gift guides, inspiring buys and much more!"
2. Stand out from the crowd and understand what subscribers need from you during this time
With 60% of consumers planning to do more than half of their shopping online this year, it's more important than ever to make sure that your email marketing properly supports and nurtures your customers through the period (and as a result, maximise your revenue).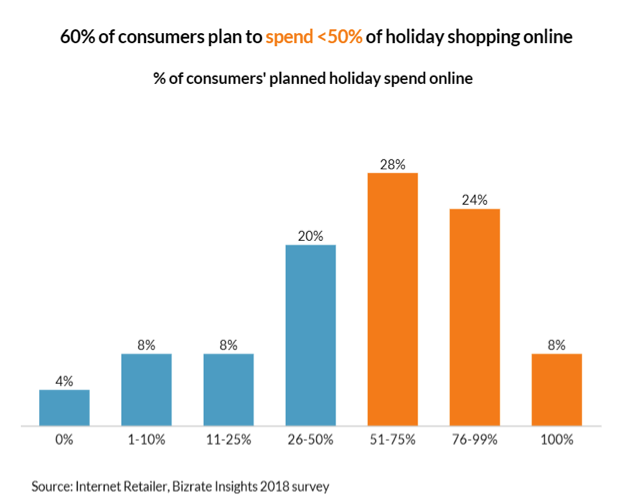 But when shopping online, many consumers now turn to marketplaces such as Amazon to fulfil their needs.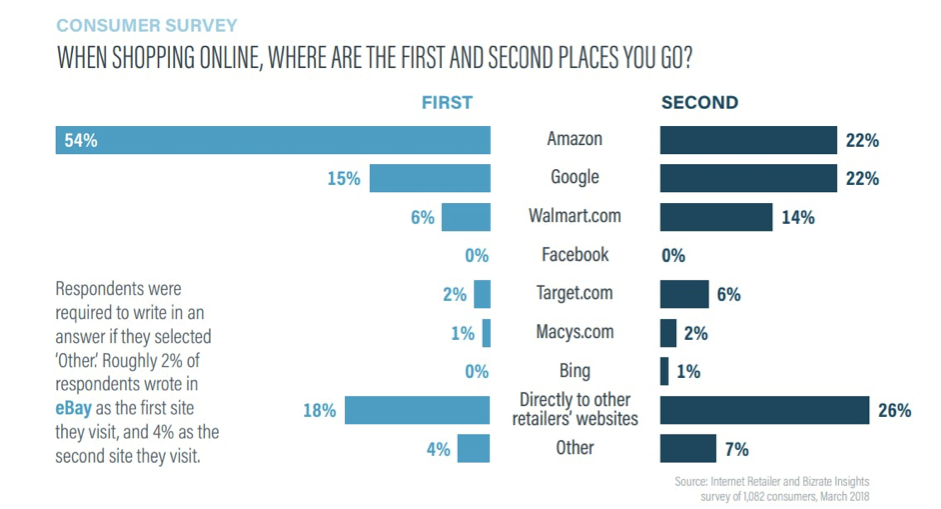 The top reason cited by consumers for shopping on a marketplace was better prices (65%), followed by free and discounted shipping (55%) and a broader selection in any given category (37%). (https://www.ups.com/assets/resources/media/knowledge-center/ups-pulse-of-the-online-shopper.PDF)
So, to compete with these marketplaces and encourage subscribers to visit and buy directly from individual retailers, it's important to make sure that consumers are aware of your product range and how you go above and beyond what the marketplaces do and offer something they can't.
Now, of course this starts with outreach and your overall marketing strategy (SEO, PPC, Social Media posts and ads, partnerships etc.), but when consumers have found you, you need to make sure you keep them coming back for more.
Your email marketing strategy in general should clearly detail your key business benefits (KBB's as I like to call them); such as free shipping, (free and) easy returns process or partnerships with payment processors such as PayPal (to enhance trust).
If you can't compete on price, you have to differentiate in other areas that the marketplaces would find more difficult to compete on; highlighting your product range and unique items, exceptional customer service, personal shopping services and gift inspiration for example, in your messaging.
3. Understand WHEN people will buy
More than half of UK consumers (53%) plan to do the majority of their Christmas shopping in November or before (including 37% in November alone), whilst only 12% of shoppers expect to do the majority of their Christmas shopping in the week before Christmas. (Source: https://www.ups.com/assets/resources/media/knowledge-center/ups-pulse-of-the-online-shopper.PDF)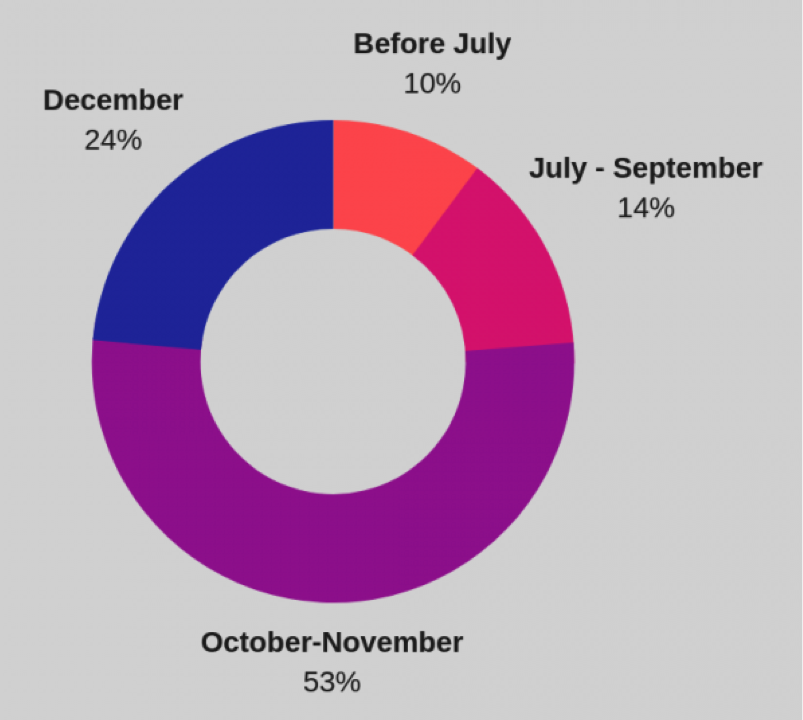 Look back at your data from previous years – what percentage of your audience started to browse (use website tracking data to ascertain this) and then buy (your purchase data) during which time periods leading up to the holidays? Make sure that your messaging strategy starts early enough (it should have started already in some cases!) and is robust throughout the period.
4. Understand WHAT people buy
We know that consumers who purchase products through email spend 138% more than those that don't receive email offers – so it's important to target customers with messages based on what we can see or predict (using AI technology) that they are most likely to want or need. But during the holiday season people aren't just shopping for themselves – they are shopping for their mum, dad, siblings, cousins, aunts, uncles, co-workers and the office dog.
Whilst doing your analysis for the last point, you should also look in more detail at things like which sections of your audience who only buy during the festive period and what their spending levels are usually during this time. What type of products do they usually buy? Have they previously bought only wrapping paper from you or more likely to buy big ticket items?
This type of analysis can start to give you an idea of the overall trends in your audience but also different segments to target in different ways with appropriate messaging to inform your overall content strategy.
Of course, 1-2-1 personalisation plays a role here but be careful – subscribers make purchases in very different ways during the festive period than they do throughout the year, so if you're using personalisation, this may actually be of detriment during this period.
Although many people do still splash out on themselves (about 71% will buy presents for themselves whilst Christmas shopping for others), with people buying presents for between 5-10 people during the period, gift giving is prevalent. So, if you only personalise based on what someone else has purchased before, browsed or interacted with during the year, you'll miss the opportunity to recommend products outside of this normal range for others they may be searching for.
Consider adapting the 1-2-1 personalisation you use (if possible) at the beginning of the period to target based on last year's festive season shopping habits, and changing your messaging on the fly based on the signals they are giving you; if someone is spending a lot of time clicking on 'gifts for mum' and browsing similar products on your website, in amongst inspirational message gift guide type messages, tailor specific messages to help them find that perfect gift for mum! And when they do then purchase, make sure you adapt your messaging accordingly thereafter to offer other areas of help and inspiration too.
5. The physical store still has a role to play
The online channel will take 42% of UK consumers total Christmas spending (compared to 31% on average in Europe). (Source: https://www2.deloitte.com/uk/en/pages/consumer-business/articles/deloitte-christmas-survey-2018.html)
But with this, 58% of consumers' Christmas spending will still be done in-store as it offers immediate gratification – and I know for me, the chance to browse and seek inspiration of what to buy as gifts!
For those businesses with physical stores a key objective will likely be to drive footfall into store. There are a number of ways email can be used to do this:
Let subscribers know where their local store is – using dynamic, real time content, you can easily input a map into your email content to direct customers to your local store. But be careful! If you're local store is too far away (put a limit in place) then switch that map out for a visit online CTA or remove this section of content altogether so as not to annoy subscribers.


Segment your subscribers by those near to physical stores that are running events for example and send them an invitation to attend (or even consider hosting an event just for email subscribers!)


Send an email just before lunchtime (to target office workers lunch breaks), on a Friday night and Saturday or Sunday morning to encourage subscribers to visit their local store in their free time (don't forget to test this to see how it works for your audience!)


Let subscribers know that although last postage dates for online shopping may have passed, they still have the opportunity to pop in store to finish their shopping


Highlight your in-store services such as personal shopping to give customers a reason to visit
6. Navigating Christmas and the current political climate
In 2018 Consumers responded to the political and economic uncertainty of Brexit by showing a heightened awareness of value. This trend played out at Sainsbury's and Morrisons, with shoppers failing to trade up to premium food lines in the same way they usually do over the festive period, for example.
Whilst this uncertainty continues in 2019 look at how your subscribers shopped with you in 2018 compared to previous years and think about how you can use this data to offer products and services that offer the most value this year.
Don't forget, value can also be seen not only just in terms of money but also in service, support and the overall package of what is being offered, so make sure you highlight specific categories, products, groupings of products (such as gifts for men, gifts for women, gifts for children etc.) and top selling products to help consumers find what they're looking for.
How have you prepared for the holiday season to stand out in the inbox and thrill your subscribers? Let me know in the comments!