Marriott: The 10 Best Emails of 2018
At Marketing Democracy we're all about email marketing. We work with some of the biggest email marketers in the industry helping them navigate the complex and critical ESP vendor selection process. But when we're done for the day guiding our clients, we revert to being consumers and email subscribers like everyone else. And we are just as likely as anyone else to engage with great emails and ignore those that aren't so great. And for the sixth year in a row we've pulled together the 10 emails we've labeled as "the best" of the year.
This has never been a contest a brand could enter. Email marketers had to get into one of our team's email inboxes or get noticed and shared with us by people whose opinions we respect. There are no prizes other than bragging rights. The categories have been the same since we first started and reflect our thoughts on which types of emails are most strategic in nature and, when done right, can have the biggest impact on a marketer's business. And now, with no further ado, we bring you 2018's selection of emails.
1. Best Abandoned Cart Email—Groupon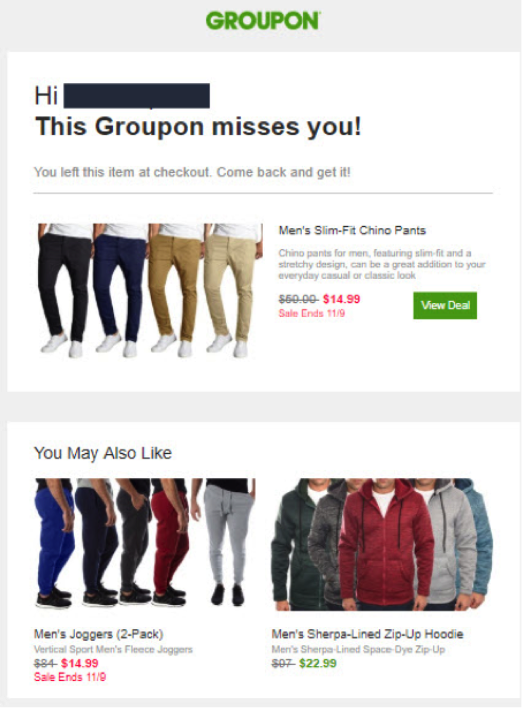 Subject Line: "Still Interested in That Deal?"
Every retailer knows that having an abandoned cart email trigger is a must. Without one, you are surely leaving money on the table. But as with most other types of emails these days, standing out in an inbox filled with other abandoned cart emails (and every one type of email) gets tougher and tougher. And getting the person to act on that email is also more of a challenge these days (particularly when you don't sweeten the pot with an additional discount for coming back and completing the purchase.) We have always been fans of simple over clever, and from the start this email scores on the simple side with its subject line. Maybe we still are interested in that deal! The email itself prominently features what was left in the cart, what it cost, and when the sale ended. Everything one needs to know to make a quick decision. What sealed the outcome in this category was the addition of other similar products in the email, giving Groupon additional opportunities to sell us something, even if it wasn't what we left in the cart.
2. Best Coupon Email— CVS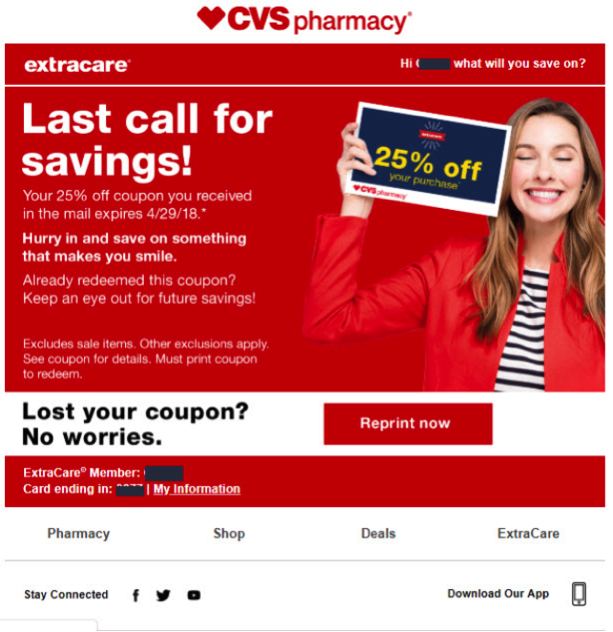 Subject line: "Lost Your 25% Off? Here You Go!"
If we had a Hall of Fame, CVS would be the first inductee. Since the first time we did a Top 10 list, CVS has been a consistent winner. And they made the list again this year in the Best Coupon Email category. Most of the time the email that wins this category contains an actual coupon but this email stood out for the fact that it's a follow-up to coupon sent in the mail. Coupons sent in the mail have a habit of getting lost of misplaced, and this email provides the recipient with the opportunity to reprint it. Which the subject line makes abundantly clear. In the past CVS has won for the ease of sending a coupon to your loyalty card, and for email reminders to look out for a coupon in the mail. This email brings offline and online together for the first time, and it gets the nod for best coupon email of 2018.
3. Best Request for Feedback Email—Dick's Sporting Goods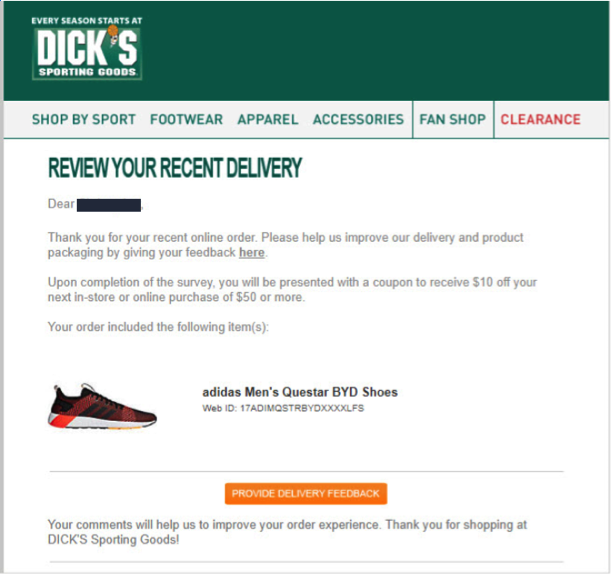 Subject line: "(Name), Tell Us About Your Delivery And Earn $10 off $50 In-Store or Online!"
Lots of marketers follow-up a purchase with a request for feedback, but let's face it, unless it's in a category you are somewhat passionate about to begin with, you're not likely to share your thoughts. Sometimes you'll get an offer along the lines of "Let us know what you think for the opportunity to get up to $XX off your next purchase". Who can honestly say they've made it to the end of a product review without thinking, "this is so not worth it!"? I know we haven't when the reward isn't guaranteed. That's why we're giving the award in this category to Dick's for 2018. The benefit is clear, simple and guaranteed—there are no qualifiers like "up to". Making the offer even more attractive is the fact that Dick's is only going to ask about your experience with the product's delivery. That can't be too hard, right? A nice picture of what was delivered ensures that we don't even have to try and remember what it was that was ordered in the first place. Simple and clear will be the recurring theme around this year's winners.
4. Best Deal of the Day Email—Cheryl's Cookies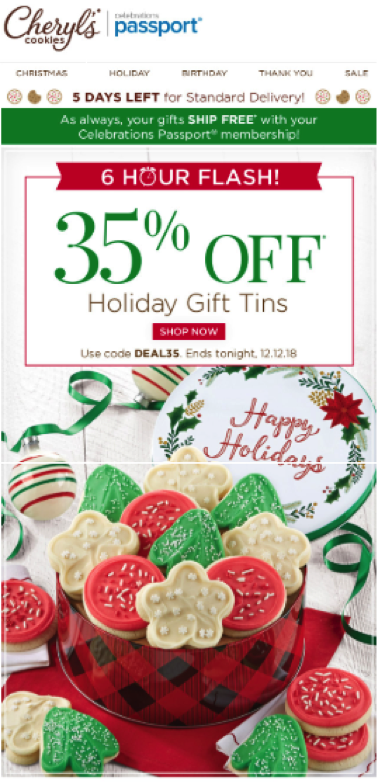 Subject line: 6 Hr FLASH Sale: 35% off holiday gift tins!
The problem with a lot of emails in this category is that they feel compelled to throw as many product images into the email as possible hoping that one might catch the reader's attention. But when faced with too many choices, it's often easier to just move on. Cheryl's Cookies stood out this year because they took the exact opposite strategy. We're not idiots, we know they have lots of different types of cookie tins we could purchase. So it's much better (and simpler—there's that word again) to just tell us exactly what we need to know—6 hours, 35% off, and still time for standard delivery (free delivery if you happen to be a Passport member). The single picture of delicious cookies is all we need to make a decision. It's easy to click through and figure out exactly what we what to get with our 35% off!
5. Best "Welcome" Email—Shell Fuel Rewards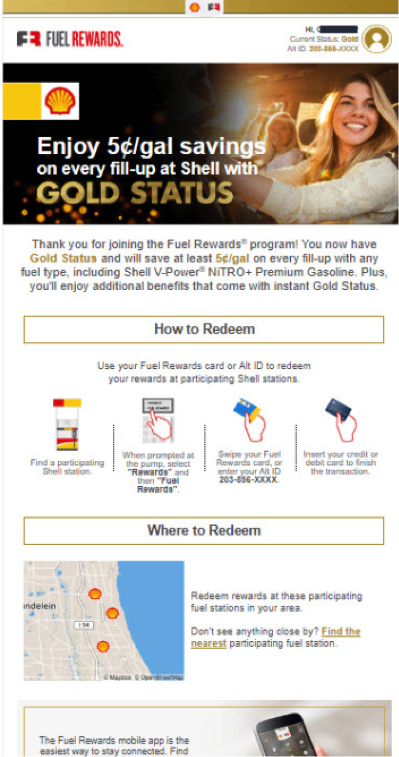 Subject line: "Welcome to the Fuel Rewards program"
OK, so the subject line doesn't leap off the page. It doesn't have to. If you've just signed up for the program, you're probably interested in some of the details, and that subject line will do the trick of catching your eye. Once you open the email itself, at a glance you get everything you need to know about the program. And isn't that what a great welcome email should do? First it reminds you why you joined—5 cents a gallon savings at every Shell station. Then it reminds you how to redeem your savings. And finally—and this is what we really liked about it—it provides a where to redeem map of the Shell stations nearest to where you live. The trick with any program like this is to get you in the habit right away of participating in the program. If you sign up and a month or two goes by without you taking advantage of it, the odds that you ever will go way down. Knowing that, Shell leaves nothing to chance with this email, without overwhelming the recipient with anything he/she doesn't need to know. That's our kind of welcome email (obviously!).
6. Best Triggered Email—Ticketmaster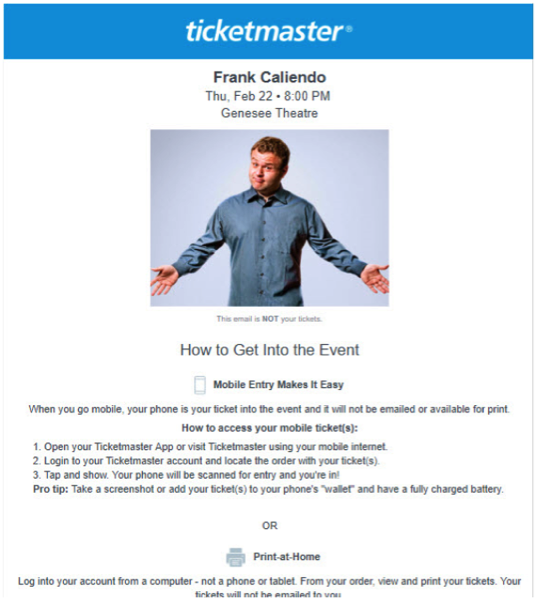 Subject line: "Are You Ready For Frank Caliendo Tomorrow?"
Yes, this category has become wildly broad this last several years. So what we look for today is not a standard trigger based on website activity, but rather one set up to provide value long after a purchase might have been made. Like the Shell Fuel Rewards email we just reviewed, this email from Ticketmaster doesn't waste the reader's time with anything other than what he/she really needs to know. First and foremost, it reminds the person that tickets were purchased to a particular event, on a particular day/time, at a particular location. One can imagine the impact on brand perception if someone forgot about buying tickets until after the event (not that it has happened to any of us!). The second major purpose of this triggered reminder is information on how to actually access the tickets you purchased so you can get into the event. Such "how to" details are always good to review right before the event. Simple and useful are the hallmarks of a great triggered email.
7. Best Drive to Retail Email—Lands' End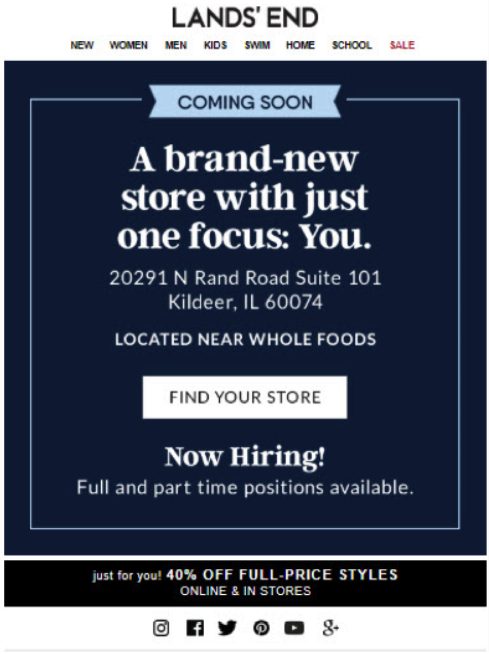 Subject line: "Best. News. Ever. A Lands' End store is opening soon in Kildeer"

Wait a minute! You mean Lands' End has actual retail outlets?! That's the shocking news (for us, apparently) that is contained in the subject line of this category winning email. On the most basic level, you can't be driven to a retail location that you previously didn't know existed. So the combination of a subject line that names the location of the new retail location near the subscriber, with the actual store details inside make for a simple, but extremely valuable email that just might help that subscriber become a multichannel consumer of Lands' End. We could quibble about the addition of the "We're Hiring" message in the email, as it dilutes from the core message. Or we could complain that, unlike the Shell email, there isn't a map showing us where the heck Kildeer is. Neither of these were enough to knock this email out of first place for 2018.
8. Best Newsletter—American Airlines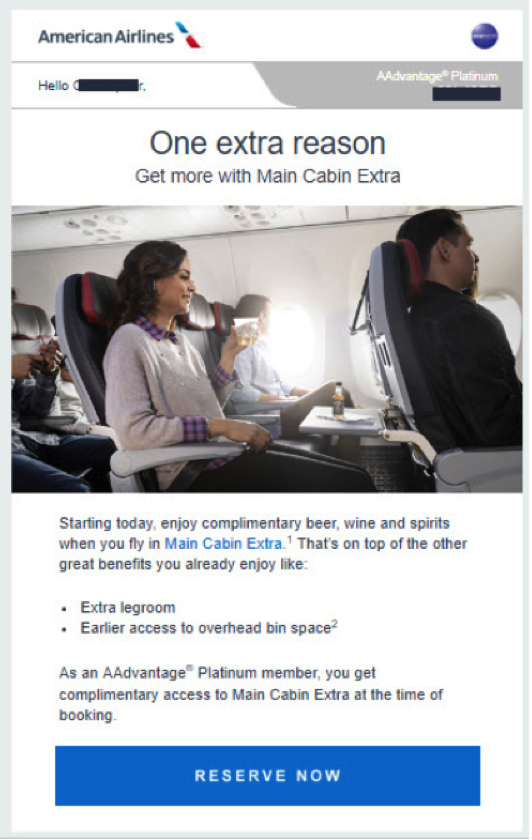 Subject line: "More benefits with Main Cabin Extra"
Let's face it—newsletters aren't the sexiest category of emails in the email marketing world. They typically contain a lot of information marketers want to tell us, but are short on things we might find of value. Even the term "newsletter" conjures up images of lots of content, lots of text. American Airlines is another email marketer who has appeared on this list in previous years and so when this email hit our inboxes, we weren't completely surprised by how good it was. Putting "benefits" in the subject line was a good way to sink the hook and ensure the email got open. Who doesn't like more benefits with something? Once opened the new benefit was front and center—complimentary beer, wine and spirits were now available to folks sitting in Main Cabin Extra. The newsletter was also quick to remind us about the other benefits like more legroom and earlier boarding (get that overhead space before it fills up!). But its real purpose was to communicate a great new benefit, while at the same time reminding Platinum members that they can always book Main Cabin Extra at no additional cost. Short and simple.
9. Best Re-Activation Email—J. Crew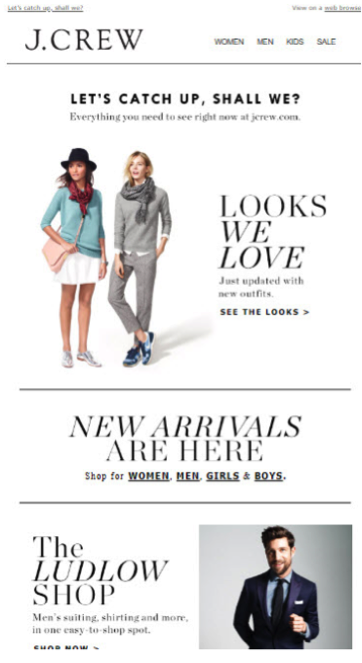 Subject line: "We HATE good-byes"
J. Crew makes the list for the first time with this engaging, yet somewhat subtle approach to re-engagement. The subject line grabs your attention without some of the usual "Is it something we did?" type of language. It makes it clear that this could be goodbye if you don't start engaging with its emails, and while J. Crew would regret that result, it's just the way it is. Once opened, it continues with its subtle tone and manner, suggesting that its time you and they caught up on things. Not so far off from what an old friend might write you in an email! A few other links to thinks that might be of interest to that subscriber help to draw one into the email. But it's not so busy that individual things don't stand out and get noticed. Clean design + simplicity once again make for a very strong email, and first place in this category for 2018.
10. Best Timed Email—Naked Wines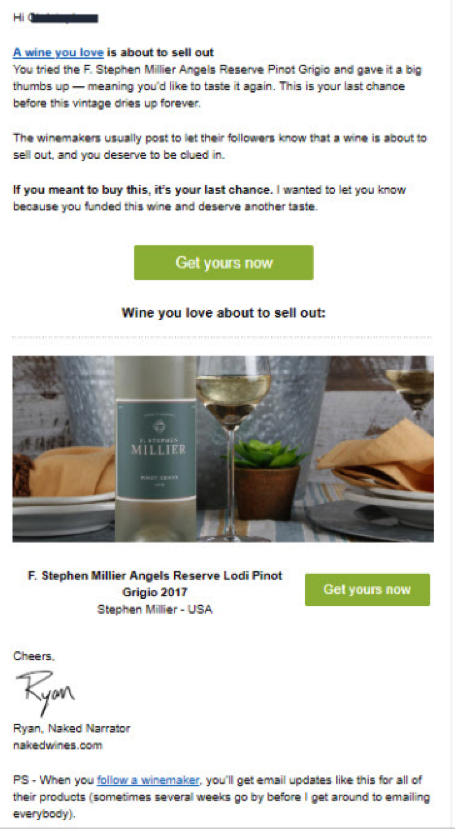 Subject Line: "A wine you like is about to disappear"
Over the years this category has come to reflect those emails that are perfectly timed to hit the inbox at the moment most likely to produce the desired result. This year's winner in this category certainly catches the eye in the inbox. Of course, it needs to be accurate, because if it featured just any wine, one would lose confidence in the brand. But because it accurately featured a wine purchase several times previously, it generated a real need for quick action before it was too late! The email doesn't waste time trying to upsell or cross sell the recipient. The approach is simple—click here to get yours now. And BTW, personalization isn't that tough to pull off… a name in the salutation and a wine previously purchase are all you need to make the brand's point.
So there you have it, Marketing Democracy's Top 10 Emails from 2018. Like many previous winners of this major award, these emails have one big thing in common—they are all relatively simple layouts that are single-minded about the message being delivered. We obviously like that. Because they make it easy to do business with the companies that sent them. And the easier you are with which to do business, the more business your customers will do with you. And the more they value what you send the more likely they are to engage with your next email to them. Some of the things to consider this week include:
a. Is simple really better than clever when creating a marketing email? Are we subject-line testing ourselves away from the most direct messaging?
b. Is it really better to focus on one element in an email, or is it better to create options for engagement with your email?
c. Are triggers an untapped method of personalization beyond dynamic and custom content? The examples of Ticketmaster and Naked Wines are example of emails that did contain custom content, but the real personalization was that they were sent when they were sent, and not as much tied to the content they contained.
What other things come to mind when you look at this list of winners? Do you have any better examples than the winners in any of our categories?
Title:
The 10 Best Emails of 2018
About:
Top 10 Email Marketing Campaigns of 2018
Audience:
Email Marketers
Publisher:
OnlyInfluencers.com
Copyright 2019
,
Only Influencers, LLC