Jeanne Jennings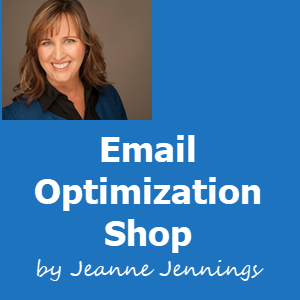 Jeanne Jennings is a recognized expert in the email marketing industry and a consultant who helps medium- to enterprise-sized organizations make their email marketing efforts more effective and more profitable. She is Founder and Chief Strategist at Email Optimization Shop, a boutique consultancy focused on optimizing bottom-line email marketing performance with strategic testing. She is also Chair of the annual Email Innovations Summit in Las Vegas.
Her client list includes B2B, B2C, government and non-profit clients including AARP, Capital One, Consumer Reports, Hasbro, Museum of Science: Boston, UPS, Verizon and Vocus, among others.
Jeanne is an adjunct professor at Georgetown University, teaching digital marketing to students earning their Masters in Integrated Marketing Communications from the School of Continuing Studies. She also leads industry as well as private workshops on email marketing topics.
Her book, The Email Marketing Kit: The Ultimate Email Marketer's Bible, was published by SitePoint; she is a regular contributor to her own Email Optimization Shop blog as well as the Only Influencers blog.
Jeanne is based in Washington, DC, she earned her MBA from Georgetown University, and she is an avid hockey fan (Let's Go Caps!).