Don't Let Cupid's Arrow Miss You! Connect with Subscribers and Share Some Love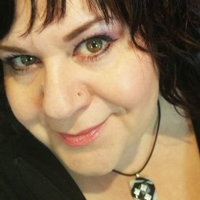 It's that time again…. I dread it each year. The hearts everywhere in every color, sequin and bobble, Cupid with his stinging arrows, the flowers – don't get me started on the flowers! Every year since pretty much my tween's, I've hated Valentine's Day. Don't get me wrong, the idea of it is lovely – Romance, love, and all that, it's, well, a beautiful thing. But, I really don't enjoy the constant barrage of pink and red love with every breath and every turn.
This perspective shouldn't detract from a simple fact: Valentine's Day is a great Email opportunity. Everyone feels differently at different holidays. I'm sure plenty of Chanukah and Christmas emails are received by subscribers that would prefer the other version, those who do not celebrate the "pagan" Halloween holiday likely receive such themed emails, and Valentine grumps, like me, receive plenty of Valentine emails. It's the content and the purpose that make it a wonderful way to connect with your subscribers.
Oddly enough, even when I get the more romantic variety of Valentine email, I'm not usually put off by it – when it's done well and on brand. When a brand is pushing outside their established identity and make zero relevant connection between content and contact, then I use them as the "do NOT repeat" type of email example. But often, many brands use the angle of being "over the Cupid thing", and that's something I can totes relate to.
For instance, Uncommon Goods did a superb job at reminding people to love – and treat – themselves (and to tell Cupid to shove off):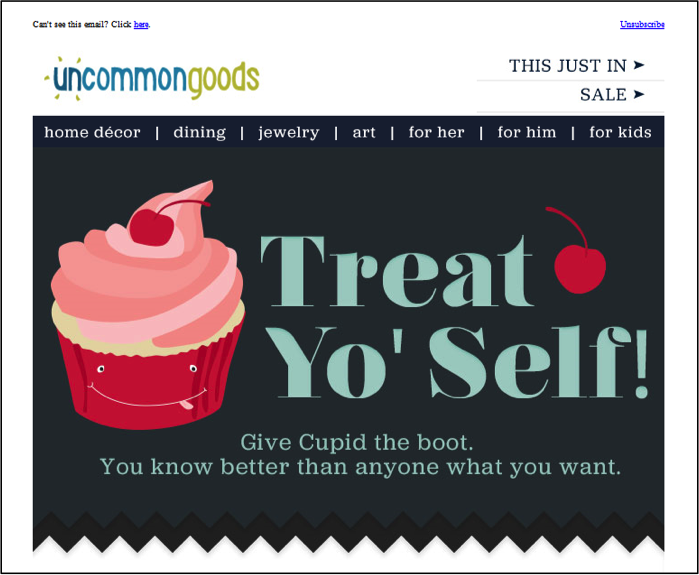 SUBJECT LINE: Tired of Cupid?
The best part of this email is the subhead, "Give Cupid the boot. You know better than anyone what you want." – Valentine Grouch or Vday Lover, this concept resonates with all.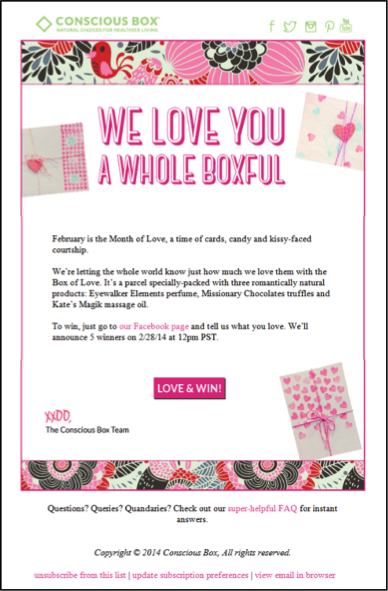 Conscious Box went all-in on Love, with a twist – they love they're subscribers and want to show them with a contest for a free box:
SUBJECT LINE: We Love You. What Do You Love? Tell Us to Win.
Combining a contest with a potentially sketchy holiday message is a great win/win. Even an Anti-Cupidite like myself enjoys a free treat, despite the pink and red heart-covered box it may arrive in.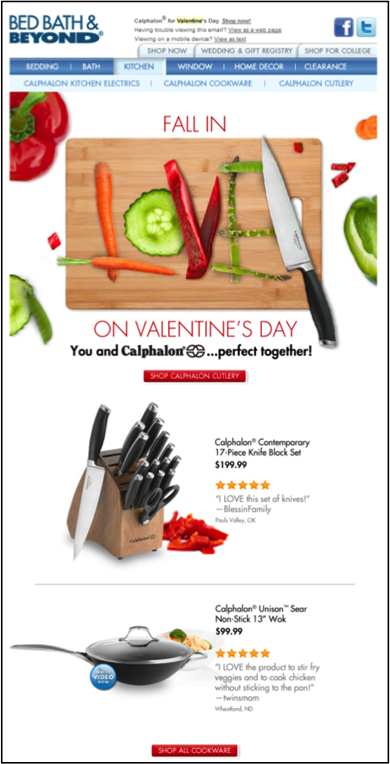 Bed, Bath and Beyond did something interesting here. Frankly, being the Grinch of Valentine's Day, my first thought was that a knife was quite apropos (Subject Line NA):
This is a great time to offer up a Best Practice Disclaimer: You may notice I'm refraining from commenting on the flagrant lack of best practices within many of these email examples; however, holidays provide an additional opportunity for you to push that creative envelope in ways that I wouldn't always recommend. Take the opportunity to play, test, and learn!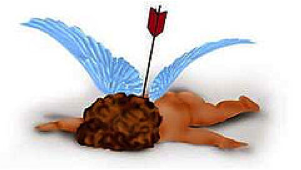 A truly fantastic email example comes from French company Brand Alley (examples care of the fabulous Pure360 blog). They magnificently created an Animated GIF of their primary image to move between "Gifts for Her" and "Gifts for Him" imagery. This is an especially great move if you don't have solid demographics within your email database (Subject Line NA):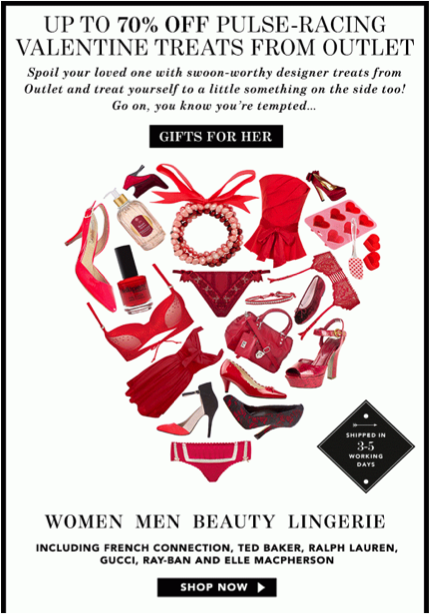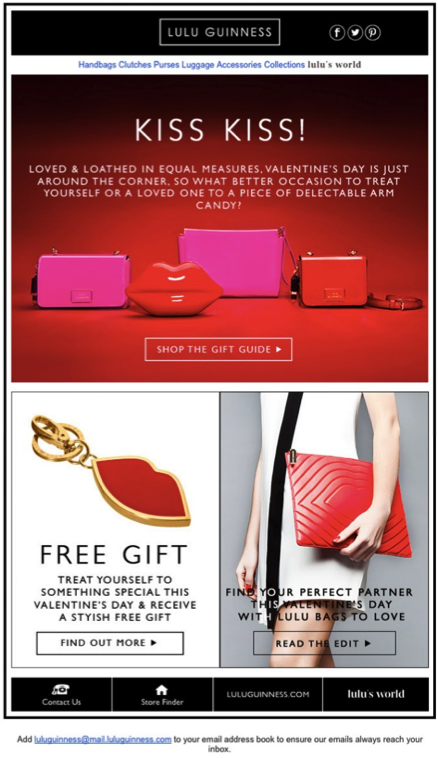 Lulu Guinness shared a fantastic perspective with their "Loved and Loathed" approach. Humor can often be most engaging, when done well and speaks to your core audience. Specific care was taken in the copy to address both the Loved and the Loathed segments in fine fashion. (Subject Line NA):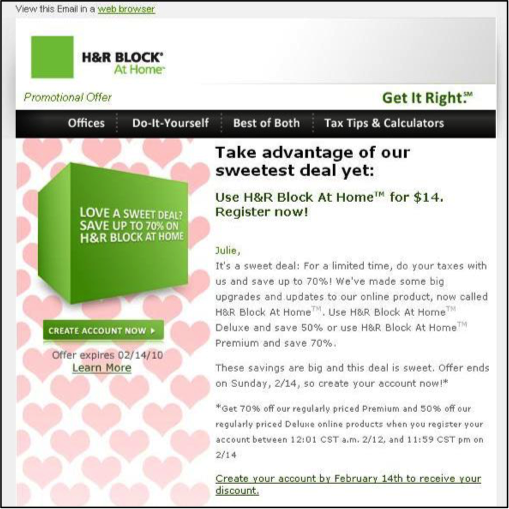 You may be thinking it's easy for retail, fashion and sweets to make great use of Valentine's Day email marketing, but what about the less-flashy industry verticals and brands? No problem! H&R Block successfully uses Valentine's Day to their advantage:
All you need is some creativity and you'll have Cupid beat! Even the World Wildlife Foundation used Valentine's Day as an opportunity: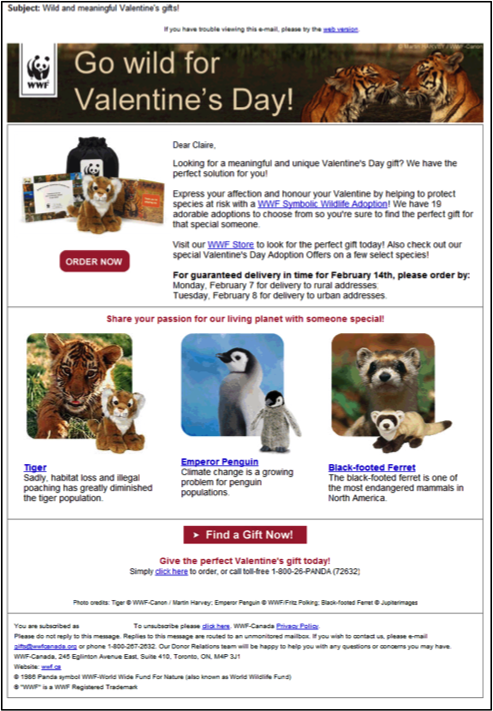 With all these examples, it's easy to see there is opportunity for any brand with any holiday, especially the loved, and hated, Valentine's Day. Take the time to build out holiday messaging and it will pay off in engagement and sales. Simply take care to create the right approach and don't let Cupid throw any punches – i.e. TEST!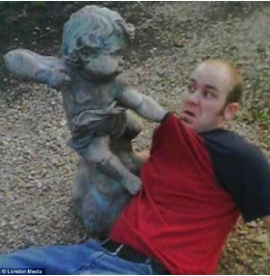 Stay Informed
When you subscribe to the blog, we will send you an e-mail when there are new updates on the site so you wouldn't miss them.