Analytics are the new metrics: Understanding the why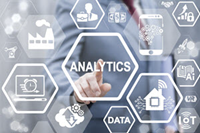 I've spent the last 20 years consulting with marketers, with a significant focus on metrics and benchmarking. In fact, having produced more than a dozen email marketing benchmark reports and surveys on metrics, you could probably say I've made a career out of metrics.
But like marketing tactics themselves, I believe it's time for marketers to think differently and evolve their "relationship" with metrics. It is time for marketers to increasingly focus their attention on analytics and not just metrics. My call to arms for email marketers: "Understand the why."
Analytics: Understanding the why
Metrics help marketers assess the performance of both individual campaigns and on-going programs. But by their very nature, metrics look at past performance. They provide some insight into likely future performance, but what they don't do a good job of is helping marketers understand the "why."
There are several types of tools available today that can help email marketers go beyond measuring past performance and move to pulling back the covers to understand the reasons behind why some content significantly outperforms other content.
Following are just a few examples of use cases for email marketers:
Form abandonment: A great area to start your analytics journey is understanding form struggles and abandonment. Key to building your customer and email database is maximizing conversions on your landing pages and sign-up forms. Whether a form is for a webinar registration or white paper download, the design of the form and number and type of fields could significantly reduce your conversion rate, losing thousands or tens of thousands of new leads or email subscribers.
Struggle analytics tools identify which form fields people skip over, how much time they spend on a form field, and which fields lead to total form abandonment. Understanding these form struggles enable you to optimize form design to maximize conversions, while balancing your data collection needs.
Journey paths: When a subscriber clicks a link in an email and visits your website or mobile app, what happens next in the customer journey is primarily in the hands of your co-workers who manage the website or mobile app. But the path to conversion that an email subscriber takes can also be influenced by the content and design of your email.
Using journey analytics tools, email marketers can compare the paths of email clickers to the paths from other channels. Is your email outperforming other channels in moving people along the buyer journey? Or is the email copy or the landing page disrupting or inhibiting that journey?
Journey analytics helps you understand which webpages or types of content are doing the best job of engaging and converting customers. With this insight, email marketers might:
use different links to send email clickers to these higher-performing pages.

alter the email copy designed to move people to specific pages after they visit your landing page, based on journey path insights.

work with the web or mobile team to redesign landing pages and menus, now knowing which follow-on pages drive the highest conversion rates.

create triggered browse abandonment messages designed to drive email recipients back to high-converting pages in the journey.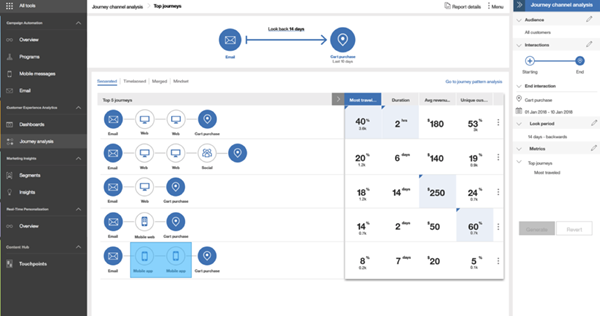 A journey channel analysis can help you find and fix struggle points
Cart abandonment struggles: For the past 10 years, cart abandonment email remarketing programs have become de rigeur for retail and ecommerce companies. But these programs are basically shots in the dark, applying a bandage rather than addressing the underlying reasons shoppers abandon.
By using anomaly and struggle analytics solutions, marketers are able to uncover specific reasons shoppers are abandoning their carts. Rather than sending generic remarketing emails, marketers can target shoppers with personalized content for those who, for example, have payment issues, forget passwords, or have coupon issues.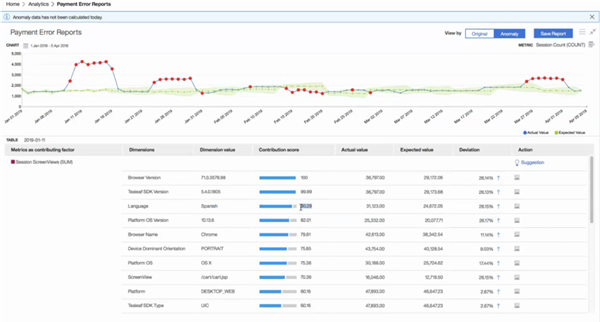 A payment error report can alert you to coding or interface problems
Heat mapping: Email marketers often use click maps to understand email subscriber click patterns in an email, but why not extend that to your web pages?
How does the content like text, offers, and images in your emails drive human behavior on your website? Website heat maps can help email marketers discover hover and click patterns of site visitors and better understand how the email content is affecting site behavior.
Armed with these insights, email marketers might change image design or copy that increases the likelihood that site visitors will click on CTA buttons or images that lead to higher conversions.
Customer engagement / Behavioral analytics: Customer churn is one of the biggest challenges brands increasingly face — especially for today's subscription-based companies. Using predictive analytics and machine-learning tools, marketers can predict and identify customers and email subscribers that are most likely to churn.
Rather than sending those "We want you back" emails when it's too late, email marketers can deploy triggered email programs to prevent attrition when consumers show behaviors of those who tend to churn.
Web analytics: Building your email database from website opt-ins is key for most brands, but as an email marketer do you know which pages are converting best? Using web analytics, you can monitor opt-in conversion volume and rates across your site, and work with your web team to highlight your opt-in form on pages with the most traffic.
You might also tweak copy and offers on high-volume pages, based on the nature of the content and source of the traffic.
Search analytics: Most email templates include a group of recurring navigation links, but how often do you update them or change for seasonality? Using your web analytics solution, assess which website categories are most visited on your site and what the top search terms are.
Using the top search terms for your site, tweak your email navigation to match and use this insight to prioritize content in your messages.
If you're looking to step up your game in 2020, dive into analytics to move beyond standard email marketing metrics and understand the "why."