Email Marketers: Are You Prepared for "Shipageddon" This Holiday Season?
No surprise, the 2020 holiday ecommerce season is shaping up to be the biggest ever. Beyond the normal increase in online holiday shopping, COVID-19 will shift many former brick-and-mortar purchases to online.
However ecommerce companies are nervous this year about the ability of the shipping carriers to keep up with demand and deliver customers' packages on time. My friend Scot Wingo, co-founder of ChannelAdvisor and CEO of Spiffy, recently coined this year's shipping challenge, "shipageddon." You can learn more about it on this podcast.
"Consumers should be prepared for deliveries to take extra days no matter which carrier is delivering their parcels."
- ShipMatrix President Satish Jindel, via The Wall Street Journal.
According to ShipMatrix, in 2019 UPS, FedEx, and USPS achieved 95%-98% on-time deliveries. For the last 6 months of the pandemic, however, this had declined to 92%. And as you can see in the screenshot below that I captured from CNBC back in late September, Amazon's YOY on-time 2-day delivery performance has declined to 70% from 95%.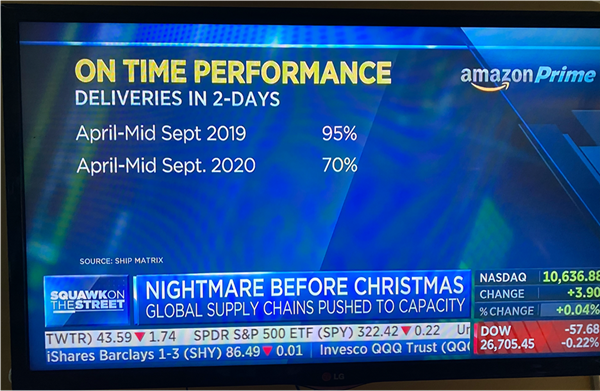 "The capacity shortfall could average as much as seven million packages a day between Thanksgiving and Christmas"
- Wall Street Journal
Because of the growth in ecommerce this year, shippers like FedEx, UPS, and USPS simply can't scale up resources and delivery capabilities quick enough to meet demand from retailers. And this shortfall is even before online orders increase significantly during the holidays. Hence, Wingo's term, "shipageddon."

According to an article in Axios, various efforts that ecommerce brands and shippers are taking to minimize the impact of a surge in orders, includes:
Amazon moved its Prime Day up to October.

FedEx moved to seven-day-a-week pickup.

High-volume retailers are being charged higher fees by shippers.

Stores are pushing customers to buy online and pick up in stores.

USPS will change its priority to holiday shipping after the election rush.
Tips for Addressing Potential Shipping Delays
So what can you do as an email marketer to help minimize the impact of "shipageddon" this holiday season? Following are 10 tips on using email marketing to lessen the likelihood of your customers orders not arriving on time this year.
Holiday onboarding email(s):

Because most retailers and ecommerce companies change their email marketing approach during the holiday season and this period is so critical to revenue, I've always recommended sending a special "holiday onboarding email." Include important holiday shopping information in this email (or series of emails) that includes details on shipping and purchase deadlines, increased email frequency, new merchandise lines, gift card information, customer-support contacts, mobile app information, alternative payment options, return/exchange policies, etc.
This year, however, shipping deadlines will take on a more critical role, so consider a standalone email with details on shipping deadlines and tips to ensure your customers' gift orders arrive in time for the holidays.
Update your existing welcome email:

In addition to launching a holiday onboarding email or series to existing subscribers, make sure you update your welcome email or series for new subscribers with a focus on holiday themes and concerns. Shoppers who visit your site during the holiday season often have different interests, motivations or concerns.
Substitute your regular welcome email during the holiday season with one that includes information on shipping promotions and schedules, return policies, gift-card promotions, gift wrapping, frequency options, and other holiday-centric concerns. Highlight the benefits of shopping early and make your shipping schedule and deadlines a key focus.
Move your promotions up earlier:

One approach that many ecommerce players are taking is urging customers to shop earlier than normal. Amazon, for example, is promoting "Early Black Friday Deals" now through November 19. With potential package shipping delays, the tagline, "Shop Early. Relax later." takes on additional meaning.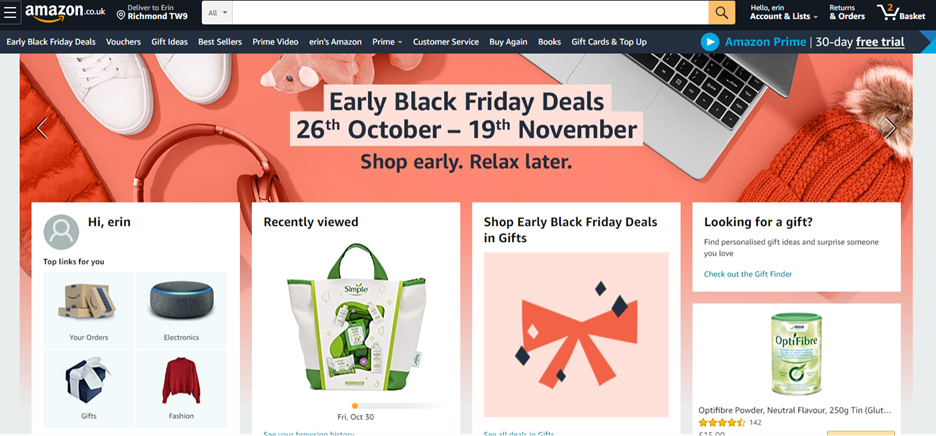 In past years many brands focused a huge percentage of their email promotions on Black Friday and Cyber Monday, but this year consider re-allocating some of those messages for the period up until Black Friday. And add additional messaging to focus on ordering early to ensure that your gifts will arrive in time for the holidays.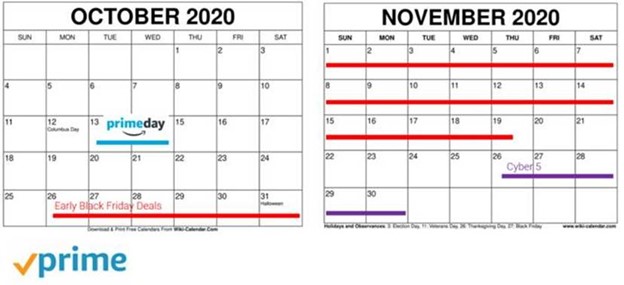 Add a shipping deadlines calendar table to your email template:

One of my favorite holiday email tips over the years that I first discovered from a client, King Arthur Baking, was inserting a detailed shipping calendar into their message template.

You can produce and update a table such as the example above from King Arthur Baking, or use just a simple text-based approach such as the one below,. Make sure, however, you update these tables regularly.

Send shipping deadline reminder emails:

In addition to including shipping deadline calendars in your regular promotional emails, consider

sending standalone emails a day or two before each key shipping deadline to use that sense of urgency to drive more immediate sales.
Also consider adding a note or banner in your emails like the one below from CostCo that warns subscribers of potential delays and encourages them to shop early.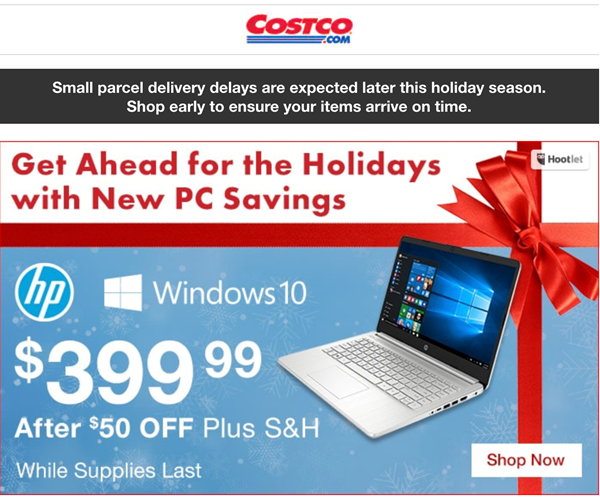 Update browse and cart abandonment emails:

Because of a significant amount of comparison shopping and the fickleness of gift buying during the holiday season, make sure you update browse and cart abandonment messages with shipping information. This could include a dynamic content block with the next deadline, or simply including your overall shipping calendar to your templates.
Gift card promotions:

Gift cards are always popular options for procrastinating shoppers. This year, however, consider moving up your gift card promotions earlier and giving them more play in your ongoing message templates as an option for customers concerned about delivery dates.
Curbside pick-up options/Delivery from store:

During the COVID-19 pandemic, many brick-and-mortar retailers set up in-store or curbside pickup options. Promote at-store pick-up options or delivery to home options if you are a retailer with those options.
Expedited shipping options:

While overnight or guaranteed 2-day and similar expedited shipping options can be expensive, in the year of shipageddon more consumers may be willing to pay extra for these options. Be careful in promoting these shipping options, however, as the shipping carriers are moving up their cut-off dates to ensure deliveries in time for the holidays.
Real-time shipping updates:

Once your customer has placed their order, they will be anxiously wanting to track the shipping status. This summer I received the email below from Apple, but found it less than satisfactory as it required me to click out and literally came with a set of instructions. It should be a simpler experience.

A cool approach is to use real-time shipping updates right in your customers' emails. These updates, powered by companies such as Zembula, update the status of your package each time you open your email. This approach allows customers to easily see the status of their package, in real-time just by opening your email.
One of the benefits of this approach that ecommerce companies are seeing is many fewer calls to their call centers and thus reducing costs and increasing the efficiency of call center reps.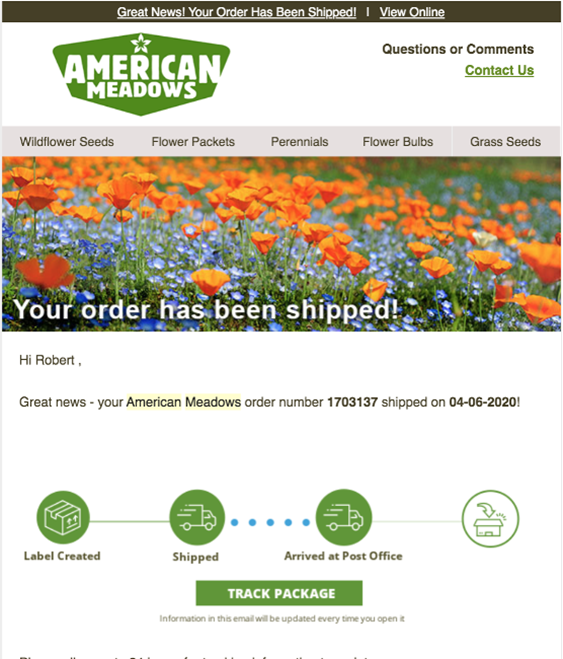 The 2020 holiday season is easily going to be the biggest ever and will be critical for many omni-channel retailers who will see many first-time online customers do business with them this year. Keeping these customers up to date on shipping information to ensure their gift orders arrive on time will be one key to their shopping experience and increasing the likelihood of repeat purchases.
What creative approaches related to shipping updates have you seen or used yourself?
OI members can join us on this week's Live Zoom Discussion, Thursday, November 12 from 12:00 noon to 1:00 PM ET, to discuss. Watch the list or email Jeanne (Jeanne@OnlyInfluencers.com) to get the information to join. We'll also be chatting about this on the ongoing OI email discussion list. Not a member? Join today!