Pixelgeddon Resource Center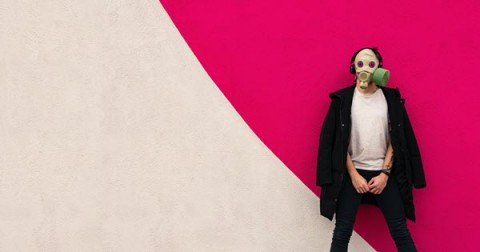 Welcome!
We've gathered resources from around the Web to help email marketers understand and prepare for 'pixelgeddon' -- the implementation of Apple's new Privacy Protection initatives around tracking pixels and related email tactics.
Have a resource to add? Share it here.
On-Demand Webinars and Podcasts
Upcoming Webinars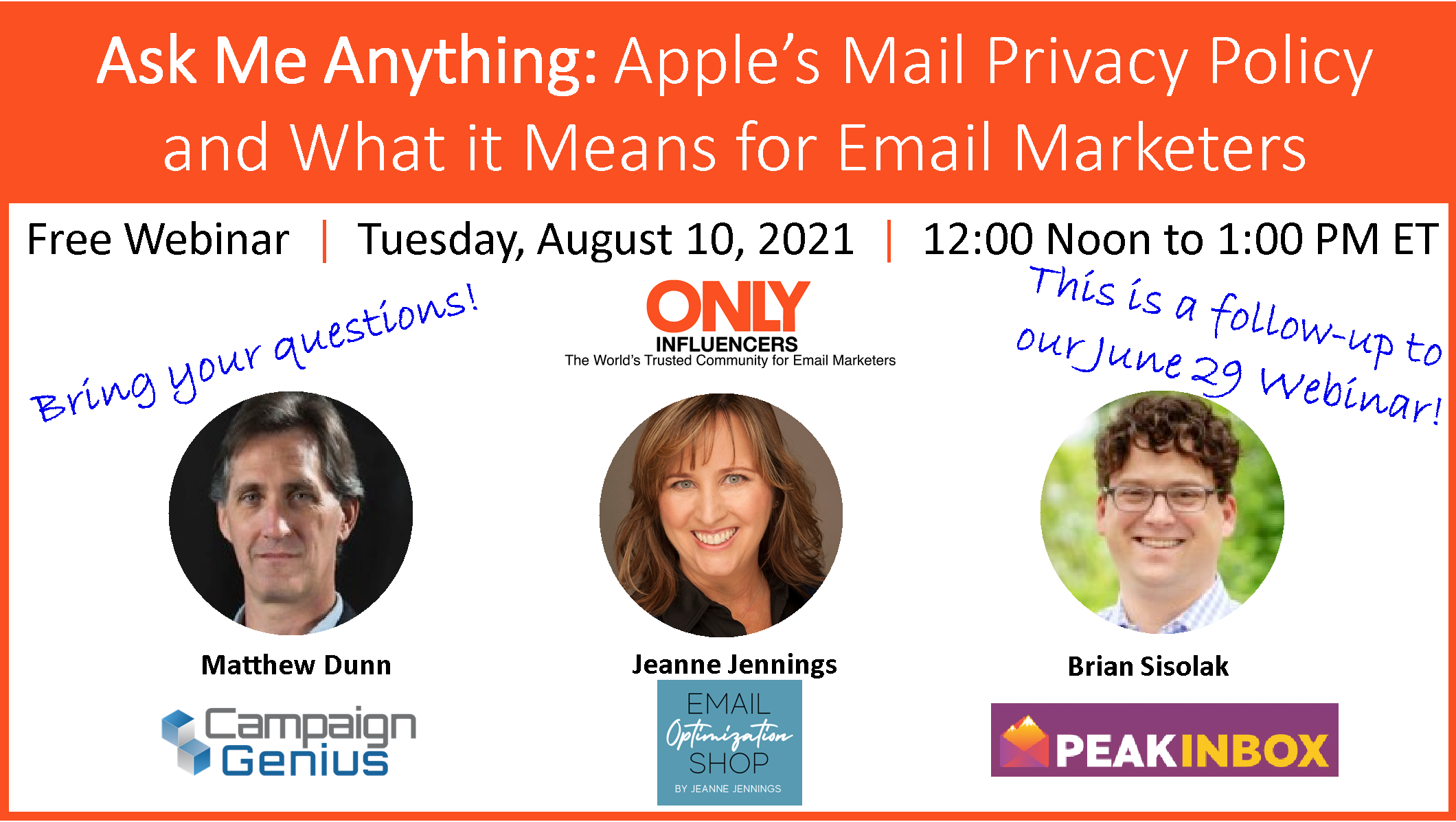 Ask Me Anything: Apple's Mail Privacy Protection and What it Means for Email Marketers
Tuesday, August 10, 2021 | 12:00 Noon to 1:00 PM ET
Hosted by Only Influencers
Register Now
On-Demand Webinars, Podcasts, and Video

Pixelgeddon: Thriving in a Post-Pixel Email Marketing World (Webinar)
Matthew Dunn (Campaign Genius), Jeanne Jennings (Email Optimization Shop and Only Influencers), and Brian Sisolak (PeakInbox), Hosted by Only Influencers, June 29, 2021
Watch it On-Demand
WWDC21: Apple's Privacy Pillars in Focus (Video)
Lauren Henske, Garrett Reid, Elliot Briggs, Privacy Engineering Team, Apple
Cheetah Digital Digest: An Apple Mail Bomb, The Death of Cookies and Privacy Legislation Explained(Video)
Richard Jones for Cheetah Digital, June 18, 2021
Privacy in Email: Apple's update, Do Not Track, and more... (Video)
Tom Blijleven (Flowmailer), Christopher Byrne (Sensorpro), and Tobias Eickelpasch (Rock Your Email) for Flowmailer, June 14, 2021
What to Know About Apple's Mail Privacy Protection (MPP) Announcement... (Podcast)
India Waters and Luke Ambrosetti with Brad Gurley, In Gear Podcast by MessageGears, June 14, 2021
Apple introduces Mail Privacy Protection in the Mail app, on-device speech recognition for Siri (Video)
Apple's Worldwide Developers Conference (WWDC) on CNBC Television via YouTube, June 7, 2021
Articles and Blog Posts
In order of publication date -- most recently published articles first, but be sure to scroll as we may have added some a few days after their original publication date.
The 2 Social Contracts Being Broken by Apple's New Privacy Protections
Chad S. White, Oracle Marketing Consulting, for Only Influencers, August 3, 2021
3 Email List Hygiene Best Practices to Implement Before the Apple Mail Privacy Protection Update
Melissa McGaughey, Webbula, for the Email Experience Council Blog, July 30, 2021
DuckDuckGo takes on Apple's Mail Privacy Protection with its own feature
José Adorno, for 9TO5MAC, July 24, 2021
How Email Marketing Will Adapt To A Change In Privacy Settings
Tom Wozniak, Optizmo, for Forbes, July 14, 2021
Apple Moved to Block Open Tracking, Now What?
RPEOrigin, July 14, 2021
The real impact of email tracking
Matt Parsloe for Taxi for Email, July 7, 2021
Identifying 'Real Opens' Is Key to Adapting to Apple's Mail Privacy Protection
Chad S. White, Oracle Marketing Consulting, for Litmus, June 29, 2021
List Hygiene Matters Even More Today
April Paige, FreshAddress, for Only Influencers, June 29, 2021
Good riddance, open rate: How Apple's change will make you a better email marketer
Kath Pay, Holistic Email Marketing, for MarTech, June 29, 2021
How Apple, and zero party data, will promote the rise of the more reponsible marketer
Gavin Laugenie, dotdogital, for Only Influencers, June 28, 2021
22 Email Marketing Experts Explain How to Evolve With Apple's Mail Privacy Protection
Haim Pekel et al for Ongage, June 24, 2021
Apple's Privacy Moves -- The Sky is Falling or Time for Innovation?
Lisa Shosteck et al for the ANA's Email Experience Council, June 23, 2021
Thank you Apple, we L.O.V.E. it!
Andrew Kordek for iPost, June 22, 2021
What Apple's Upcoming Privacy Changes Mean for Email
George Schlossnagle, SparkPost, for Only Influencers, June 22, 2021
Why the New Apple Privacy Features are a Win for Good Email Newsletters
Rasa.io, June 21, 2021
Apple's "Mail Privacy Protection" is an Earthuake fo Email Marketers
Alex Williams for Trendline Interactive, June 21, 2021
A Letter About Apple's Mail Privacy Changes
Richard Jones for Cheetah Digital, June 18, 2021
Is 'Email Privacy' a Feint?
Matthew Dunn, Campaign Genius, for Only Influencers, June 18, 2021
What Apple's iOS 15 Privacy Updates Mean for Marketers
Iterable, June 16, 2021
13 Ways email marketers should adapt to Apple's Mail Privacy Protection
Chad S. White for the Oracle Modern Marketing Blog, June 16, 2021
Ask the Expert: How Apple's Goodbye to Tracking Pixels will Affect Email Marketing
Webbula, June 16, 2021
Apple Starts Gathering Your Personal Data in the Name of 'Privacy'
Tom Kulzer for AWeber, June 15, 2021
Apple's Mail Privacy Protection makes email worse
AudiencePoint, June 15, 2021
Email Privacy, Apple Did What?
AudiencePoint, June 15, 2021
Apple blocks open rate tracking: what will it mean for marketers? We asked the experts (Subscribers only)
Rebecca Sentance for Econsultancy, June 15, 2021
Yay!!! Email marketing is about to get way more complicated (sarcasm)
Jay Schwedelson, Wordata, for LinkedIn, June 15, 2021
Apple is going to block/disable/hid/proxy email opens
Justine Jordan, Wildbit, for LinkedIn, June 15, 2021
This is Tomorrow: Pixelgeddon
Matthew Dunn, Campaign Genius, for Only Influencers, June 15, 2021
iOS 15: What you need to know
Steve Shaw for dotdigital, June 14, 2021
What Apple Mail Privacy Protection Means for Content Personalization
Vivek Sharma, Movable Ink, June 14, 2021
How Will Apple's Mail Privacy Protection in iOS 15 Affect Email Marketing?
Guy Hanson for Validity, June 11, 2021
Losing open tracking will not kill email
Ryan Phelan, RPE Origin, for MarTech in Marketing, June 11, 2021
Apple's Mail Privacy Protection explained: What it is and how it affects you
CM Group, June 11, 2021
Apple vs email marketing
MailNinja, June 10, 2021
Apple unveils new privacy features for iOS 15
iapp, June 10, 2021
Apple Putting a Stop to Email Tracking Pixels With Mail Privacy Protection in iOS 15 and macOS Monterey
Juli Clover for MacRumors, June 10, 2021
An Email Marketer's Take on Apple Mail Privacy Protection
Jacques Corby-Tuech, June 10, 2021
WWDC 2021: How Apple is Changing Digital Marketing Forever
Barry Nolan for Swrve, June 9, 2021
Impact of iOS 15 Update on Open Tracking
April Mullen for SparkPost, June 9, 2021
Newsletter publishers concerned Apple's Mail Privacy Protection will crater industry
Mikey Campbell for AppleInsider, June 9, 2021
iOS 15 -- Email Privacy (Google Doc)
SRH Design, June 8, 2021
Apple's Mail Privacy Protection: What This Means for Email Marketers and How to Prepare Now
Magan Le for Litmus, June 8, 2021
Will Apple end the newsletter boom?
Casey Newton for the Verge, June 8, 2021
What Apple's Mail Privacy Protection Means for Email Marketing
Andrew Donovan, June 7, 2021
Apple Announces More Privacy Measure Aimed at Ad Tech
Andrew Blustein for AdWeek, June 7, 2021
Apple advances its privacy leadership with iOS 15, iPadOS 15, macOS Monterey, and watchOS 8 (Press release)
Apple, June 7, 2021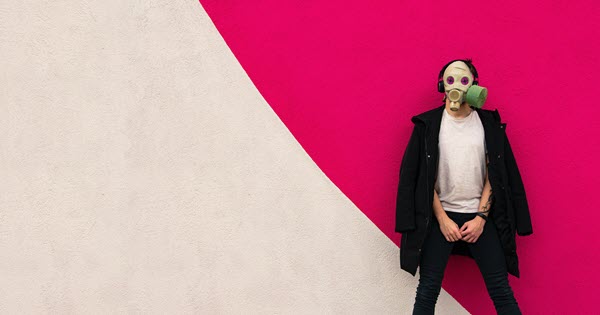 Cover photo by Artem Kniaz on Unsplash