Round-up: CoronaVirus and Email Marketing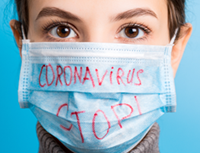 We thought it might be helpful to provide a round-up of resources on email marketing during the Coronavirus pandemic:
If your company is planning to send out an email referencing the pandemic, or even just if you're continuing to communicate business-as-usual information to your email audience, scan the resources here for guidance.
Many thanks to Janet Roberts, who manages content for our OI newsletter; she pulled together a short list on short notice to get us started.
Please send any other webinars, complimentary subscriptions, swipe files, articles or other resources that you feel are valuable to me at jeanne@onlyinfluencers.com with 'CV Roundup' in the subject line and I'll add them to the post. Thanks!
Webinars: Upcoming
A Virtual Event For Strategies & Solutions
Discover MarTech, April 21 to 23, 2020, 1:00 to 5:00 PM ET
Discover MarTech: A Virtual Event For Strategies & Solutions is a free training experience for senior-level marketers who need to stay up-to-speed on the latest developments in modern marketing and identify, evaluate, and implement time-saving, profit-generating marketing technologies.
Three days of workshops on marketing in a post-coronavirus world, featuring Scott Brinker and vendor-led workshops. Besides advice on buying and building a martech stack, it covers scenarios for marketing once the pandemic passes.
Maximizing Email Marketing for your Clients
Kickbox with Campaign Monitor, Wednesday, April 29, 2020, 11:00 AM ET
Faced with a changing marketplace, agencies that leverage email marketing are under more pressure to do more with less for their clients.
The current market volatility, along with increased competition from other agencies and incrased in-house marketing capabilities compel agencies to not only make marketing dollars stretch further, but also prove their unique value to their clients.
Webinars/Podcasts: On-Demand
Doug & Friends Daily LIVE with Craig Swerdloff
Doug Morneau, March 30, 2020
This episode features Craig Swerdloff, CEO, Traverse Data, talking about impact of COVID-19 and how it could affect digital marketing 6 months down the road, also how to start companies in the midst of a downturn.
Email Geeks at Home Drinking coffee -- The CV One
by Chris Marriott and Paul Shriner for AudiencePoint, April 1, 2020
A new podcast from Chris Marriott and Paul Shriner... you can guess the subject matter in this, the first episode...
Webinar: Email Marketing for Sensitive Times
by Worldata, April 2, 2020, 3:00 PM ET
This webinar focused on the best email marketing techniques to utilize during this period of unease. Whether you are reaching B2B or B2C audiences, this webinar will share key stats, techniques and methods to ensure performance and appropriateness during these diffucult times. Featuring Jay Schwedelson, Worldata.
Webinar: Email Marketing during Trying Times: You have Questions, We have Answers
by the Email Experience Council, March 27, 2020, 2:00 PM ET
Join us to get not just answers but also real-life examples of how organizations are successfully addressing the CoronaVirus in their email marketing efforts. Panelists:
Betsy Grondy, Lenovo

Jeanne Jennings, Email Optimization Shop and Only Influencers

Dwight Sholes, Sholes LLC

Karen Talavera, Synchronicity Marketing
Webinar: Customer Communications in the Age of Coronavirus: The Next Phase
by Movable Ink, March 27, 2020, 2:00 PM ET
Join the Movable Ink Client Strategy Team alongside Tom Buchok, CEO of MailCharts, as they share the latest data and trends on messaging tactics across all US B2C email marketers, as well as strategies that best-in-class marketers are using to respond compassionately and creatively in the face of significant business challenges.
Webinar: Email Marketing during a Crisis: Lessons and Advice
by Brightwave
BrightWave's CEO Simms Jenkins and Sr. Strategist Jessica Ginburg cover the dos and don'ts of communicating during a crisis, and ways to keep your business up and running with email marketing in a smart and savvy way. Update: the webinar already happened, but if you use the link you can view it on-demand.
Webinar: Best Practices for Email Marketing During a Crisis
by Litmus, March 18, 2020, Noon ET
This free webinar features Jason Rodriguez from Litmus, Kristin Bond from the Girl Scouts of America, and Matthew Smith from Really Good Emails. Update: the webinar already happened, but if you use the link to register you can view it on-demand.
Hangout: Results of CoronaVirus Poll and Discussion
by MailCharts, March 19, 2020, 2:00 PM ET
MailCharts will share the findings from their poll (take it here) and talk about what they're seeing. Attendees can share what they see in their email programs and how the email industry at large is responding. The poll and hangfest are obligation-free - no sales pitch during the call, and nobody will contact you later. Update: not seeing an option to view it on-demand, but will keep watching and post if it becomes available.
Webinar: Customer Communication in the COVID Era: Step by step guidance for marketers
by Acoustic, March 20, 2020, 11:00 AM ET
A live presentation of the content in the article listed below; Join Norman Guadagno and Loren McDonald, both from Acoustic. Update: the webinar already happened, but if you use the link to register you can view it on-demand.
Complimentary Offers
ANA Community Access Portal
Association of National Advertisers (ANA), parent of the Email Experience Council (eec), April 2020
The ANA has graciously opened up a lot of its members-only content to all, through June 5, 2020. Create a free account and you'll have access to their Marketing Knowledge Center, On-Demand Training, Webinar Replays, State Privacy Legislation database, CMO Masters Circle content, ANA in Video, ANA Newsstand and other resources.
Job Board: Candidates and Opportunities
by Jeanne Jennings for Only Influencers, April 8, 2020
Looking for work in the email industry? Have an open email role in your organization? Only Influencers has started a make-shift job board to help. Peruse open opportunities and candidates, or upload your own profile, for job seekers and hiring organizations, free of charge, during the pandemic.
COVID-19 Email Relief Program
by Netcore, April 3, 2020
#WeWillPrevail is the rallying cry. Netcore is facilitating impacted businesses headquartered in North America with complimentary access to their premium AI-powered Email Platform for 3 months under their COVID-19 Email Relief Program
The complimentary offer will enable the business to send unlimited emails and unlock premium features on the platform like advanced customer segmentation, send-time and subject-line optimization, advanced analytics & reporting along with white-glove service for a smooth onboarding.
Eligible companies can opt for this program before 31st May 2020
COVID-19 Relief Fund
by DataValidation, April 2, 2020
DataValidation is making available $1M in DataValidation services to support small- and medium-sized businesses impacted by COVID-19. Businessses in industries being negatively impacted by the pandemic as well as organizations with less than 25 employees are eligible. The free accounts are valid for 6 months.
Also, existing and new customers will get use of the AutoPilot tool free for up to 500,000 emails or 12 months.
Complimentary Access: Movable Ink's Critical Messaging App
Movable Ink, March 27, 2020

Movable Ink's Critical Messaging App is powered by a blank pixel placed in the email template and is then activated as needed by the marketer to display a relevant message – even after the email has been deployed and is in the consumers' inbox. Movable Ink is making the Critical Messaging App available to all of their clients to use for free through the end of the year for COVID-19 service messaging.
A time of giving: email vendors offer free support during COVID-19 crisis
by Ray Schultz for MediaPost's Email Marketing Daily, March 26, 2020
Ray covers the growing movement by email vendors to offer help to businesses struggling during the COVID-19 shutdown. Offers include free testing services and real-time message updates, along with free paid-level account for public service organizations.
It's Our Time to Give Back (Complimentary Email on Acid Subscriptions)
by John Thies for Email on Acid, March 25, 2020
Earlier this week I wrote a blog post about the next phase of CoronaVirus Emails – from companies that redirect their efforts past words and into action. Email on Acid has done just that, with a generous offer to provide complimentary Email on Acid subscriptions to individuals and organizations which are severely impacted by this crisis. Eligible industries include:
hospitality

travel

entertainment

education

dining

non-profits

independent email consultants and freelancers.
Already an Email on Acid client? You're still eligible for the offer!
Learn more about the offer
Request a complimentary subscription
Swipe Files
Free Coronavirus Poster Templates
PosterMyWall
Templates to raise awareness on social distancing, the importance of washing your hands and other helpful details.
Coronavirus Print & Social Media Resources to help #StopTheSpread
Canva Templates

Templates with uplifting messages about the pandemic for a variety of online and offline digital channels.
Emergency Email Samples: CoronaVirus
Really Good Emails, March 17, 2020
A good showcase of what companies are sending. Highly recommend you look here for ideas and inspiration.
Articles
COVID-19"s Impact on Ecommerce Revenue
Natasha Kenyon for Fresh Relevance, May 11, 2020
A nice collection of benchmarks and trends by industry, focused on performance since the pandemic began.
Email Marketing Is Your Golden Goose -- Don't Kill It
Roger Dooley for Forbes, May 4, 2020
Roger calls out brands for using broadcast to deliver what should be targeted emails using location along with switching up frequency, dropping personalization and obscuring the unsubscribe.
Stats roundup: coronavirus impact on marketing, ecommerce & advertising
Lizzy Hillier & Nikki Gilliland for Econsultancy, May 1, 2020
This UK-focused round-up shows many brands are using or researching new approaches, from workflows and messaging to customer communication to cope with the pandemic.
B2B Marketing After COVID-19: What Changes and What Doesn't?
Mark Emond for MarketingProfs, May 4, 2020

Mark has 5 predictions for the next version of B2B marketing including an emphasis on revenue marketing and a re-emergence of live events.
Post COVID-19 Planning: Do We Really Want to Return to Normal?
Paul Jankowski for Forbes, April 28, 2020
This post by Paul Jankowski of the New Heartland Group suggests that we should look at our next normal instead of trying to go back to the old normal. Marketers should see and build on the benefits of being helpful over transactional, evincing empathy and using relevant content to build relationships.
Leading with Action Can Reduce the Risk of a 'COVIDwashing' Backlash
Augie Ray for Adexchanger, April 30, 2020
Gartner's Augie Ray has timely thoughts about brands piggybacking on COVID-19 for marketing, including some descriptions of well-intentioned marketing offers gone wrong.
Are Email Marketers "Flattening the Curve" of COVID-19 Messaging?
Nick Ziech-Lopez for MessageGears, April 30, 2020
Good analysis of email volume, triggered activity, open, clicks and more.
Chasing The Comeback: What Email Marketers Should Do AS Business Reopens
Ray Schultz for MediaPost, May 1, 2020
Ray speaks with OI member Ryan Phelan about the kinds of emails that businesses should be sending and more.
Next Steps for Retail Marketers During the COVID-19 Pandemic
Erika Phelan for TotalRetail, April 22, 2020
Erika reviews steps to build a regional messaging plan for marketers who need to tailor email messaging to areas that are experiencing different results from the pandemic.

Survey: US consumer sentiment during the coronavirus crisis
McKinsey, April 2020
This report and slide presentation has excellent statistics showing how U.S. consumer sentiment is shifting, especially on purchases and brand loyalty and is worth reviewing before going all in on recovery email marketing strategy and planning.
Metrics Matter More During COVID-19 Than They Ever Did
Ann Glynn for Content Marketing Institute, April 27, 2020
Ann gives marketers practical advice on how to measure their content performance to determine whether their pandemic communications have seen improvement, stability or decline. It's important, she says, because marketers usually analyze metrics within controllable factors, and the pandemic is the ultimate uncontrollable.
What to Consider Before Sending Another Coronavirus Email
Seth Charles for Iterable, April 14, 2020
As we move into the next phase of pandemic email, Iterable has practical suggestions for moving to the next of pandemic communications. Iterable suggests ways to move to the next normal without trashing deliverability or turning off customers by moving too quickly to "normal."
How to 'be helpful' first in a rapidly changing marketing environment
Dominick Sorrentino for Brafton, April 20, 2020
This article examines brand communications in the next phase of pandemic marketing – raising the value of our email by looking for ways to be helpful.

Key insights: COVID-19 continues to impact consumer behavior, marketing spend and the marketing mix
Mahir Prasad for ClickZ, April 6, 2020
Study shows email marketing comes in at No. 2 behind PPC as the best use of ad money at the moment, among other findings.
Media Communications in the Age of Coronavirus
Naveen Wall for Movable Ink, March 31, 2020
Advice includes ramping up dayparting, personalized recommendations and including content to entertain or distract.
Comms In The Age Of Coronavirus: When To Stick With The Plan … And When To Chuck It
Allison Schiff for Ad Exchanger, April 7, 2020
Many brands have already had to scrap or retool campaigns in the initial weeks after the coronavirus reached pandemic stage, but the extended expectations that lockdowns or shelter-in-place orders will continue means the economic landscape has shifted even more. So, it might be high time for another review to adjust long-term planning.
How to Maintain Positive Relationships With Your Email Subscribers
Kait Westbrook for Campaign Monitor, April 2, 2020
Advice focuses on ways to appeal to subscribers includes thinking harder about the emotional impact of copy, finding ways for subscribers to interact, look for ways to contribute meaningfully and give stressed subscribers the opportunity to pause emails temporarily.

Pivoting Your Email Strategy Amid COVID-19? Treat it Like Black Friday
Ryan Urban for TotalRetail, April 14, 2020
This means abandoning the usual Q2 strategy that downplays promotions and instead ramping up email frequency and creating unique promotions to get people interested in buying. This goes along with a finding that email opens are up 17% as homebound people transition to desktops from mobile.

How to Communicate with Your Customers During the COVID-19 Crisis
Ann Smarty for Convince and Convert, April 2020
Ann has advice for web, social and email marketers about what to do and what not to do. For emailers, she suggests emailing only when you have something to say but don't use CV-19 as a marketing opportunity.
How Coronavirus Has Changed Email Behavior
Chad White for Oracle's Modern Marketing Blog, April 20, 2020
Among the changes Chad is tracking is a shift in open times, lower email volume and higher email engagement but lower revenue. Chad also recommends how marketers can approach these changes, such as continuing to email but with sensitivity to what subscribers might be experiencing and keeping an eye on subscriber behavior and KPIs.

Making Working In Work Out: Crisis Tips For Email Marketers
Ray Schultz for MediaPost's Email Insider, April 16, 2020

Nice twist in the usual coronavirus advice. Ray reports on a study that assesses the tools and capabilities marketers need as they shift from office to home, like automation and digital asset management, as well as challenges like shifting priorities, collaboration and communication.

A Brand New World: Marketing Post-Covid-19
Josh Chodakowsky for ANA, April 2020
Josh offers a curated round-up of Covid-19-related articles from The Boston Consulting Group, Forbes, Campaign, Skift/Trendwatching and AdRoll.
The Business of Marketing in the COVID-19 Age
Association of National Advertisers (ANA), April 2020
As part of it's Community Access Portal (see the note above under 'Complimentary Offers') ANA is offering a round-up of resources for marketers during this pandemic. Not specific to email, but some good information here none-the-less.
A Sincere Guide: What to send and what not to send to your email subscribers during COVID-19
Tejas Pitkar for Pepipost, April 21, 2020


Care, love, kindness, empathy. Tejas shows you how to use these to retool your email marketing for the pandemic. This report is behind a registration wall.
Coronavirus Business Impact: Data-driven insights for brands during COVID-19
Moengage and apptopia
Insights from 1.5 billion mobile appusers from 12 industries in North America, Europe, India, Southeast Asia, and the Middle East. This report is behind a registration wall.
32 Marketers on Email Marketing in the Age of Social Distancing
Ivan LaBianca for Seventh Sense, April 20, 2020
46.9% of survey respondents plan to send more email in the next 3 to 6 months. This and other stats, plus quotes from email marketers.
A new KPI for marketers: Humanity
Ryan Phelan for Martech Today, April 14, 2020
Ryan challenges marketers to recapture their humanity -- and to use segmentation to adjust for where people are geographically and respond to the crisis accordingly.
How to manage your email marketing operation in a time of crisis
Matt Vernhout for the eec, April 9, 2020
Matthew Vernhout, vice chair of the EEC's Member Advisory Council and privacy and industry relations director for Validity, wrote this post for the EEC blog, advising brands on how to communicate, what not to do and how to focus on what your customers really care about – which probably is not disruptions in your supply chain until they're directly affected.
New Surveys Show How Americans Are Anxious About COVID-19 And What Brands Should Do About It
Marty Swant for Forbes, April 10, 2020
This post reports on a study by Wunderman charting anxiety and consumer confidence in the U.S. population, with results that brands can use in their advertising and marketing messages, including email marketing.

What Customers Need To Hear From You During the COVID Crisis
Jill Avery and Richard Edelman for Working Knowledge, April 7, 2020
Richard Edelman, creator of the Edelman Trust Barometer, and Jill Avery, Harvard lecturer, write about what customers want to hear from brands right now and how brands should be using their capabilities to help customers.

How to write an effective Coronavirus-related campaign
Mel Henson for Smart Insights, April 6, 2020
Tips include telling customers what they want to know (emphasizing delivery for ecommerce companies) and not telling them what you can do for them, not what you can't.
COVID-19 or Coronavirus: Which is worse in a Subject Line?
Dela Quist for LinkedIn, April 10, 2020
Dela presents research showing which term to use in a subject line and which not to use.
Email Hand-Holding: Consumers Want Information And Reassurance During Crisis, Study Finds
Ray Schultz for MediaPost, April 9, 2020
MediaPost's Ray Schultz reviews results from a Twilio survey showing what consumers want to see in brand emails about the coronavirus and warns against stopping all communications for the time being

Don't Send Irrelevent Emails during COVID-19
by Jasmine Handa for Pepipost March 29, 2020
Right content with the right tone is just one of the good recommendations here; also lots of samples.
Using Heartbeat Campaigns to safeguard your Domain Health During COVID-19
by Tejas Pitkar for Pepipost, April 6, 2020
Advice on why and how to do a heartbeat campaign, with examples.
5 Tips for Brands to Send Effective Emails During Corona Crisis
by Tejas Pitkar for Pepipost, March 26, 2020
Sound advice, like double-check your automation and trigger campaigns, and good examples of companies doing it right.
Health & Fitness Newsletters See 34% Boost in Opens, Study Finds
by Ray Schultz for MediaPost, April 6, 2020
Newsletters focusing on health and fitness, arts and entertainment, and style and fashion are among those showing strong growth and performance.
Email open rates soar 25% due to desktop browsing from home workers
Digital Strategy Consulting, April 3, 2020

A new report attributes higher email activity and behavior to more desktop activity from homebound workers and less distracted browsing and scrolling from mobile users.
Data Report: COVID-19 Retail Pulse
Bouncex, soon to be Wunderkind

Real-time performance dashboard. BounceX data compares U.S. and UK populations on visits and revenue and breaks out three U.S. states: New York, Washington and California on email conversions and revenue
How to Improve Email Deliverability During This Crisis
by Melissa Pekel for Ongage, April 2, 2020
This article reviews how marketers can list-building and hygiene to improve deliverability even as homebound customers pay more attention to your email.
Email Marketing During a Crisis: 3 Ways to Keep Your Program Strong
FreshAddress
Article recommends continuing but modifying campaigns, updating templates and automations to reflect changes in store hours, locations and in-person events or promotions and targeting active customers instead of the entire database
With COVID-19 Emails Filling Inboxes, These Companies Stood Out
by Dan Gingiss for Forbes, April 6, 2020
Dan highlights 5 brands – Delta, Charles Schwab, Catersource, Domino's Pizza and Enterprise Rent-A-Car -- for exceptional communications and suggests 3 best practices, including identifying opportunities to deliver value, not just reaction.
Experts talk about email marketing in times of Corona
by Haim Pekel for Ongage, March 27, 2020
Ongage asked a group of email experts to share advice and use cases about working from home and marketing in a pandemic. The results are enlightening, and the furry-coworker pictures several people shared are worth a click.
You ask, I answer: What to market during a long crisis?
by Christopher Penn for Awaken Your Superhero, March 18, 2020
"Focus exclusively on being helpful." is the key according to Christopher.
Don't panic and send toilet paper emails
by Tanja Plaza for dotDigital, March 23, 2020
Big picture advice: unless you're communicating a decision that changes the ability of a recipient to interact with you in their usual way, don't send it.
Deliverability tips: best email practices during a crisis
by Grace Miller for CampaignMonitor, March 27, 2020
Your subscribers' inboxes are overwhelmed right now. Keep your messages personal, helpful, concise, and only for critical purposes.
Forrester: brands must build trust as coronavirus saps consumer sentiment
by Robert Williams for Marketing Dive, March 27, 2020
Good advice from Forrester, including examples.
6 emails you shouldn't send to customer during a pandemic -- and 2 that you should
by Geoffrey James for Inc, March 25, 2020
The "don'ts" include trying to look on the bright side and asking for payments. One "do" email: Asking "How can I help?"
What we owe each other: Marketing during the unthinkable
by Kristin Bond for Email Snarketing, March 13, 2020
4 things to consider before you send and 4 types of email that would be welcomed right now.
To Send or Not to Send: Messaging in the Age of COVID-19
by Brittany Luebke for Cheetah Digital, March 16, 2020
4 questions to consider before you send that COVID-19-themed email marketing campaign.
Coronavirus Resources & Readings
by Sonal Chokshi and a16z Editorial for Andreessen Horowitz
Not specific to email or marketing, but this is a list of selected resources on the novel coronavirus that causes COVID-19 disease. The list spans everything from official sources, trackers, and data sites to medical journal information hubs, background readings, and Twitter accounts.
React, Respond, Redirect: Waves of Coronavirus Emails
by Jeanne Jennings for Email Optimization Shop, March 24, 2020
We all got bombarded with cookie-cutter emails of little value in the first wave, the second wave was a little more helpful, but this third wave is where efforts are becoming redirected, from words to action. Read all about it and help your organization surf this third wave and deepen relationships with prospects and customers.
Includes examples of email messages from each of the three waves.
Stats roundup: coronavirus impact on marketing, ecommerce & advertising
by Lizzy Hillier for Econsultancy, March 20, 2020
Netflix's YOY subscription growth is expected to be double original estimates, a 15% expected decline in YOY travel ad revenue, delayed investments in digital transformation and more.
Email Newsletter Opens Spike During Crisis: Report
by Ray Schultz for MediaPost, March 17, 2020
MediaPost quotes a LiveIntent report that email opens are up 5%, mainly in arts and entertainment and style/fashion.
Being sensitive: Human responses to COVID-19
by Gabrielle Wright for Smart Insights, March 23, 2020
Smart Insights rounds up what it calls the best industry responses to COVID-19.
Examples include Adobe offering free access to its Creative Cloud apps to students working at home, a streaming concert fundraiser for the Global Foodbanking Network and Marks & Spencer assertion that "M&S has served customers without cease through two world wars [and] terrorist bombings and we are determined to support customers now."
Opinion: What 9/11 can teach us about marketing in the time of coronavirus
by Bradley Johnson for AdAge, March 17, 2020
Some people draw parallels between today's pandemic and the financial panic of 2008, but a number of email veterans say it's closer to what happened after 9/11.
This opinion column reviews some notable campaigns from 2001 and calls on marketers for bold initiatives. The direct quote: "bunkered up and hunkered down" describes some brands' early approaches.
The Complete Overview to Crisis Email Marketing and the Coronavirus
by John Walsh and Jordi van Rijn for EmailMonday, March 23, 2020
Another round-up to help email marketers and business owners adapt and get the right communication out, take the right steps and not leave anything important out, and get ready for other crisis communication situations.
7 things marketers need to be thinking of during Coronavirus
by Komal Helyer for Pure360, March 17, 2020
Good tips, including #7: Rewire your thinking.
Special Coverage: CoronaVirus; Leading and working through a pandemic
by Harvard Business Review
Not specifically targeted to marketers, but lots of good advice here on working from home, making virtual meetings less boring and addressing anxiety.
How Should Your Email Marketing Change in Response to COVID-19?
by Scott Burdsall for Trendline Interactive, March 17, 2020
Advice here includes "learn to respond, not react" and "keeping the focus on the consumer experience should act as your guide."
How to Communicate with Customers During Times of Crisis
by Heidi Robbins for Salesforce, March 18, 2020
5 Tips to guide your marketing communications at difficult times.
Benchmark Assessment: COVID-19 Email Activity and Engagement
by John Landsman for SparkPost, March 18, 2020
SparkPost's John Landsman tracks campaign volume and read rates that show higher than usual engagement in several sectors including transportation and food delivery/meal kits.
Back in Stock Automation: How Marketers Can Manage Supply and Demand Issues Amid the CoronaVirus Outbreak
by Alex McPeak for the Klaviyo Blog, March 9, 2020
Detailed info on why and how to develop 'back in stock' emails to address shortages during the outbreak. Also here, a 2-minute pole for marketers to share their experiences during this time.
Customer communication in the COVID era: a 7-step guide for marketers
by Loren McDonald for the Acoustic Blog, March 17, 2020
A comprehensive overview of what every company should be doing, with regard to all their marketing initiatives, not just those in the email channel.
Authenticity is now more important that ever during the coronavirus
by Ryan Phelan for Martech Today, March 17, 2020
"Think outside your own box" -- a good rule for email marketing any time you're doing it, but especially important in the time of a pandemic. Read on for Ryan's other tips.
Covid-19: Should I Send this Email?
by Megan Reed, Gallagher, March 13, 2020
Thanks to Megan Reed who created this one-page resource to answer this question and posted it to LinkedIn, Twitter and the Women of Email Facebook discussion board.
Beware of Virtue Signaling or Outright Greed in Brand Communications About COVID-19
by Augie Ray for the Gartner Blog, March 15, 2020
Good post by Gartner's Augie Ray who has tips on messaging about company positions including "Avoid virtue signaling" and "don't signal your brand's desperation" along with 4 questions to ask to determine if you really need to email.
Should COVID-19 Stop B2B Marketers From Marketing?
by Lee Odden for the Top Rank Marketing blog, March 16, 2020
Post by Lee Odden, who recommends reviewing campaigns and pausing anything that assumes everything is normal. Also recommends updating brand channels, focusing messaging on what customers need now, and reinforcing efforts to support company, employees and customers.
Email First: The New Normal for Keeping You Connected to Customers in Challenging Times
by Melissa Sargeant for the Litmus blog, March 13, 2020
Explains why an "email first" policy can help companies strengthen customer relations and keep WFH employees connected, plus examples from companies like Zendesk, Altos and Namecheap, plus ways to upgrade email production for more efficiency. Good piece.
Spirit Airlines Apologizes For Email Sent At Height Of Coronavirus Fears
by Ray Schultz for MediaPost, March 13, 2020
Short piece on how companies need to readjust email timing to avoid inadvertent failures.
8-Step Guide to Email Marketing During a Crisis
by Liz Willits for the AWeber blog, March 13, 2020
Advice on communicating during the coronavirus crisis, including timing, messaging tone, avoiding any appearance of capitalizing on the crisis, plus examples.
Why no one is reading your coronavirus emails
by Todd Rogers for CNN, March 13, 2020
Great advice from a non-email person about writing better crisis emails, including "write in accessible language," "use a larger font," "use clear structure."
Why the New York Times shut off programmatic ads for its coronavirus newsletter
by George P. Slefo for AdAge, March 7, 2020
Another angle on both covid-19 response and the topic of adding ads to email newsletters. Interesting note: the Times has removed the paywall from all its coverage of the virus.