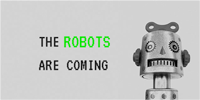 I say automation, you think robotic, right?
No wonder. Experienced marketers and consumers alike receive corporate-heavy copy in their messages nowadays. Dry, humorless, stiff, computerized. Or the pendulum swings the other way with over-the-top witticisms and personality that tries too hard. Canned humor gets nowhere.
To strike a balance between robotic and over-friendly in your drip marketing campaigns is difficult, especially trying to let your usual brand voice have a weigh in, too. It isn't impossible, though.
There are a few strategies that will help you craft conversational, concise copy that doesn't sound like it came from a machine.